Eclipse Resources Corp. (NYSE:ECR), an independent oil and natural gas E&P firm operating in the Appalachian Basin, plans to raise $863.6 million in its upcoming IPO.
The State College, Pennsylvania-based firm will offer 30.3 million shares, including 29% insider shares, at an expected price range of $27-$30 per share. If the IPO can reach the midpoint of that range, at $28.5 per share, ECR will command a market value of $4.6 billion.
Strong Underwriters
ECR filed on May 5, 2014.
Lead Underwriters: Citigroup Global Markets Inc; Goldman, Sachs & Co.; Morgan Stanley & Co. LLC
Underwriters: Barclays Capital Inc.; BMO Capital Markets Corp.; Capital One Securities Inc.; Jefferies LLC; Johnson Rice and Co. LLC; KeyBanc Capital Markets Inc.; RBC Capital Markets, LLC; Scotia Capital Markets; Simmons and Co. International; Wells Fargo Securities, LLC
Overview of Operations in the Appalachian Basin
ECR is an independent E&P firm operating in the Appalachian Basin; the firm's acreage position included approximately 227,239 net acres located in Eastern Ohio as of March 31, 2014.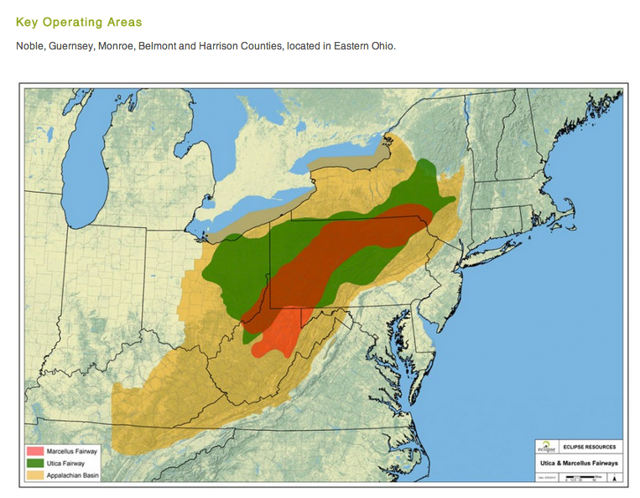 (www.eclipseresources.com/operations/)
Some 96,240 of these acres are in what ECR believes to be the most prolific part of the Utica Shale fairway, while an additional approximately 25,740 net acres are prospective for the liquids-rich Marcellus Shale.
The firm operates some 81% of these two areas, in which it had identified 863 net horizontal drilling locations as of March 31, 2014. As of the same date, ECR and its operating partners had begun drilling 72 gross wells within its Utica acreage and three gross wells within its Marcellus acreage. ECR's acreage will likely predominantly produce natural gas and natural gas liquids, though some of its acreage may also yield oil.
Valuation
ECR offers the following figures in its S-1 balance sheet for the three months ended March 31, 2014:
Revenue: $24,788,000.00
Net Loss: ($18,451,000.00)
Total Assets: $1,211,293,000.00
Total Liabilities: $512,939,000.00
Stockholders' Equity: $698,354,000.00
Competition With Other Oil & Gas Firms
ECR must compete with other oil and gas firms operating in the Appalachian Basin for equipment, personnel, and desirable acreage; some of these are established firms with access to greater financial resources than ECR.
Potential competitors include Gulfport Energy (NASDAQ:GPOR), Chevron Corporation (NYSE:CVX), Antero Resources Corp. (NYSE:AR), Petroleum Development Corporation, Rex Energy (NASDAQ:REXX), and Triana Energy.
Management
Co-founder Benjamin W. Hulburt has served as chairman of the Board of Directors, president and CEO of ECR since the firm's inception.
Mr. Hulburt previously co-founded Rex Energy, and served as the president and CEO of the firm through different periods. Mr. Hulburt also served as the CFO of Douglas Oil & Gas Limited Partnership, an affiliate of Rex Energy. Mr. Hulburt served as a commissioned officer in the United States Army for four years, attaining the rank of Captain.
Mr. Hulburt holds a B.S. in Finance from The Pennsylvania State University.
Conclusion
We are positive on this IPO in the proposed range.
ECR has yet to extensively exploit its acreage, making it difficult to judge the company's prospects, but it does boast a significant drilling inventory and potentially highly productive acreage.
The firm's highly experienced management team should prove an asset to ECR as it makes a bid to become a significant player in the Appalachian basin.
The market has proven highly receptive to E&Ps of late; Memorial Resource Development's (NASDAQ:MRD) upsized IPO priced above its expected range of $16-$18 per share at $19 per share on June 12, while Parsley Energy's (NYSE:PE) May 22 IPO beat its expected range by 50 cents at $18.50 per share.
ECR will attempt to repeat these strong performances later this week; and we suggest investors consider buying in at the IPO.
Disclosure: The author has no positions in any stocks mentioned, but may initiate a long position in ECR over the next 72 hours. The author wrote this article themselves, and it expresses their own opinions. The author is not receiving compensation for it (other than from Seeking Alpha). The author has no business relationship with any company whose stock is mentioned in this article.