With US stock markets at record highs there has been a significant amount of speculation calling for a market correction.
While timing a correction may be near impossible it is quite true that US markets are expensive at the present time.
Cyclically adjusted P/E for the overall US stock market is amongst the highest in the world at 25.8 - 56.4% higher than the historical mean. While price to book for the market hovers around 2.77.
This compares to a CAPE ratio of just 10.85 in China or 6.08 in Greece. With respective price to book ratios of 1.07 and 1.12.
Further, an analysis of 34 stock markets in the world finds that the US is the second most expensive behind Singapore. Cheaper stock markets can be found in China, Japan, Greece, Russia and Hong Kong, among others.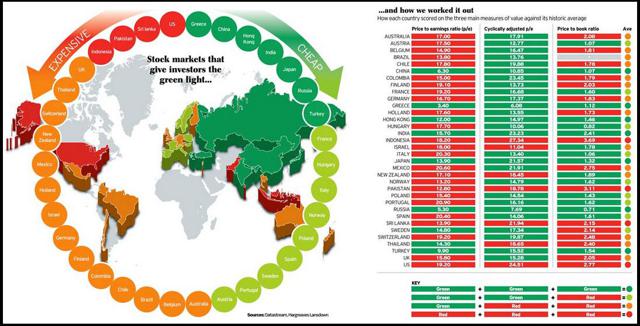 Source: Telegraph.co.uk
For US investors, this poses a problem.
US stock markets are expensive and there may be better options in international markets. However, buying foreign shares is not easy for US traders and exposes an investor to currency risk.
With that in mind, I decided to run a stock screen on all ADR shares listed on the NYSE and Nasdaq in order to find the best foreign shares listed on US markets.
Screening process
In order to find the best foreign shares on the NYSE and Nasdaq I first ran a stock screen looking for companies with high quality fundamentals and strong financial condition.
I chose to look only for companies who possessed the following criteria:
PE between 5 and 25
Dividend yield between 2% and 7%
PEG below 1
5 year EPS growth over 10%
Current ratio over 1
ROE over 5%
I then drilled down into each company a little further and came up with the following 5 gems:
Toyota Motor Corporation (TM)
Toyota was mostly recently in the news for having to recall nearly 800,000 vehicles thanks to a fault with airbags.
However, investors can take comfort from the fact that the news has failed to have a significant impact on the stock price, which currently hovers around four month highs.
Toyota is also the largest company on this list with a market cap of approximately $200 billion. It also offers a dividend of 2.06% and trades with a PEG ratio of just 0.30.
A potential reversal of the Japanese yen might be a problem for Toyota but with the Bank of Japan in easing mode, a large scale depreciation seems unlikely. Meanwhile, the Japanese stock market is considerably cheaper than the US stock market and is still around 60% away from it's all time high.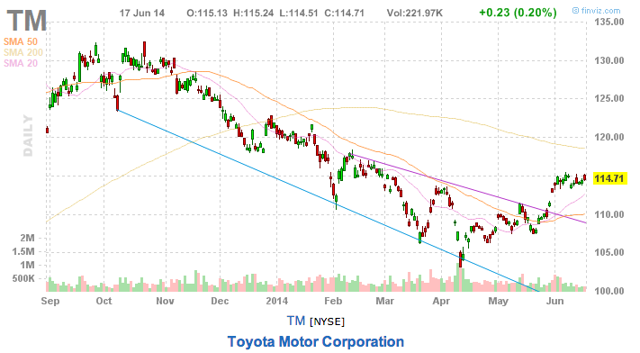 SouFun Holdings Ltd (SFUN)
The Chinese stock market is the third cheapest (of 34) behind Russia and Greece with a CAPE ratio of 10.85 and a price to book ratio of 1.07.
SouFun Holdings Ltd is a Chinese technology company that trades on the NYSE and is currently very cheap with a PE of 12.15 and PEG of 0.87.
SouFun operates as a real estate Internet portal in China and also provides a number of real estate related and e-commerce websites. The firm has over 100 offices covering more than 320 cities in China.
The stock has had a rough ride this year but this has made it very attractive for value investors and it's growth statistics are compelling. A very conservative DCF analysis, assuming an 11% discount rate gives the stock at least 20% of upside from here.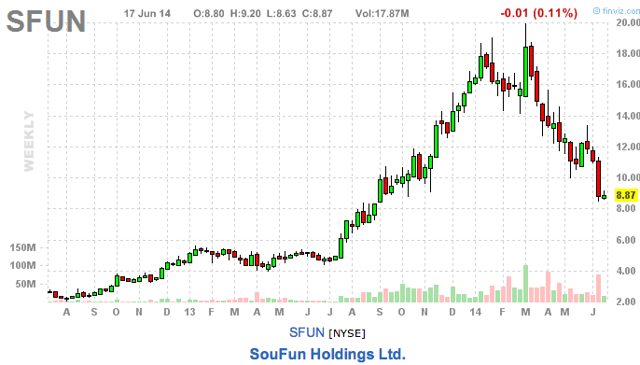 Seaspan Corp. (NYSE:SSW)
Seaspan Corp. is a shipping provider that operates out of Hong Kong, noted as one of the cheaper stock markets in the world with a CAPE ratio of 14.97 and a price to book of 1.47.
Seaspan manages and owns container-ships around the world in an industry that is particularly sensitive to economic cycles.
However, Seaspan have strong management in place and the stock trades at significant discount with a healthy dividend of 5.94%. PEG is just 0.57 and a conservative DCF analysis gives the stock over 50% of potential upside.
Furthermore, SSW has strong insider ownership of 44.5% according to finviz.com.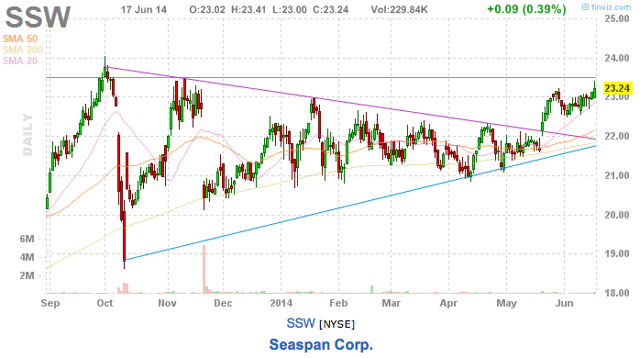 Braksem SA (NYSE:BAK)
The Brazilian stock market is moderately price compared to the rest of the world and has a CAPE ratio of 13.76.
Braksem SA is a high quality basic materials company that produces and sells thermoplastic resins including ethylene, polymer, propylene and isoprene.
A spike in the oil price may be problematic for Braksem but for now, the company looks to be in a great position.
EPS is expected to grow at a rate of 19.1% over the next 5 years having grown at a clip of 16.30% for the 5 years prior. This gives the stock a PEG of 0.86. ROE is approaching 9% while the dividend yield is attractive at 4.11%.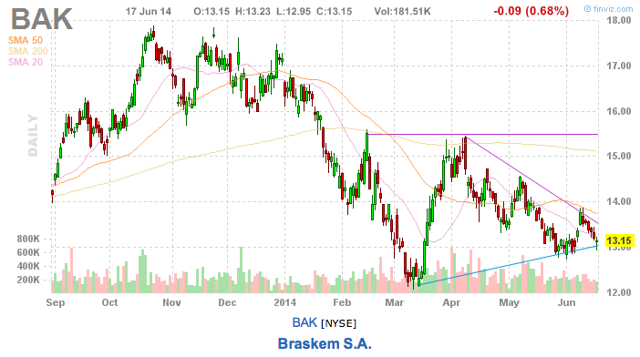 Transglobe Energy Corp (NASDAQ:TGA)
A little closer to home is Transglobe Energy Corp which is a Canadian company trading on the Nasdaq. The Canadian stock market is moderately valued and investors can expect annual returns of 4.1% from Canadian shares which compares to just 1.3% annual returns for US shares.
Transglobe is an oil and gas explorer that focuses on operations in Egypt and Yemen with no less than 12 working operations across the region. Unlike most oil explorers, TGA has a proven track record of success and has grown EPS at a rate of 20.30% over the past 5 years. The company also pays dividend of 2.79% and has a PEG of 0.84. The balance sheet is healthy too, indicated by the current ratio of 7.98.
With the current turmoil in the Middle East likely to push up the oil price even further, TGA could be a good stock to play.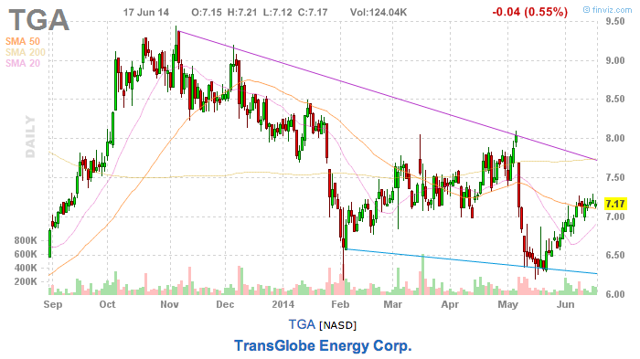 Disclosure: The author has no positions in any stocks mentioned, but may initiate a long position in TGA, SSW, TM, SFUN, BAK over the next 72 hours. The author wrote this article themselves, and it expresses their own opinions. The author is not receiving compensation for it (other than from Seeking Alpha). The author has no business relationship with any company whose stock is mentioned in this article.