Chicago Bridge & Iron (NYSE:CBI) has been under pressure recently. The stock has fallen some 20% since recent highs, including better than 7% yesterday on a piece from Prescience Point Research Group postulating CB&I has used creative acquisition accounting to create a $1.56B loss reserve that can be converted directly into gross profit to offset costs, thereby dramatically inflating reported profitability.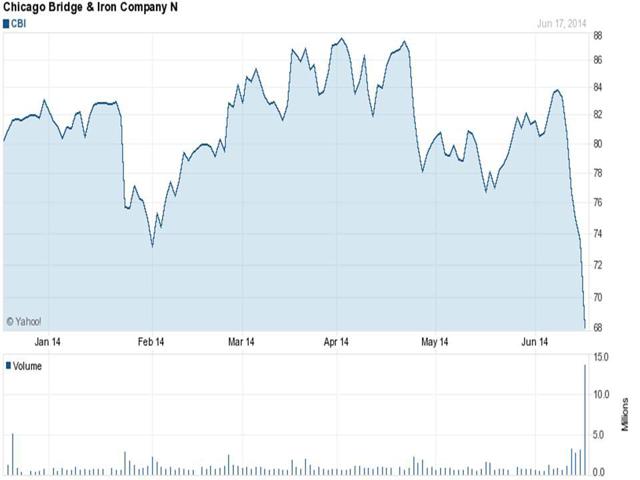 Company management is pushing back hard against the report today. Leadership is reiterating that Q2 results should be in line within the ranges of previously issued guidance. In addition, D.A. Davidson has upgraded the stock to a "Buy" from "Neutral", based on valuation after its recent pullback. William Blair has also chimed in saying the shares are attractively valued after decline, and also that it believes Chicago Bridge's purchase price allocation adjustments were in line with GAAP accounting standards. The analyst firm has an "Outperform" on the shares.
I think this decline is a buying opportunity, and I bought an initial stake in this undervalued growth play at the start of trading this morning.
Company Overview:
Chicago Bridge & Iron is the most complete energy infrastructure-focused company in the world, and a major provider of government services. The company is involved in building huge liquefied natural gas (LNG) projects, as well as other major energy infrastructure projects. The company has a market capitalization of under $7.5B and an enterprise value south of $10B. Chicago Bridge & Iron's order backlog currently stands north of $30B, or more than three times the enterprise value of the company.
Revenues are tracking to just under 20% year-over-year gains this year, and the stock has a five-year projected PEG of under 1 (.92). In addition, earnings are on an impressive up-ramp (See Chart).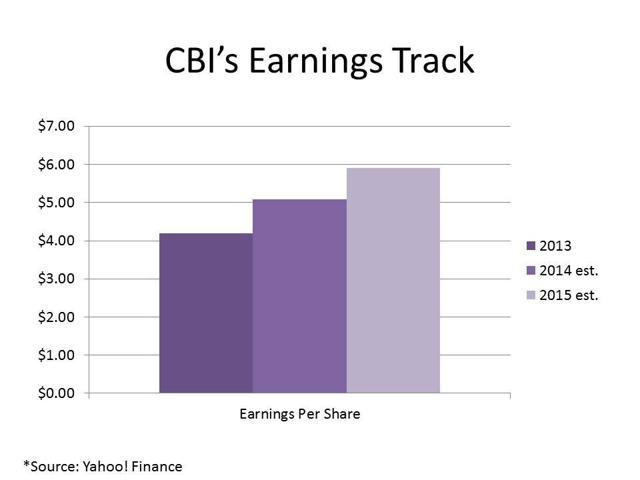 With the recent pullback, the stock goes for approximately 13.5 times forward earnings, a ~20% discount to the overall market. These shares represent a good value versus the market overall. Consensus has S&P 500 earnings going up approximately 5% year-over-year on an approximate 3% to 4% increase in sales in 2014. Earnings for CB&I are tracking to post 20% to 25% gains on a revenue increase in the high teens. Finally, the median analyst price target held by the 17 analysts that follow the company is $95 a share. This is approximately 35% above the current price on the stock. BUY
Disclosure: The author is long CBI. The author wrote this article themselves, and it expresses their own opinions. The author is not receiving compensation for it (other than from Seeking Alpha). The author has no business relationship with any company whose stock is mentioned in this article.