OmniVision Technologies (NASDAQ:OVTI) has always been a controversial name due to the commoditized nature of the image sensor industry, creating perpetual cycles of booms and busts. And with all cyclical names, there are periods of great opportunity, such as now.
OVTI is benefiting from the tailwinds of a very strong China LTE build, proliferation of image sensors in all devices (internet of things), limited 8" capacity for the competition, new handset designs incorporating many image sensors, and a very cheap valuation that is not well understood.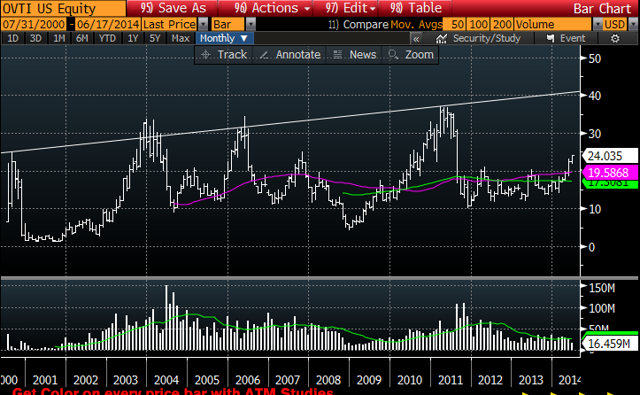 China represents a massive smartphone TAM as evident by the chart below: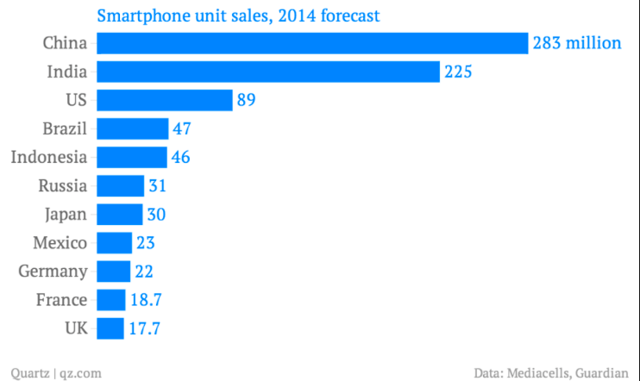 And this year, China is undergoing a technology evolution from 3G to 4G LTE. China Mobile (NYSE:CHL), China Unicom (NYSE:CHU) and China Telecom (NYSE:CHA) have talked about 4G LTE units alone approaching 100-150m units, with the beneficiaries being many local Chinese brands such as Xiaomi Corp, Huawei Technologies, Lenovo Group, ZTE, K-Touch, TCL, Gionee, MEIZU, OPPO, Coolpad and many more. The advanced network will translate into smartphones with advanced technology and much higher megapixel sensors - benefiting the leading suppliers. In the past, OVTI would face severe competition with GalaxyCore as most smartphones used low-end image sensors on 3G networks. But with the specs advancing to 8MP, 10MP, 13MP and higher, GalaxyCore will be unable to compete with OVTI, given they only have technology from VGA to 5MP.
In the past, Intel (NASDAQ:INTC) would come out with new chips at the same price but double the performance every 18 months or so, keeping up with Moore's Law. But at a certain point in time, it became clear that the performance was good enough, so the industry began offering chips at the same performance but half the price as previous generations, allowing for chips to be cheap enough to be placed in any and all devices. And with the integration of chips, the devices become smart, which in turn allows these devices to gather data, which means they are loaded up with sensors - from image sensors, proximity, light, gesture, temperature, UV, etc. We are seeing this with the auto industry, security, appliances, toys, etc. The demand is real and is only in the early innings.
With this proliferation of sensor requirements in smartphones, cars, and devices, the demand has outpaced the 8" wafer capacity. Vanguard, a leading 8" wafer foundry, recently reported 1Q14 earnings with utilization at "over 100%". In previous cycles, the excess 8" capacity from the logic/memory/foundry providers would be used to make CMOS image sensors, causing severe downturns, yet this time, we are seeing many other sensors being developed, keeping capacity tight, limiting the capacity of competitors. OVTI does not have capacity concerns given it has a very strong relationship with Taiwan Semiconductor Manufacturing Company (TSMC).
It is rumored that a leading internet company is coming out with its own smartphone, with 6 image sensors to provide 3D technology. If it is successful with its phone, it could drive the industry to follow suit.
And lastly, OVTI is very cheap. It currently has $451m in cash and short-term investments on its balance sheet, representing $7.63 in cash per share. In February, a company OVTI has a ~15% stake in called China Wafer Level CSP in China went public. After selling 5.1m shares in the IPO last quarter, OVTI still retains ~30.3m shares. Using the closing price of 6/17/14, and subtracting the $33.8m in book value associated with this stake, the market value is $162.9m, or an additional $2.76 in cash per share. Combining the cash and the equity stake together, it represents $10.39 in cash per share. Taking the closing OVTI price of $24.04 and subtracting out the cash and applying the street consensus FY15 EPS of $1.34, it implies OVTI is trading at only 10.0x. If we use my estimate of $2.00 for FY15, OVTI is trading at 6.8x versus the current market multiple of 18x. If we assumed OVTI did $2.00 in FY15 and generated $40m in cash per quarter, and applied a 15x multiple on earnings, it would translate into a $43.31 stock by the end of April 2015 - upside of 80%.
Disclosure: The author is long OVTI. The author wrote this article themselves, and it expresses their own opinions. The author is not receiving compensation for it (other than from Seeking Alpha). The author has no business relationship with any company whose stock is mentioned in this article.