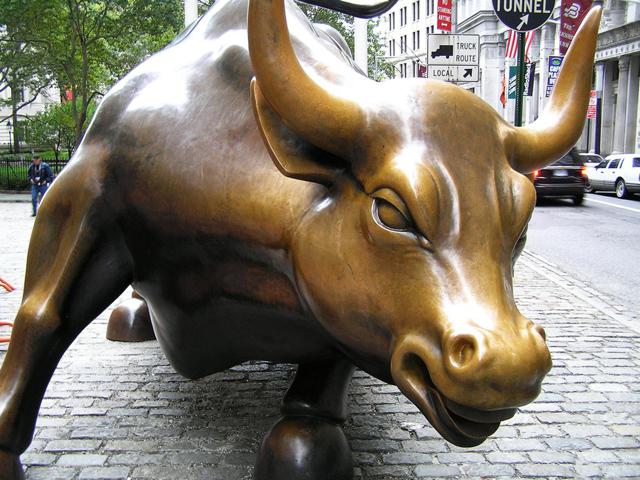 The market bottomed out in March of 2009. The market has been on a nearly non-stop upward trajectory since that time. The Shiller PE Ratio has expanded from 15 to 26. The Dow Jones Industrial Average has gone from a low of about 6,700 in 2009 to over 16,800… in only 5 years and 3 months.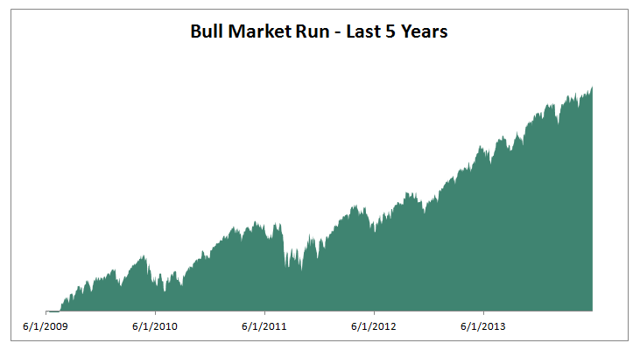 Bulls & Bears
We can debate over when the next recession will occur. The truth is, no one really knows. A diversified portfolio should include businesses that do well in recessions, as well as businesses that thrive during bull markets.
Dividend Aristocrats are often seen as defensive stalwarts. In fact, several Dividend Aristocrats have performed very well since March 2009, trouncing the market's return along the way. Since March of 2009, the market (measured by: SPY) has a CAGR (including dividends) of 23.67% per year. The top 5 Dividend Aristocrats from March 2009 to now all have CAGRs of over 34%.
The Top Bull Market Dividend Aristocrats
The 5 Dividend Aristocrats with the highest total returns since March 2009 are: Sherwin-Williams (NYSE:SHW), Dover (NYSE:DOV), McGraw Hill Financial (MHFI), VF Corporation (NYSE:VFC), and PPG Industries (NYSE:PPG).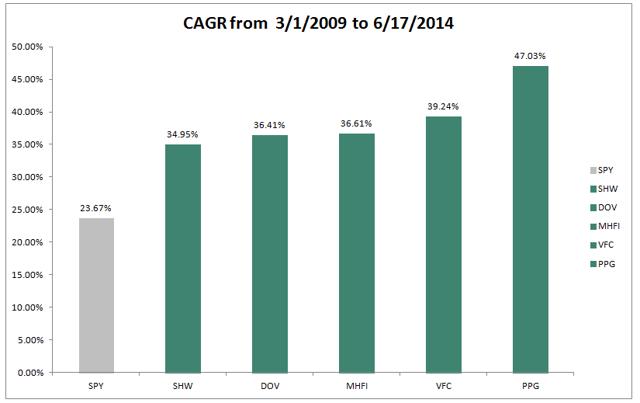 Valuation Multiple Expansion
The performance of these 5 businesses has been nothing short of breathtaking. Where did it come from? Examining the companies' PE10 (also known as Shiller PE) ratios shows that the bulk of gains has come from rising valuation multiples.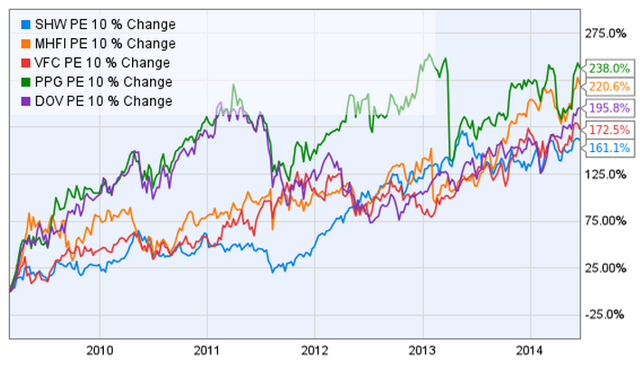 Source: YCharts.com
Valuation multiple expansion has been the dominant factor in the impressive 5 year runs of these businesses. Aside from valuation, four out of five of these businesses have seen real business growth as measured by increasing revenues per share.
Revenue Per Share Growth
In the case of McGraw Hill Financial, revenue per share has decreased since 2009. For the other 4 companies, revenue per share has significantly increased over the last 5 years. Sherwin Williams and VF Corporation in particular have seen strong revenue per share growth of about 10% per year.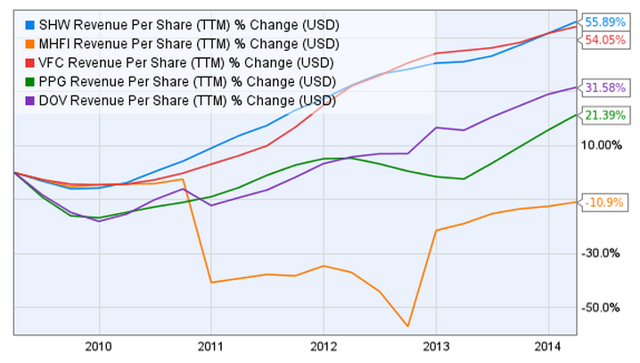 Source: YCharts.com
Past Performance is No Indication of Future Returns
The 5 businesses mentioned in this article are very unlikely to continue to compound at the rates of the last 5 years. VF Corporation is a great business, but the underlying business will never grow at over 30% a year like the stock has. Similarly, the other four businesses on the list do not have real growth that is anywhere near their stock growth.
"In the short run the market is a voting machine but in the long run, it is a weighing machine"

- Benjamin Graham
This is not to say the five stocks mentioned in this article are overvalued; it only means are very unlikely to continue growing at the rate at which they have been.
Conclusion
The top 5 performing Dividend Aristocrats of the last 5 years have seen significant valuation multiple expansion, and most have seen strong revenue per share growth. Buying these stocks in March 2009 took extreme conviction, as the market was rapidly losing value.
The timing of purchasing at the very bottom of the market is very unlikely as well. The key takeaway is that being a contrarian and investing in high quality businesses at depressed prices will result in outsized returns.
Disclosure: The author has no positions in any stocks mentioned, and no plans to initiate any positions within the next 72 hours. The author wrote this article themselves, and it expresses their own opinions. The author is not receiving compensation for it. The author has no business relationship with any company whose stock is mentioned in this article.