We constantly revisit the names we keep in our portfolios and on our watch lists, and even if we do not own a stock that we have written about it is generally located on one of our watchlists. Today we wanted to revisit one of the sectors we have written about over the past couple of years while also highlighting the good news from another which is pointing to growing strength in the economy. We would like to see more, but for now we will take good news for what it is, good news and continue to be buyers of this market when we can find value.
Chart of the Day:
As we have discussed recently we are not too concerned with the initial claims and continuing claims figures as they are skewed. Looking at this long-term chart, it indicates that we should be close to where the economy was 1997-98 and 2004-07. That is not the case right now, even though the numbers say so, which is why other data points are more important to focus on at this time. Yes the markets will still react to these numbers tomorrow, but until the labor market works through excess supply we find it hard to trust claims figures...particularly the continuing claims numbers.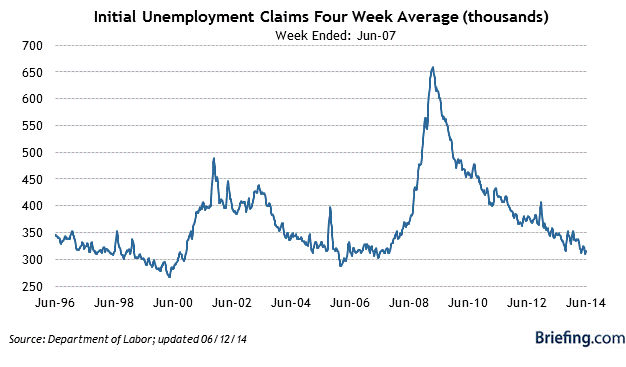 Source: Briefing
We have economic news today, and it is as follows:
MBA Mortgage Index (7:00 a.m. EST): Est: N/A Act: -9.2%
Current Account (8:30 a.m. EST): Est: -$97.8 B Act: -$111.2 B
Crude Inventories (10:30 a.m. EST): Est: N/A Act: -0.579 M
FOMC Rate Decision (2:00 p.m. EST): Est: UNCH
The Asian markets are lower today:
All Ordinaries -- down 0.33%
Shanghai Composite -- down 0.54%
Nikkei 225 -- up 0.93%
NZSE 50 -- down 0.17%
Seoul Composite -- down 0.60%
In Europe, the markets are higher this morning:
CAC 40 -- down 0.08%
DAX -- up 0.16%
FTSE 100 -- up 0.34%
OSE -- up 0.03%
Excitement Building Around Drug Retailer
Readers who have followed us for some time know that we have been bullish the drugstores for some time. Our favorite name for those seeking steady growth and income over time has been Walgreen (WAG) and this was one of our recommendations for retirement funds at much lower prices. Although we also like CVS (NYSE:CVS) our logic was that Walgreen was not only a play on the drugstore business but also prime commercial real estate, an area we thought would improve moving forward at the time of our initial recommendation.
For speculators we have also pointed out Rite-Aid (NYSE:RAD) as it continues to see margins increase and management deleverage the balance sheet on the back of the rise in generic drugs which is powering the entire industry higher.
In many ways it has appeared that the gap between the country's largest drugstores' performance was in fact shrinking, but that may be about to change again. The continued speculation that Walgreen would look to consolidate its holdings and then reorganize in Europe to achieve an overall lower tax rate appears to be gaining steam and could force the company's management to pull the trigger. With the latest move higher in the stock a result of the tax inversion speculation from analysts and investors, one has to believe that management will act sooner rather than later.
At the current levels we are not buyers of new positions for Walgreen as we believe that there will be a pullback and recognize the risk of a greater pullback if management delays the consolidation of their European holdings. With the low cost basis many readers have in the shares we think it is safe to continue to hold this name as a long-term holding rather than attempting to trade around news flow or speculation of potential news flow.
Transports Continue To Lead
Over the past few years we have been accused of being a "blind" bull from some readers as we have been bullish the economy and stocks and buyers on pullbacks. Reading articles only during days when we are buying on pullbacks might lead one to believe this, but we have been sellers when we thought there was better value to be had elsewhere in the market. Although we have rotated certain holdings in individual companies and sectors, our feeling is one cannot go bearish of the markets at this time with the transports providing leadership.
FedEx shares have moved sideways for much of the last 8 months, but with today's strong quarter the stock is trading at fresh 52-week highs.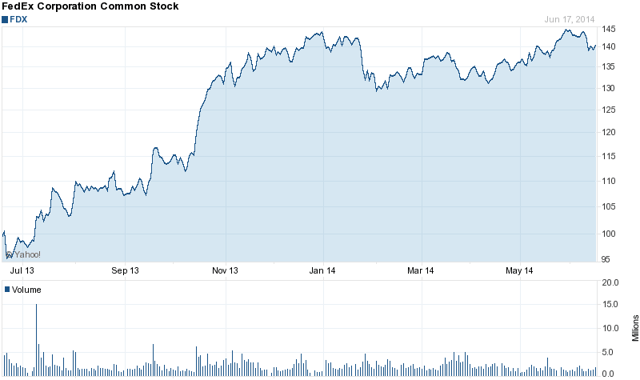 Source: Yahoo Finance
Union Pacific (NYSE:UNP) has been our favorite name among the railroads but one area we had shied away from, the package shippers, is delivering today with FedEx's (NYSE:FDX) great quarter. Questions remain moving forward, such as where oil prices go and their impact upon the business and whether the premium corporate segment of the business rebounds moving forward, but we are not ones to bet against the direction the transports are telling us we are headed; economically speaking or equity price related.
Disclosure: The author has no positions in any stocks mentioned, and no plans to initiate any positions within the next 72 hours. The author wrote this article themselves, and it expresses their own opinions. The author is not receiving compensation for it (other than from Seeking Alpha). The author has no business relationship with any company whose stock is mentioned in this article.