Last Friday shares of Yelp (NYSE:YELP) and GrubHub (NYSE:GRUB) took off as Priceline.com (PCLN) announced a deal worth $2.6 billion to acquire online restaurant reservation platform OpenTable (NASDAQ:OPEN). Yelp stock rose 14% on Friday and GrubHub shares gained 7% after Priceline agreed to pay a 47% premium on top of OpenTable's market capitalization. Yelp is the most widely predicted takeover target on the crowdsourced M&A predictions platform Mergerize.com, and last week's news has investors betting that an acquisition might be in the near future for Yelp as well.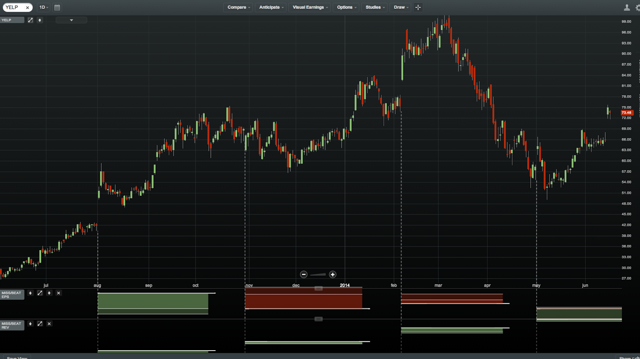 Yelp's stock hasn't performed particularly well in 2014 as the company was adversely affected by the rotation from high momentum growth names to more stable and larger companies. The swing was especially brutal between March and April when Yelp shares tumbled from a high of $101.75 to $54.68 for a loss of nearly 50%.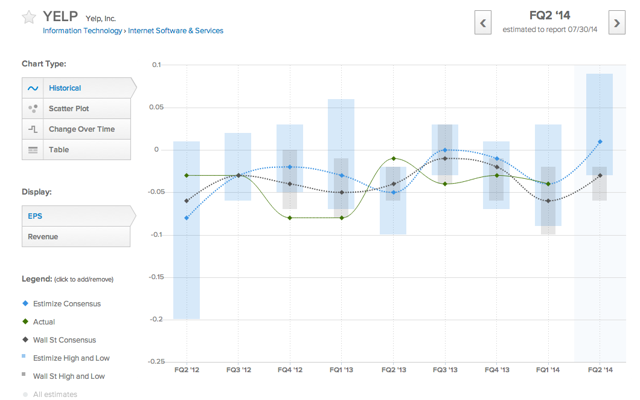 (Click here for chart details)
Although Yelp has struggled with profitability over the past two years and has failed to post positive earnings in any single quarter, the company's revenue has been increasing steadily. In March the broad sell-off targeted stocks with high (or negative) price to earnings ratios like Yelp, but consistent revenue growth and the promotion of its 2013 acquisition, SeatMe, leaves plenty of upside in play for Yelp.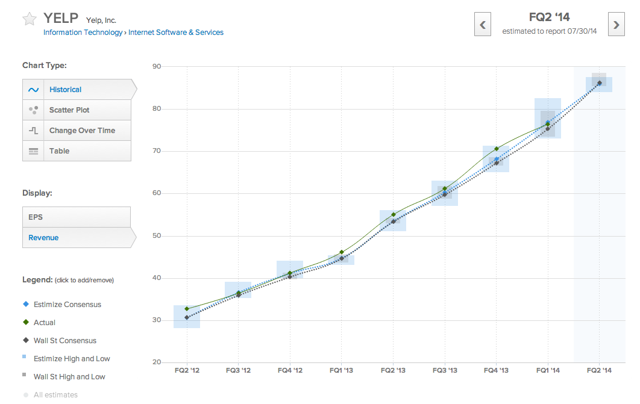 (Click here for chart details)
SeatMe is an online and mobile reservation app designed to go toe to toe with OpenTable which currently dominates the market. Yelp offers similar user generated content (ratings and reviews) compared to OpenTable, but its SeatMe app its poised to become a much cheaper alternative for restaurants to fill available seats than OpenTable. On average OpenTable's combined monthly subscription and per reservation charges add up to a $697 monthly bill to restaurants using the service. Comparatively, SeatMe offers a similar service for only $99 per month, with no additional variable costs.
For obvious reasons, SeatMe could quickly become a thorn in OpenTable's side if the platform can gain some traction among diners. The only potential roadblock here is the first mover advantage that OpenTable has. OpenTable already has table hunters on its platform which it offers to users for free. But it's not an impossible problem for Yelp to solve.
Yelp has become one of the most well-known and trusted mobile and desktop apps for restaurant reviews. Many OpenTable users go on Yelp first to find which restaurant they would like to eat at before switching back over to OpenTable to book a reservation. Yelp is already dangling its reservation app on its review pages. With more promotion SeatMe may be able to cut OpenTable out of the reservation booking process completely and gain adoption from restaurants and users alike.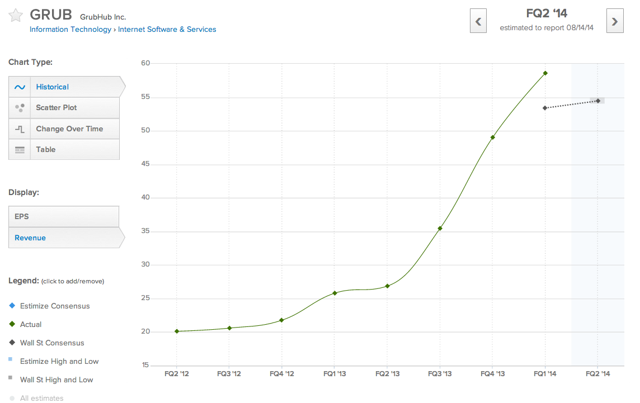 (Click here for chart details)
GrubHub recently had its IPO and unveiled fundamental financial information to investors. GrubHub, which merged with Seamless in 2013, offers online and mobile apps where customers can order and pay for online restaurant deliveries. Like Yelp and OpenTable, much of the value of GrubHub comes from its user generated ratings and reviews. The large premium that Priceline paid to acquire OpenTable is a sign that companies are placing a ton of value in community assets that generate their own content.
GrubHub has its own restaurant ratings and reviews, but the company is still somewhat vulnerable to Yelp in a similar fashion to OpenTable. The advantage that GrubHub has over OpenTable is that its platform carries a lower risk of being copied. Reservation search and booking isn't too complicated of a process. There are only three variables involved - the name of the restaurant, party size, and the desired time of the reservation. The real differentiators for reservation booking apps are the quantity and quality of content, and the price point for restaurants, two areas where Yelp may have a leg up on OpenTable. On the other hand, building a platform where restaurants can create their own clickable and customizable online menus including a mobile payments system is a much more difficult undertaking, and that offers some hope of protection for GrubHub.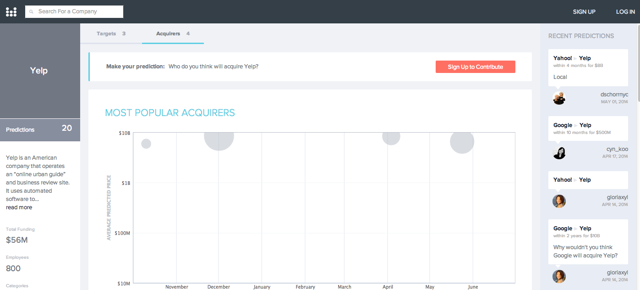 Although GrubHub's revenue has more than doubled on a year over year basis in each of the previous two quarters, Yelp is the king of content and the food-tech company getting all the attention in the rumor mill. On Mergerize 14 predictions have been made that Yelp will be acquired within one year. The mostly commonly predicted acquirer is Yahoo (YHOO) with 7 analysts believing Yahoo will look to acquire Yelp after its windfall from the Alibaba IPO. The average predicted takeover price on Mergerize is $7.81B, and the news of the OpenTable deal just increased Yelp's market capitalization by more than $750M to $5.34B. If Yelp were to be acquired today for the same 47% premium that Priceline paid for OpenTable, the sale price would be around $7.85B. Maybe there is some wisdom in the crowd for M&A after all.
Disclosure: None.