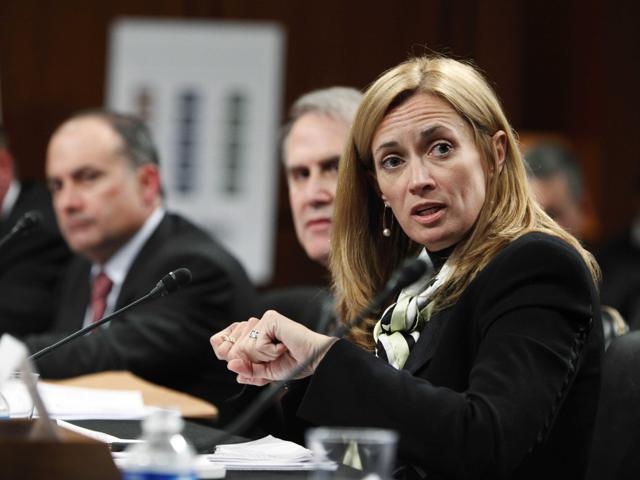 Last week, Citigroup (NYSE:C) and Standard Chartered (OTC:SCDRF) began investigating a suspected fraud for commodity-backed loans in China. The loans used copper and aluminum as collateral, which were warehoused at China's Qingdao Port. Bankers are afraid that one major borrower, Qingdao Whale, has fraudulently pledged the same collateral for multiple loans. However, the whale loss is unquantifiable at the moment.
Bankers cannot ascertain if other clients have orchestrated the same scheme or if the exposure extends to other ports. Secondly, there is no guarantee the collateral is at Qingdao Port since Western banks cannot access the storage facilities. Even more alarming is that today, Citic Resources Holdings Ltd. (OTCPK:CTJHF) claimed that about 123,446 metric tons of aluminum ($49 million) it stored at Qingdao Port is missing. The Whale fiasco may cause a diminution in the business of commodities traders and lenders worldwide. It may also jeopardize JPMorgan Chase's (NYSE:JPM) $3.5 billion sale of its commodities business to Mercuria Energy Group ("Mercuria")
Whale Trade Source Of Hot Money Into China
Citigroup may be the only large U.S. bank with known exposure to Qingdao Whale. Most large banks are exposed to commodity-based loans, much to the Federal Reserve's chagrin. According to Forbes, banks loaned $687 billion to commodity-based businesses in 2013. Most of those loans used raw materials as collateral, but were made directly to companies. JPMorgan was the largest lender at $57 billion, followed by Wells Fargo at $47 billion.
The Whale trade also used commodities as collateral. However, it was ultimately designed to exploit the gap in Chinese and U.S. interest rates. In my previous article, I explained how the trade worked:
Copper is imported using letters of credit, warehoused in duty-free zones and pledged as collateral for cheap bank loans. The loan proceeds are used by the importer to speculate in higher-yielding, short-term investments. When the letter of credit comes due, the importer then either sells the commodity or the investment product.
Goldman Sachs estimates that loans backed by commodities totaled $160 billion, or about one-third of all short-term foreign exchange loans in China. Unlike loans to companies, the majority of commodity-backed loans in China rely not on the cash flows of the lender, but on the value of the commodities for pay back. That said, bankers are spooked - they are looking to wind down financial arrangements for commodities or stop doing them going forward. A complete wind down of $160 billion in financing could send prices into a tailspin and cause an economic slowdown in the region. Such a development could roil commodity markets, negatively affecting commodity lenders globally.
Sales of JPMorgan's Commodities Business
In March 2014, JPMorgan announced the $3.5 billion sale of its commodities business' physical assets and trading arm to Mercuria, a closely-held company founded by Swiss traders. The transaction is expected to close by September 2014. Regulatory scrutiny and capital constraints made commodities trading a high-risk, low-margin business for JPMorgan, triggering the sale. Given that commodities trading houses like Mercuria are not subject to the same regulatory constraints, they have been welcome buyers of commodities trading operations:
Meanwhile, the mostly privately held commodities houses have been snapping up assets to support their core trading businesses, lock in access to supply and provide a steady income stream. Trading houses aren't subject to regulatory capital requirements like banks are.
That said, the sale transaction appeared to be a win-win for both JPMorgan and Mercuria. Below are the historical revenues of the business.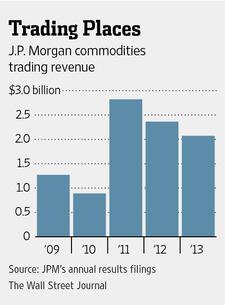 Could Whale Fiasco Cause "Material Adverse Change?"
Most merger agreements include a "Material Adverse Change" or "MAC" clause which allows the buyer to terminate or back out of the transaction in case of a substantial dimunition in the business being acquired. A material adverse change can be interpreted broadly, including, but not limited to, a loss of a large client, a patent or trademark deemed important to the business, etc. Mercuria could potentially ask JPMorgan for a purchase price reduction or invoke the MAC clause for the following reasons:
Loss of Revenue In China
To the extent that JPMorgan has a sizeable amount of its physical assets or trading revenue attributed to China, those revenues will most likely decline going forward. There is a lack of confidence in the commodities lending market in China and lenders are pulling out; there will be an immediate impact on Whale trades going forward. Moreover, the Whale fiasco is also expected to impact the Chinese economy on a broad basis. Moody's Investors Service believes that tighter credit will lead to defaults in the steel, real estate and mining sectors. The World Bank and the IMF even suggested that without reining in the growth of its short term credit, China could face a financial crisis on par with that of the U.S. in 2008:
China's been fueling stellar growth in large part through credit. That works in the short term, said Kaushik Basu, the bank's chief economist ... But it only delays needed financial reconciliation, he said ... "We've seen that in the U.S. in 2008, and China may have to face up to that sometime in the coming year, or couple of years because of its bloated finances."

In April, the International Monetary Fund urged China to rein in its credit growth, even if it meant slow growth. Without stronger oversight of China's lending practices, the IMF warned, the country risks a financial crisis that could send the economy into a nosedive.
To the extent that JPMorgan's commodities business has any revenue derived from China, that revenue will likely decline dramatically if China's economy contracts.
Sharp Decline in Collateral/Trading Assets
The Whale fiasco has caused prices for copper, iron ore and cotton to decline noticeably. The price declines could also spill over into aluminum. If traders are forced to liquidate tens of billions of commodities due to contracts being unwound, the price declines could become exacerbated. Such sell offs could result in the JPMorgan commodities business being delivered with collateral values or trading assets much lower than expected or unacceptable to Mercuria.
Increase In Funding Costs Going Forward
JPMorgan's commodities business enjoys the low cost funding of bank deposits which it will not have access to post-sale. Since the Qingdao Whale issue has emerged, lenders have begun to look askance on commodities traders; they may increase their lending rates to compensate them for the loss of confidence in commodities markets. As a result, JPMorgan's commodities business could possibly have much higher funding costs and lower operating margins than originally projected.
Mercuria May Have Its Own Whale Problems
When a company is having problems in its own business, it is loathe take on someone else's. That said, the Citigroup commodities-backed loan in China was actually made to Mercuria. According to New York Times DealBook, if Mercuria made loans on non-existing commodities then Citigroup could possibly have a claim against Mercuria. In effect, Citigroup's Whale loss could ultimately become Mercuria's Whale loss:
As Citigroup assesses any damage, it is zeroing in on commodities loans to the Mercuria Energy Group ... Citigroup lent money to Mercuria secured with copper and aluminum apparently stored in Qingdao. On May 28, Mercuria informed Citigroup that improprieties might have taken place at the metals warehouses, according to a person briefed on the loans who spoke on condition of anonymity. If Mercuria borrowed the money on the basis of nonexistent commodities, Citigroup could have the right to demand that Mercuria repay the loan. If Mercuria did that, Citigroup would probably not suffer a significant loss. Mercuria declined to comment.
The ultimate exposure for Citigroup or Mercuria is not quantifiable at this point. It does beg the question, "How many other loans against non-existing commodities has Mercuria entered into, or how will such losses impact its ability to fund the acquisition of the JPMorgan commodities unit?" Such issues may make Mercuria more than eager to seek a MAC out.
Conclusion
For 1Q 2014, JPMorgan generated revenue of $25.8 billion versus $23.9 billion for 1Q 2013, an 8% increase. The company also earned net income from operations of $6.5 billion for 1Q 2014, a 24% increase over 1Q 2013 net income of $5.2 billion. Though there is no way to deem whether its commodities business has experienced a diminution in value, the Qingdao Whale fiasco could jeopardize the sale on its current terms. I personally do not think the stock is worth the risk involved. I would advise investors to avoid JPMorgan.
Disclosure: The author has no positions in any stocks mentioned, and no plans to initiate any positions within the next 72 hours. The author wrote this article themselves, and it expresses their own opinions. The author is not receiving compensation for it (other than from Seeking Alpha). The author has no business relationship with any company whose stock is mentioned in this article.