Back in late April I raised my price target on Enerplus (NYSE:ERF) from $23 to $25 based on bullish earnings expectations as a result of the extremely cold winter and ERF's Marcellus gas operations. However, I also pointed out that the company had put a priority on its operations in the Bakken: 40% of 2014 cap-ex is allocated to the play. This morning Enerplus announced a very bullish report on its Bakken acreage. Although I keep raising my price target on Enerplus, the stock has been up to the challenge - most recently busting through my earlier $23 PT. While the stock has not yet reached $25 (my last PT), I won't wait this time. I am raising my PT three bucks to $28 today. The stock is currently yielding 4.2%.
Fort Berthold Estimates: Up, Up, And Away
Highlights of today's Fort Berthold resource announcement include the following highlights from its acreage in the Bakken and Three Forks formations:
A 250% increase contingent reserves.
A 125% increase in drilling inventory.
A 50% improvement in drilling efficiencies.
As can be seen from Enerplus's 2013 reserves profile, the company has a nicely diversified resource base across the US and Canada and across liquids and gas: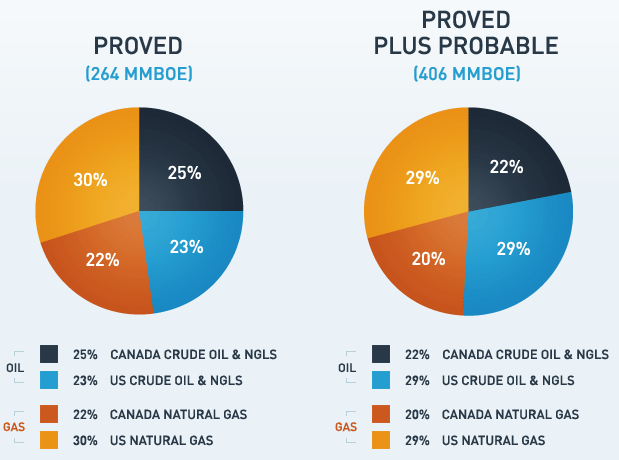 Expect a big revision in 2014 year-end proved reserves as a result of today's press release. Contingent resources were upgraded from 39 million boe as of year-end 2013 to 136 million boe as of June 1, 2014. Please note the difference between "proved reserves" and "contingent resources", which are defined as:
.... those quantities of petroleum estimated, as of a given date, to be potentially recoverable from known accumulations using established technology or technology under development, but which are not currently considered to be commercially recoverable due to one or more contingencies.
The contingency is simply drilling the wells. Note that the new contingent reserves estimate for Fort Berthold alone are roughly 50% of the company's total year-end 2013 proved reserves. So this is a game changing and very significant announcement by Enerplus. And of course there was an associated increase in potential future drilling locations, now estimated to be ~330, up from 145 previously, with long Hz wells representing 60% of these locations. This assumes an average well density of seven wells per DSU. Enerplus now estimates a 16-year drilling inventory in Fort Berthold with its current 2-rig program.
If that was not enough good news, in a presentation given today the company also announced very encouraging results in its downspacing tests and upgraded both type curves being used in the play.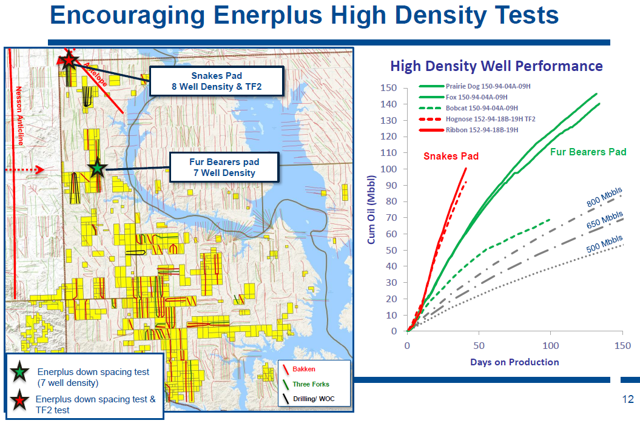 As can be seen in the graphic above, pad-drilling high-density downspacing tests for both the Fur Bearers and Snakes pads have significantly exceeded previous results for the company's 800,000 bbl type curve. As a result, Enerplus reported a 50% improvement in capital efficiencies within the play due to the new completion techniques combined with downspacing results. With the increase in well productivity, the net present value and internal rates of return of this play have greatly improved.
Both type curves used in the play were upgraded: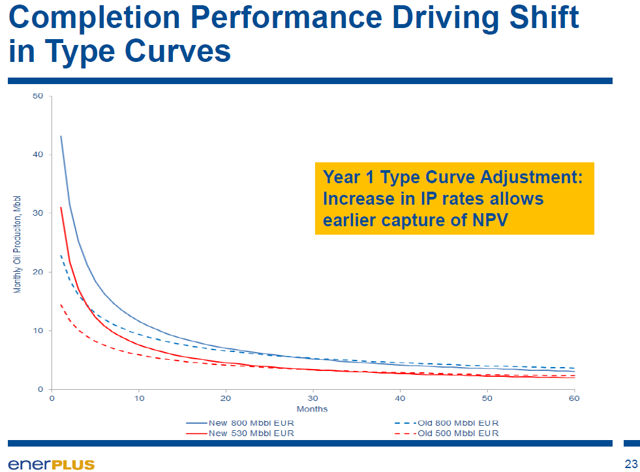 While total ultimate recoveries for both type curves did not change, the new types curves reflect an acceleration of recoveries resulting in an earlier capture of net-present-value and therefore a significant improvement in well economics. Before tax IRR have increased from 60% to 100% for the 800 Mbbl type curve, and from 25% to 45% for the 600 Mbbl type curve. Payout times have shrunk from 1.7 and 3.5 years to 1.4 and 2.3 years, respectively. And of course the increase in well productivity will increase free-cash flow.
Upside Potential
From the company's 2013 year-end reserves press release, the company's 2P PV-10 value of proved reserves was ~$5 billion:

That is based on 2P reserves of 406 million boe of which total oil 2P reserves were roughly half (192.2 Mbbls) as shown below. Even if only half of the contingent resource estimate announced today (136 million boe) is moved into the 2P reserves column, and noting that Fort Berthold production is predominately oil, an additional 68 million bbls of oil would equate to an approximate 35% increase total 2P oil reserves. A very conservative estimate for the increase in 2P PV-10 value of these additional 68 million barrels would be in the neighborhood of $2.7 billion ($40/barrel). And, again, note the original assumption that only 50% of the contingent resources would be moved to 2P reserves.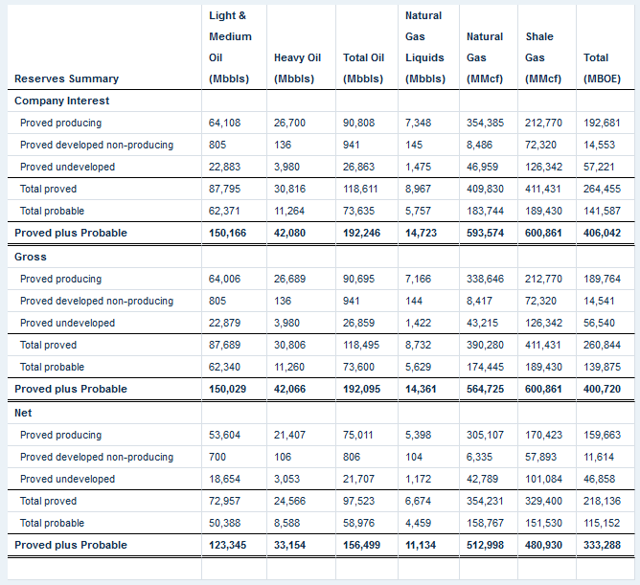 ERF's current enterprise value (mkt cap + debt) is roughly $6 billion. If we take the year-end 2013 2P PV-10 value of $5 billion and add my estimate of the 2P value of contingent resources of $2.7 billion, we get an estimated 2P PV-10 valuation of $7.7 billion: 28% above Enerplus's current EV.
But of course not all these reserves will be booked at year-end 2014. However, considering the definition of contingent reserves used by the Canadian Oil & Gas Handbook (and quoted above in this article), and taking into account the maturing nature of the Bakken and Three Forks formation as well as Enerplus' drill-bit results and those other operators surrounding ERF's acreage, the estimate made above is a very conservative one - it is based on a 50% conversion of contingent to 2P and a $40/bbl value. There is always the possibility that ERF could run into unforeseen drilling problems, but takeaway capacity in the Bakken is adequate and realized prices are rising along with WTI and the global geopolitical environment.
Summary & Conclusion
Enerplus' across the board upgrade for its Fort Berthold acreage in terms of resource potential, future drilling locations, and well economics is very bullish for Enerplus as it is moving the company toward a much more liquids oriented future as opposed to its dry-gas dominated past. And it's not only liquids, its oil (as opposed to NGLs). A very conservative estimate shows ERF is roughly 25% undervalued. Combined with a current yield of 4.2%, Enerplus is a BUY and a good choice for income oriented investors seeking exposure to capital appreciation via Bakken and Three Forks produced oil. I am raising my 12-month price target to $28. Combined with the dividend, that represents a total return opportunity of ~20% over the next year. ERF is a good choice for US investors' qualified retirement accounts as dividends paid to such accounts are exempt from Canadian foreign tax withholding.
| | |
| --- | --- |
| Market Cap: | 4.93B |
| P/E ("ttm"): | 51.78 |
| EPS ("ttm"): | 0.47 |
| Div & Yield: | 0.99 (4.20%) |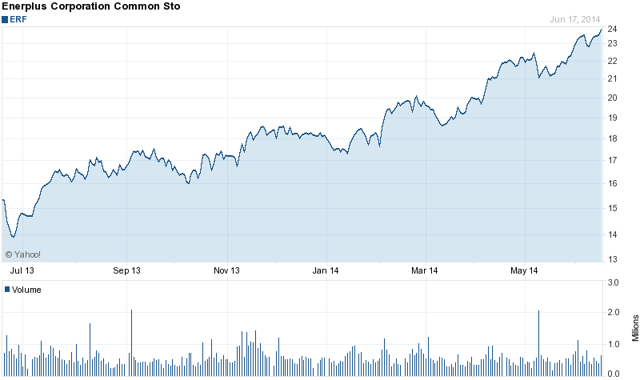 Disclosure: The author is long ERF. The author wrote this article themselves, and it expresses their own opinions. The author is not receiving compensation for it (other than from Seeking Alpha). The author has no business relationship with any company whose stock is mentioned in this article.
Additional disclosure: I am an engineer, not a CFA. The information and data presented in this article were obtained from company documents and/or sources believed to be reliable, but have not been independently verified. Therefore, the author cannot guarantee their accuracy. Please do your own research and contact a qualified investment advisor. I am not responsible for investment decisions you make. Thanks for reading and good luck!