Overview:
The BlackRock Energy and Resources Trust (NYSE:BGR) is an equity closed-end fund that invests in energy and natural resources. Energy stocks have performed well this year, after a relatively weak performance last year. The conflicts in Russia and now Iraq have pushed oil prices higher. Natural gas prices have increased due to the cold winter and increased usage of natural gas. Higher oil and natural gas prices have contributed to the performance of energy stocks this year. BGR has a history of strong performance, and is currently available at an attractive discount. As discussed here, BlackRock (NYSE:BLK) updated its distribution policy for equity options funds, including BGR, to a monthly distribution policy from a quarterly policy. Strong performance and shareholder-friendly action could be catalysts to narrow the discount.
Key Investment Highlights:
North American Shale Revolution: Hydraulic fracturing and horizontal drilling are allowing energy companies to exploit hydrocarbons trapped in shale formations. This has rejuvenated the North American energy business and allowed increased energy production. The ability to tap these shale resources has allowed companies to see significant growth. Shale formations continue to be explored, allowing companies to grow their proved and probable reserves. These developments have driven earnings and growth rates in the industry, allowing company prices to rerate.
Technology Advances Driving Efficiency: New technologies continue to be developed, allowing companies to further exploit shale resources. These technologies are allowing a higher percentage of the hydrocarbons to be recovered and causing wells to be more productive. These productivity increases are lowering lifting costs and improving well economics. This improves profitability of the energy companies and drives earnings higher. Growth rates and company valuations should continue to move higher as new technologies are discovered.
Stronger Economic Growth: Demand for energy is driven by economic growth. The global economy looks to be improving, albeit at a slow rate. As economic growth continues, the demand for energy increases, driving energy prices higher. Rising energy prices should benefit energy-producing companies.
Potential To Export LNG and Oil: The natural gas market in the U.S. is a local market. Domestic natural gas prices have declined due to the large amount of shale gas available. New natural gas export facilities are under construction. Once completed, these export facilities will allow domestic natural gas to be shipped overseas and sold at international prices. This should drive natural gas prices higher. Oil has a similar situation, but it is driven by politics instead of infrastructure constraints. There is the potential that the government will allow oil exports in the future, which could allow domestic oil prices to rise to the level of Brent.
Discount To NAV: BGR is trading at a 9.84% discount to NAV, and offers a 6.16% yield. Fund performance has been strong, and the fund's board is moving from quarterly to monthly distributions. These factors, along with strong performance of underlying securities could be catalysts to narrow the discount to NAV.
Key Investment Risks:
Falling Energy Prices: BGR's portfolio is vulnerable to a decrease in energy prices. If oil and natural gas prices were to fall, it could hurt the profitability of the companies in the portfolio, hurting performance.
Weak Economic Growth: If economic growth is below estimates, it could be a catalyst for energy prices to fall. Of particular interest are emerging markets, which are more energy-intensive economies.
Political Or Environmental Opposition To Hydraulic Fracturing: One of the big contributors to the strong performance of energy stocks has been the uptake of hydraulic fracturing, or fracking. Fracking is a controversial issue due to the potential for negative environmental effects. If rules change to prohibit fracking, it would likely derail the energy renaissance in North America.
Key Portfolio Metrics:
Market Capitalization: $783 million
Average Daily Volume (Shares): 90,000
Number of Holdings: 32
Annual Turnover: 132%
Premium/Discount: -9.84%
Z-Score: 1.06
Current Quarterly Distribution: $0.405
Market Distribution Rate: 6.16%
NAV Distribution Rate: 5.56%
Effective Leverage: 0%
Performance:
Using ETFs with similar investment objectives gives a good comparison to allow for evaluation of the fund management's performance. BGR invests globally in the energy sector, so the iShares Global Energy ETF (NYSEARCA:IXC) looks like a good proxy. BGR's long-term returns are attractive. BGR has outperformed IXC over the 3- and 5-year time periods on an NAV basis. Over the past year, BGR has underperformed IXC. Recent underperformance could be a result of the options overlay strategy in a low-volatility, upward-trending market.

Data as of 5/31/2014 Source: Morningstar
Looking at the annual returns, BGR has good results over most time periods. Surprisingly, BGR did not provide downside protection in 2008, as could be expected from an options strategy fund. The fund did rebound nicely in 2009, showing that upside wasn't completely caped by the options overlay during the rebound from the market meltdown.

Data as of 5/31/2014 Source: Morningstar
Premium/Discount: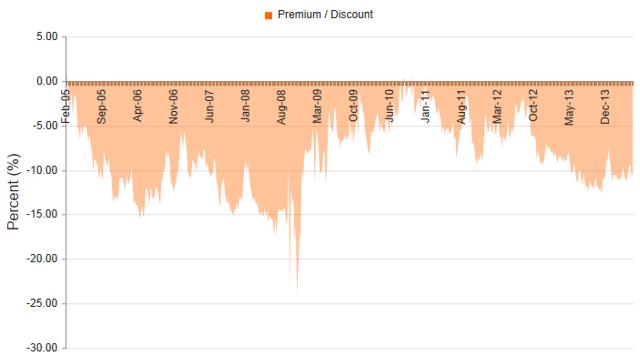 Source: CEFConnect
The fund closed 6/16/2014 at a 9.84% discount to the NAV, or underlying value of the portfolio. This is slightly above the 52-week average discount of 10.85%. BGR has traded with a pretty persistent discount since inception. However, there have been times where the discount was much narrower. Improving sentiment, strong management performance, and shareholder-friendly actions by the board are potential catalysts to close the discount.
Expense Ratio:
The management fee is 1.2% of average weekly net managed assets. Administrative fees and director's fees are also charged. The calculated management fee and other expenses came to 1.25% in 2013. The total cost of the fund is in line with expectations for a sector-specific options strategy fund.
Distribution:
BGR pays a quarterly managed distribution. However, as discussed above, the board of directors has decided to change to a monthly distribution. The new monthly distribution will be determined in August or September. The currently quarterly distribution is $0.405/share. This equates to an annual distribution yield of 6.16%, based on current market prices. BGR did pay a $2.50/share special dividend in December 2013.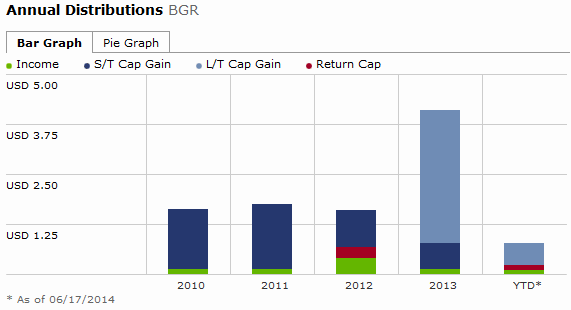 Source: Morningstar
BGR has distributed ROC in the past, but did not in 2013. Generally, ROC has not been destructive to the NAV.
Leverage:
BGR uses an options overlay, but does not employ other leverage.
Liquidity:
BGR is a medium-sized CEF, with $868 million in net assets. Trading volume is moderate, with 90,000 shares traded on an average day. Trading volume represents $2.24 million in daily volume at current prices. This offers a reasonable amount of liquidity for a CEF. Individual investors should not have problems getting orders filled. It is always wise to use limit orders to purchase or sell shares of closed-end funds, as the bid/ask spread can be wide.
Management:
BGR is managed by BlackRock. BLK is one of the largest asset managers in the world. BGY is supported by a large analyst team with access to the significant resources that BLK has to offer.
Portfolio:
Asset Allocation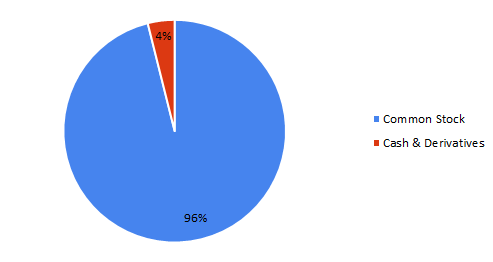 Source: BlackRock
The portfolio is primarily invested in common stocks. It does have some cash available if opportunities arise.
Industry Allocation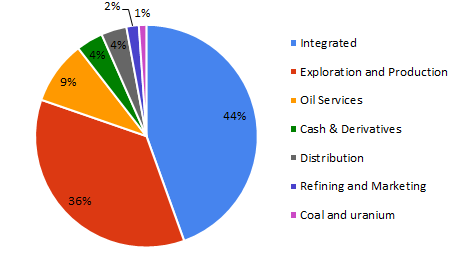 Source: BlackRock
BGR has a large allocation to integrated oil companies. These firms should provide the fund with a strong foundation. The fund also has significant exposure to E&P companies. E&P companies have performed well this year, and seem to be key beneficiaries from new shale development in North America.
Top Holdings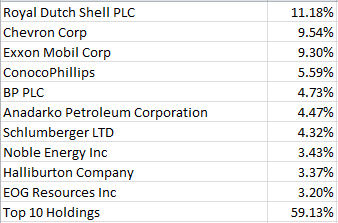 Source: BlackRock
BGR has a concentrated portfolio with only 32 holdings, and 59.13% of assets in the top 10 holdings. The fund has shown high turnover, with 132% turnover in 2013 and 86% turnover in 2012. The options overlay strategy likely contributes to the high turnover in the fund.
Strategy:
BGR's investment objective is to provide total return through a combination of current income, current gains, and long-term capital appreciation. Under normal market conditions, the fund will invest at least 80% of its assets in equities securities energy and natural resources companies. The fund uses an options selling strategy to enhance distributions from the portfolio.
Options:
BGR uses an options overlay to generate additional income on the portfolio. BGR uses single-stock options to execute this strategy. As of 5/31/2014, options were written against 31.92% of the portfolio.
Tax Issues:
As of January 31, 2014, the fund had $35,712,044 of unrealized gains in the portfolio. The fund does not have any tax loss carryforwards to offset these gains. This means investors could see capital gains distributions from the fund as assets held at a gain are sold. There was a large capital gain distribution in 2013. Embedded capital gains represent roughly 4.6% of the fund's net assets.
Conclusion:
BGR is an attractive play on a growing world economy. Plans for the United States to export liquefied natural gas and potentially oil could push prices for these commodities higher, improving profitability for domestic producers. Drilling technologies continue to advance, increasing output and lowering costs. All of these factors should drive company share prices higher. BGY trades at a discount to NAV, and offers a large distribution. The shareholder-friendly activities of the board, along with strong performance should be catalysts to narrow this discount.
Disclosure: The author has no positions in any stocks mentioned, and no plans to initiate any positions within the next 72 hours. The author wrote this article themselves, and it expresses their own opinions. The author is not receiving compensation for it (other than from Seeking Alpha). The author has no business relationship with any company whose stock is mentioned in this article.