Investors in Sirius XM (NASDAQ:SIRI) have seen a significant move in share pricing on relatively heavy volume in the past three trading days. Reaching a low of $3.31 on June 16th, Sirius XM has moved higher by nearly 5%, reaching $3.47 on June 18th. This is a price that has not been seen for an entire 3 months, since Liberty Media (LMCA) retracted its offer of an equity swap for the remaining shares of Sirius XM that it doesn't own.
Investors have been asking me why Sirius XM is moving up all of a sudden? What's the reason? Was there some sort of news that was missed?
Not really.
The reasons are fundamental and technical, and the move was predictable. Don't believe me?
Consider my post one week ago on fellow author Crunching Numbers' article: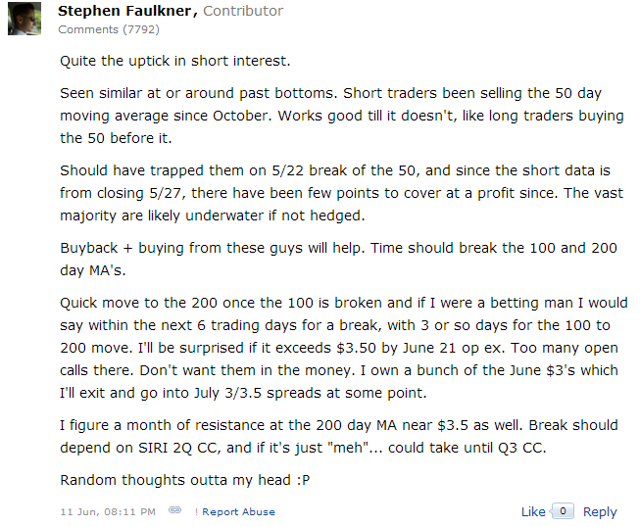 That's sort of a jumbled mess typed up in haste, so allow me to explain.
The fundamental support here comes in the form of Sirius XM's second buyback program. With the company in the market for shares that will eventually exhaust the second $2 billion repurchase authorization, large numbers of shares are being bought from the market or in private transactions. These shares are not to be resold, and because of this the shares do not re-enter the market on the sell side.
A buyback conducted properly will exhaust ranges and not push the price up too quickly. Because the market is made up of not only investors, but traders as well, then certain issues of resistance and support must be considered. This is where technicals come in, and this is where technicals can offer clues as to what the share price will do within certain timeframes. By using these clues, one can often predict when certain moves such as the recent "break" to the upside, will be made.
Consider the following chart.

This may look like a mess to some, so allow me to explain. The first two important lines are the yellow and blue lines in the picture above. The yellow line is the 20 day moving average and has been providing support since it was crossed in late April. Resumption of the buyback contributed to buying pressure in the stock, causing the decline to bottom. Moves require events, and the halting of the buyback last year initiated the decline, while resumption of the buyback appears to have halted the decline and supported an advance.
It makes sense.
Going forward, Sirius XM needs shares. In order to purchase shares, Sirius XM needs volume. Volume requires buyers AND sellers, and that requires a trading range so those looking to trade can attempt to make a profit. When you are trying to buy hundreds of millions of shares, it's virtually impossible to purchase them all quickly without driving up the price considerably. There are also regulations that limit how many shares Sirius XM can purchase in a given day based on the trading volume of that day. What ends up happening is the share price exhausts a range of trading due to these limitations, and eventually there is a break (in this case, up) in price to the next range. New resistance is found, and support catches up over time.
With the 100 day average in blue having provided resistance, and the increasing 20 day average in yellow having provided support, the trading range has been getting smaller, and smaller, and smaller day by day. Technicals alone show that a break above the 100 day resistance was imminent, and the fundamentals of a large scale buyback program almost guaranteed that break would be forthcoming.
It came a day earlier than I expected. I certainly have no complaints about that.
At this point you may be saying, "okay that's great, but where does it go now?" I believe the answer is simple. At around $3.55 the 200 day moving average sits. This is shown by the white line above. I expect this will provide resistance, and the buyback will work the range between the 200 day average and 20 day average until this range is exhausted as well. The stock will have sellers near the top end of the range, and buyers near the bottom end of the range as traders try to capitalize on the undulations between support and resistance.
During this time, Sirius XM will be there buying back shares and removing shares from trading activity. How long might this go on? It could be at least a month, and that would lead right up until the time Sirius XM typically reports Q2 numbers.
Not every move in a stock has a news-based reason. Sometimes, the news is far in the past, and moves are more technical in nature based on the laws of supply and demand. I believe the most recent move in Sirius XM to be of this type.
No matter how you look at it, though, investors may be breathing a sigh of relief that the share price looks to have bottomed around $3 per share. It will be interesting to see if the share price can approach highs from last year in the next 7 months. I believe it can, and exceeding $4 is not out of the question. I still have a $5 sell target on the stock before January options expiration in 2015, and remain confident in that projection.
Disclosure: The author is long SIRI. The author wrote this article themselves, and it expresses their own opinions. The author is not receiving compensation for it (other than from Seeking Alpha). The author has no business relationship with any company whose stock is mentioned in this article.
Additional disclosure: I am long SIRI January 2015 $2.50, $3 and $3.50 calls. I am long SIRI June 21 $3 calls.