With the cost of obtaining a college education becoming more and more expensive each year, educators and students are beginning to turn to online education as a solution for this problem. Over the past few years, we have seen many prominent universities such as Harvard, MIT, and Stanford partner with websites such as Coursera and Udemy in an attempt to deliver free educational content to the masses. 2U (NASDAQ:TWOU), still in its infancy stage in the markets, enhances the general idea behind these sites by providing real-time education to students through its unique online campus environment. This intuitive platform is thus cost-effective for both students and educators, as the former is able to receive high-quality education, and the latter is able to reach out to more potential students than they normally would.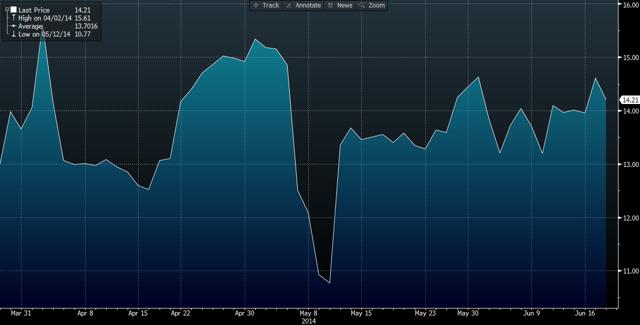 Source: Bloomberg
Background
As my educational studies class discussed this past semester, public opinion of online education currently fluctuates from being seen as a legitimate way to receive schooling and a substandard educational method. However, what many people fail to address when discussing online education is that in most cases, its most successful programs are specifically tailored for certain groups of students and are not intended to appeal to the masses. Although there are numerous programs that offer a variety of full-degree options such as University of Phoenix, some of the most highly-renowned programs that have seen tremendous success in the online sphere over the years are specialized, including the many online MBA programs that are seen at prestigious schools such as Kelley and the Columbia Business School. 2U expands on this idea by working with other graduate programs around the country, and its impressive list includes USC's School of Education, Georgetown's School of Nursing, Newhouse at Syracuse, and Kenan-Flagler at UNC.
The company IPOed on March 28th of this year and is currently up just over 4% from its IPO price. Initial concerns surrounding its IPO mainly stemmed from its current inability to generate a profit. However, as demonstrated by its new partnership with Syracuse, the company is looking towards long-term expansion in an attempt to move into the black in future years.
The platform aims to deliver a real-time solution to online education by truly mirroring the experience one would receive in an actual classroom setting. Coursework is uniquely designed to be high-quality and engaging, classes are taught in real-time in small numbers by university professors to stimulate and enhance discussion, and classes even enforce the idea of immersion and applying knowledge through guided practice in real-world experiences. The last point is particularly significant. Since practically all of its current programs are set at the graduate level, students are at the stage at which they should be taking their experience and applying it out in the real world. In the USC Master of Arts in Teaching program, for example, enrolled students work together with mentor-teachers and submit videos of themselves instructing middle and high school classrooms for peer and professor evaluation. This allows students to work together by analyzing teaching methods taken from original content examples. 2U's approach to online education, as a whole, sets it apart from other similar platforms, giving it a unique edge in this rapidly growing field. The company has received much recognition, and Marilyn Flynn of USC's School of Social Work and 2U CEO Chip Paucek commented on this in a recent company news release:
"2U's model of delivering our degrees online without compromising our rigor and quality has helped to further our mission at the USC School of Social Work beyond Southern California. Our relationship with 2U has been critical to extending the presence and impact of highly prepared social workers across the U.S. and the world." - Marilyn Flynn

"A superior education requires a superior commitment and, since 2008, 2U has dedicated itself to serving its university partners and its students. I'm so proud of the faculty and staff of our university partners and the 2U staff for reaching this milestone and showing the world that the online programs we enable can successfully help universities reach and teach more students." - Chip Paucek
Financials
Revenue for Q1 2014 increased 37% year-over-year from $19.1 million to $26 million, beating consensus revenue estimates by over $1 million. However, the company still finds itself unable to turn a profit, with a negative net income of $7.1 million and a profit margin of -26.77% for the first quarter of this year. However, that is expected for a company that is still in its infancy stage. Fortunately, as revenue continues to increase with each quarter, it is a clear sign of demand from educational institutions across the country. In order to meet this demand, the company will have to increase its spending on technology and developing new relationships and partnerships with schools around the world. It has already made signs of doing this, as its 2013 form S-1 notes that technology and content development costs were $19.5 million in 2013 compared to only $8.3 million in 2012. Program marketing and sales expense increased 19.2% from $45.4 million in 2012 to $54.1 million in 2013. Looking at its balance sheet, 2U has $5.7 billion in assets and no debt. While the company may not turn a profit in the short run, it is a very viable long-term solution for keen and astute investors.
Revenue Generation
The company makes money by obtaining revenue from long-term contracts, usually running between 10 and 15 years. These contracts allow schools to use the company's cloud-based technology and control it themselves or have 2U behind the entire operation. The company gets a percentage of what each university receives from its program's tuition fees and 2U submits invoices the universities based on enrollment reports. The company states in its S-1 that all of its clients have remained active, indicating very little concern for its contracts disappearing. The company's major source of revenue comes from USC, but it has expanded its client list significantly over the past few years, with its most recent partnership being with Syracuse's business program and its top-ranked communications school. Recently, 2U has also enabled cross-university courses, allowing students to take classes at other schools that operate under the platform. There will be over 50 courses across nine degree programs that will be available for cross-university functionality, and the schools themselves will determine enrollment eligibility. Total enrollment under 2U has grown from 14,000 in 2011 to just over 30,000 in 2013.
Investment Risks and Competition
The primary investment risk to be seen with the company is that it lacks any patents. Yes, the company has copyrights on its labels and overall brand. It has its own unique and distinguishable business strategy that allows it to create its own market. But without any patents, it means that its business is open to be copied by anyone. Any company can begin doing what 2U is doing and partner with major universities around the world, creating formidable competition for the company over time. However, the company has received much praise and is clearly at the very top of its field. The Technology Council of Maryland even named 2U the "Technology Firm of the Year for EdTech Innovation" this past May.
Its other challenges generally all derive from its ability to partner with more universities around the world. Obstacles that can get in the way of this include a negative perception of online education, damages to its existing clients' reputations, as well as inefficient use of its marketing efforts by targeting the wrong universities. 2U wants selective schools with top-ranked programs in their fields to become its major partners, as seen from its existing list of clients.
Its main competitors are EmbanetCompass, which is owned by Pearson (NYSE:PSO) and Deltak, which is owned by John Wiley & Sons (NYSE:JW.A), both of which are large education companies that have existed for many years. Although 2U is a newcomer to the stage, its competitive advantage lies in its ability to capture and fully realize the potential of enrolled students. Its competition is mainly driven by solutions that emphasize redesigning content and creating programs to build successful online classes. 2U accomplishes this but also pushes out other factors such as real-world experiences and social engagement, both of which help students thrive post-graduation. There do not seem to be any major looming threats from its competition.
Future Growth
Going forward, the contracts that it has drawn up with its existing partners will create a steady source of revenue for the company while it continues to expand its operations and develop its technology. This will not only make the experience much more intuitive for its existing partners, but also help to attract new partnerships with other universities. With more universities being involved in the mix, the company will have more marketing power to continue expanding and eventually turn a profit. While for the most part the company only offers graduate-level coursework (only one program is offered at the undergraduate level), 2U acknowledges that it plans to widen its presence in undergraduate, doctoral, and international levels. In addition, with the growing trend of the continued increase of cloud technology across numerous sectors, the company will benefit, as this technology is what its platform is based on.
Recommendations
Looking at analyst opinions, Oppenheimer, Needham, and Compass Point all initiated "Buy" or "Outperform" recommendations in April. Even Goldman Sachs recommends a "Buy" position with a $17 price target.

Source: Bloomberg
Conclusion
2U is a very viable long-term play that is at the forefront of the growing field of online education. The company has consistent top-line growth, offers an innovative solution to online education through cloud-based technologies, and has a revenue structure that allows it to continue creating new technologies and develop relationships with other schools. As the company only began publicly trading this past March, it's still very new, but if 2U can execute effectively on its business model and plans, investors should look forward to seeing future growth.
Disclosure: The author has no positions in any stocks mentioned, but may initiate a long position in TWOU over the next 72 hours. The author wrote this article themselves, and it expresses their own opinions. The author is not receiving compensation for it (other than from Seeking Alpha). The author has no business relationship with any company whose stock is mentioned in this article.