INTRODUCTION THESIS:
I must say I was surprised to be the first contributor to cover Novx21(NOV.V)(OTC: OTC:PORMF), as far as I could tell that is.
For this article I have broken it into two pieces: Part one is a lengthy argument for the bullish platinum and palladium prices, and part two is a micro-coverage of a clean tech. recycling company that will take advantage of the growing deficits and eventual higher metal prices.
PART I.
PLATINUM/PALLADIUM: A MACRO STORY.
It is almost in complete agreement between metal analysts that the platinum and palladium deficit will continue, and actually increase in 2014. In fact, demand is poised to set a record year in 2014.
Short History of Platinum Supply/Demand (SOURCE: JOHNSON MATTHEY, '000 ozs)
2010 TOTAL SUPPLY - 6,050; TOTAL DEMAND - 7,905
2011 TOTAL SUPPLY - 6,485; TOTAL DEMAND - 8,095
2012 TOTAL SUPPLY - 5,650; TOTAL DEMAND - 8,030
2013 TOTAL SUPPLY - 5,740; TOTAL DEMAND - 8,420
Short History of Palladium Supply/Demand (SOURCE: JOHNSON MATTHEY, '000 ozs)
2010 TOTAL SUPPLY - 7,355; TOTAL DEMAND - 9,735
2011 TOTAL SUPPLY - 7,360; TOTAL DEMAND - 8,560
2012 TOTAL SUPPLY - 6,530; TOTAL DEMAND - 9,970
2013 TOTAL SUPPLY - 6,430; TOTAL DEMAND - 9,630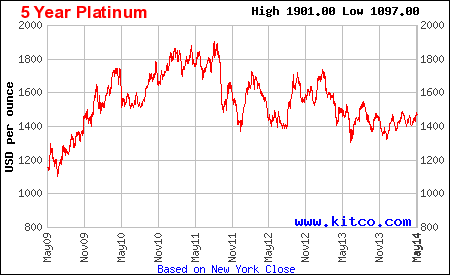 As the reader will notice the last two years, 2012 and 2013, that both metals supply had dramatically declined and simultaneously demand had increased substantially.
An elementary rule in economics is that when demand exceeds supply, the price will increase. But, in fact, it seems that we have stumbled upon another one of Mr. Markets manic depressive states, as Benjamin Graham would have said. The price of both metals have actually declined the last year on average (currently prices are strengthening in 2014). So, here the investor has a puzzling dilemma: We have a pair of rare, industrially and investor demanded metals that have been in a growing deficit yet simultaneously decreasing in price.
With Doug Casey's group at Casey Research, Jeff Clark has written a short yet informative article about the same predicament that my article will be covering. And even legendary resource investor, Rick Rule of Sprott Global, has purchased 280 million dollars worth of the two metals.
The old sage is to "follow the smart money" and see just how deep the rabbit hole really goes.
SOUTH AFRICA: ELEPHANT IN THE ROOM
With South Africa respectively supplying the globe with roughly 75% of annual PGM production, it is undeniable that when South Africa sneezes, the whole world catches a cold.
Platinum/palladium mining companies are being thwarted by the restless 70,000 union workers on strike that is now slightly been on-going for more than 4 months. It has become the longest and costliest strike in the history of South African mining.
(SOURCE: JOHNSON MATTHEY)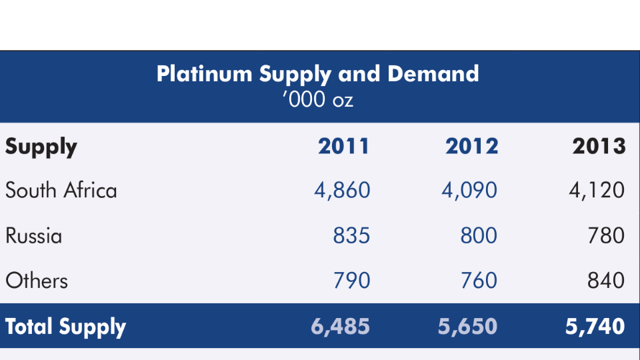 The strike has now entered its 17th week and we have now lost a third of our production for the whole year, said Ben Magara, Lonmin's chief executive. "The company has been bleeding, and there will come a point when that bleeding means death."
The 3 mining companies that are suffering the most from the stubborn unions have been Lonim(OTCPK:LNMIY, Impala Platinum Holdings LTD(OTCQX:IMPUY), and Anglo American Platinum LTD(OTCPK:AGPPY). The unions are demanding higher wages but mining companies are stuck between two immovable boulders: shareholders and employees. The price of the two metals do not even reach their cost of capital,which causes cash flows to be anemic, which leaves the companies with no money to increase their diminishing reserves, satisfy shareholders, and appease the unions wage demands. These dilemmas are all symptoms of the root problem: depressed metal prices. With Mr. Market's irrational price for the metals that prevent marginal miners to come online and add supply, along with 40% of global mine production taken out due to the barbaric strikes, the deficit will only further increase in 2014 on-wards.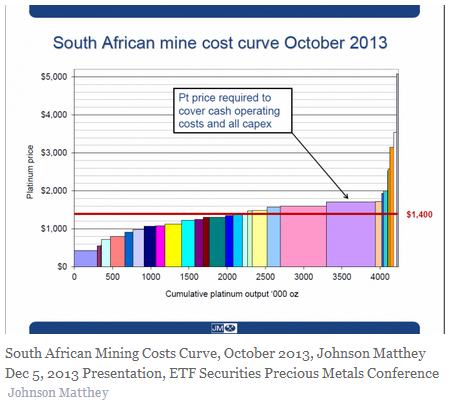 Others have also feared rising production costs for platinum miners, with HSBC Holdings PLC (LON:HSBA) precious metals analyst James Steel pointing to heavy platinum cash costs as a key danger for the industry. He estimated that cash costs could be as high as $1,700 per ounce.
Companies have tried to conserve cash and make up lower metal prices with increased production, but if they do not add to their reserves, I fear the added production will only speed up the inevitable closing of diminished mines. The South African mines are therefore preserving themselves for the short term at the expense of long term production to meet rising future demand. Investors must contemplate that at these metal prices the major platinum/palladium South African miners can not afford to expand their metal reserves and capacity. In fact, if demand continues at these paces for the metals, there is a strong possibility that producers wont be able to satisfy global PGM hunger in the future.
RUSSIA: PUTIN'S WILD CARD
If South Africa sneezes and the whole world catches a cold, then when America begins placing sanctions on Russia the entire automakers world vomits.
Russia is the largest exporter of palladium (South Africa, although, is close behind) and for a long time had been adding extra supply to the market from their above-ground stock collection. But since 2010 the amount of above stock for sale has dramatically fallen.
(SOURCE: JOHNSON MATTHEY 2013)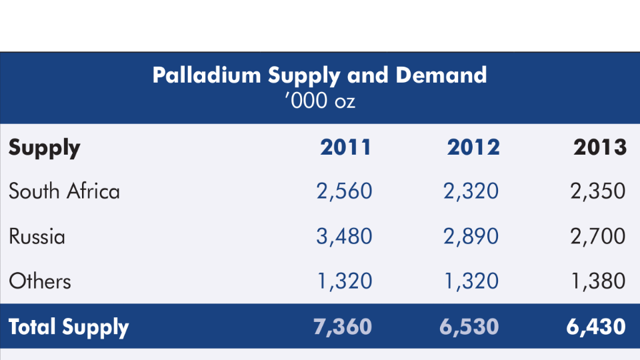 Adding to the already drying supplies of palladium from South Africa, America in March had begun sanctions against Russia for their presence in Ukraine and the Crimea secession (moral to the sanctions is a completely different topic). Russia has retaliated with light sanctions of themselves. With the PGM market already in a widening deficit, and the uncertain supply from future South African mines even if the hopeless tug-of-war of employees vs. executives is figured out, the industrial (specifically auto-makers) world can not risk having Russia hold back their supplies.
Although an interruption of palladium exports is unlikely, "it is still in the back of everybody's mind," said a manager at a precious-metals trading firm. "Putin has certainly proved he's a wild card," he said, referring to Russian President Vladimir Putin.
THE 3 LEGS OF PGM'S
PGM's stand for "platinum group metals", and investors of the metals understand it is a double edged sword: investment and industrial demand.
Auto-catalysts: The most demand for PGM's comes from the automobile industry for building autocatalysts. In short, autocatalysts are pollution control devices that are fitted into cars and truck, also known as a catalytic converter. Palladium is the leading PGM inside of catalytic converters, with roughly 70% of the palladium mined going into the auto industry. One can read more about catalytic converters if they follow this link.
(SOURCE: JOHSNON MATTHEY 2013)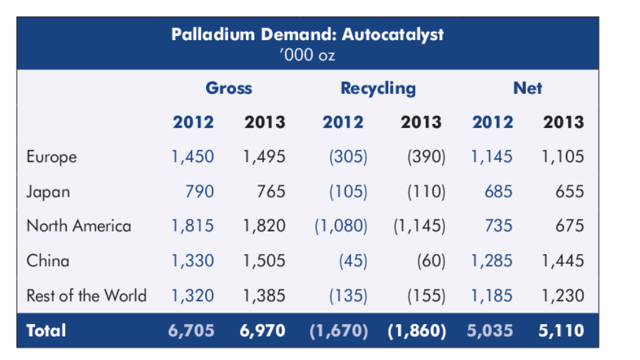 Jewelry: The second largest sector demand for PGM's, specifically platinum, is jewelry. America, China, and Japan the last few years have had a dramatic increase in the growth of platinum jewelry (not including for bullion investment demand). India, in fact, has had a sudden large appetite which witnessed a 41% increase for the platinum and palladium metals in jewelry which has moved the country into the fourth largest consumer of platinum.
(SOURCE: JOHSNON MATTHEY 2013)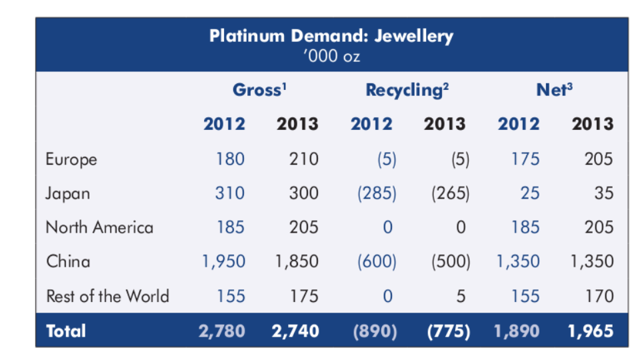 Industrial: The chemical and physical property structure of PGM's give them invaluable use in several industries. Industrial demand consists of chemical, electrical, glass and petroleum.
RHODIUM: A CINDERELLA STORY
When we think about PGM's we recall the more talked about metals: platinum and palladium. If those metals had an ugly third sister that was easily forgotten, yet was crucial to their family, it would be rhodium.
An excellent example of this is the PGM rhodium, Rh, used to eliminate acid-forming nitrogen oxides from automotive ICE exhaust. The world production of new Rh as a byproduct of South African platinum production is 30 tons a year. Yet the apparent demand from the global OEM automotive industry is nearly 50 tons per year, says Jack Lifton.
Rhodium, currently as of May 23, 2014, is priced at $1,175.00 USD per troy ounce. Rhodium is itself limited to about one million troy ounces a year mined. And as the USGS, United States Geological Survey, has stated, 77% of rhodium use is in catalytic converters (similar to palladium's demand). For more information about rhodium click this link.
(SOURCE: PLATINUM REVIEW METALS)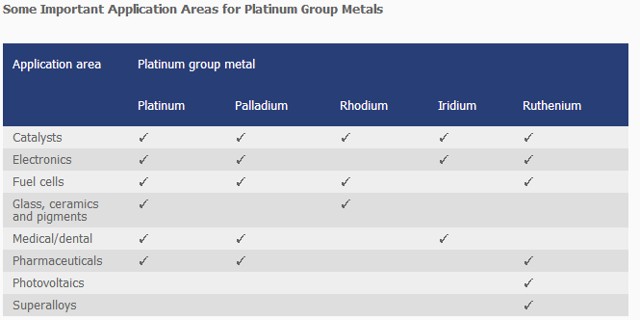 Johnson Matthey wrote that the Rhodium market will record a 14,000 oz deficit in 2013 as the demand reaches a six year high.
A UN-FLATTERING LIST OF PGM PLAYS
So far our thesis is as followed: Demand is growing and supplies are diminishing. South Africa, even if strikes cease and mining returns, will remain fragile for years to come. Russian stock piled palladium surpluses have been used up and with political tensions worsening investors will remain skeptical of their future supplies. This all adds to an already prominent deficit while as the price of platinum, more so than palladium, has fallen.
The investor at this point should be intrigued yet frustrated with what little options there are to gain exposure in the PGM market.
With limited amount of publicly traded mines to play the deficit with, and investor could buy shares of Anglo American Platinum LTD. or Impala Platinum Holdings Ltd or Stillwater Mining Co.(SWC). But the worry of mine strikes, low margins, diminishing reserves, and potential cash costs exceeding PGM prices which will push the mine company insolvent, do not look very reassuring nor attractive.
This much seems clear: wages are going to go up and the industry will have to restructure its operations to handle the extra expense. The average global all-in cost of production (including capital expenditures and indirect overhead costs) is already at about $1,595 per ounce of platinum - 10% above the current market price, says Peter Schiff.
Indeed, one can always buy an index fund such as ETFS Physical Platinum Shares(NYSEARCA:PPLT) or Sprott Physical Platinum and Palladium(NYSEARCA:SPPP). The investor could also play the futures market of the two metals by purchasing platinum/palladium contracts. Better yet, the investor can purchase physical bullion and/or coins of the two metals from a bullion dealer and have them delivered to ones home. But these options do not allow the investor to gain from the increased cash flows and growth and potential explosive returns from a higher metals price that the miners can give.
The investor at this point must think 8-16 months into the future of the PGM market.
URBAN MINING: THE 21st CENTURY OF THE PGM MARKET
Urban mining is a phrase that will become more common in the nearing future. With diminishing "low hanging fruit" resources, rising all in sustaining costs, a populace not thrilled about a potential mine being built in their backyard, a fiscal policy towards fighting global warming and pollution, the urban mining industry will grow (i.e. recycling business)
Recycling is a process to change waste materials into new products to prevent waste of potentially useful materials, reduce the consumption of fresh raw materials, reduce energy usage, reduce air pollution (from incineration) and water pollution (from landfills) by reducing the need for "conventional" waste disposal, and lower greenhouse gas emissions as compared to plastic production.
In fact, KITCO NEWS posted an article that the PGM recycling market is to be valued at $9 billion from $5 billion in 2018.
(SOURCE: JOHNSON MATTHEY 2013)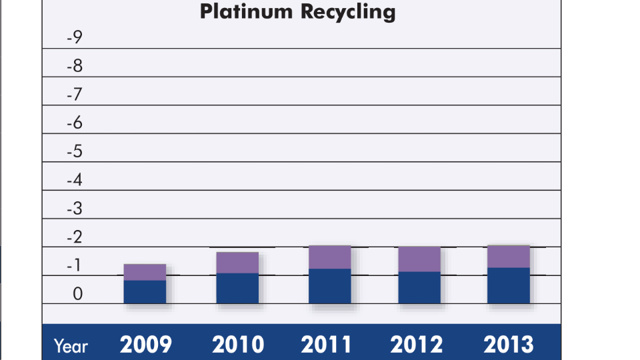 (SOURCE: JOHNSON MATTHEY 2013)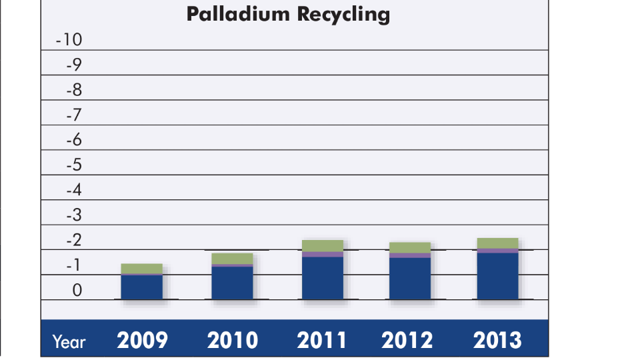 The growing incomes of the 3 largest developing worlds, Brazil and China and India (a combined population of roughly 3 billion), has an increasing automobile demand. And as stated earlier along with growing income that increases appetite for vehicles, jewelry demand is also increasing.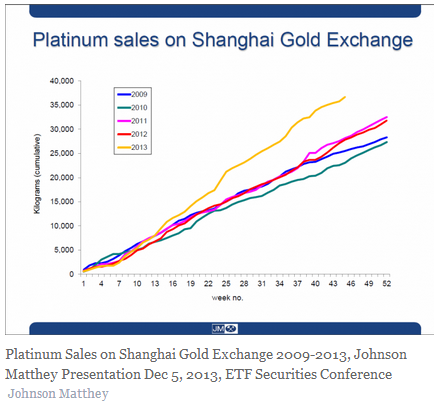 In Europe and America the growth in the PGM recycling field is growing at 7.7% and 7.5%, respectively. But the 9.2% annual expansion of the Asian countries growth is what is rapidly demanding the need for more PGM's.
With the growing interest in clean energy and fuel cell vehicles, this could relieve huge pressure from the traditional catalytic converter market. But little does the public know that it takes about 10-20 times more PGM's in fuel cell vehicles than in pragmatic combustion engine vehicles that dominate the roads. Fuel cell vehicles are very dependent on large amounts of PGM's (one ounce of a palladium fuel cell, Pd, could power enough electricity for a 4-passenger vehicle instead of that same amount of Pd creating 100 exhaust-emission catalytic converters). With the scarcity of the PGM supplies globally relative to current demand, the large scale market use of cost efficient and energy efficient and heavy PGM reliant vehicles (hydrogen, fuel cells, etc) does not seem practical.
Looking to the future, Boulanger told BNN that the advent of lithium-ion battery-powered vehicles and hydrogen fuel cell powered-vehicles augured well for the company's business model, noting that the average fuel cell holds about 30 g to 60 g of PGM, translating to about 10 to 20 times the amount of recoverable metals for the company.
Below is a chart of global automotive production: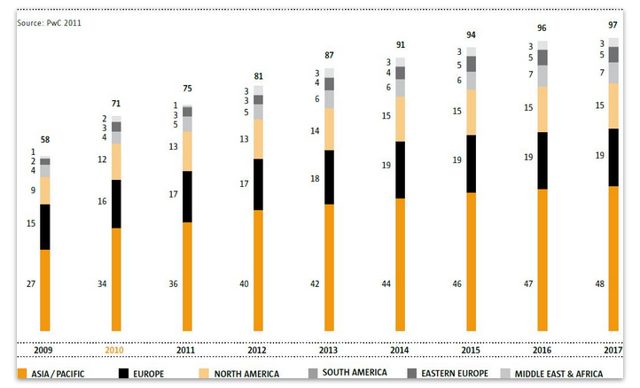 As an investor can see using empirical data to project future trends, the vehicle abundance is stemming from Asia, nearly a 100% increase from 2009 to 2017, if projections hold true. Note that If platinum and palladium are already in deficits, than recycling is the only other option to satisfy the demand of the vanishing metals.
EUROPE: CLEANING UP THEIR DIRTY WAYS
The International Automobile Recycling Congress which was brought into by the European Commission Directive had introduced a direction to recycle 95% of all automobile parts by year 2015.
Every year, End of life vehicles generate between 8 and 9 million tonnes of valuable waste in the Community. In 1997, the European Commission adopted a Proposal for a Directive which aims at making vehicle dismantling, reuse, recovery and recycling more environmentally friendly.
The European Commission has stated the following under its directed targets: (B) no later than 1 January 2015, for all end of life vehicles, the reuse and recovery shall be increased to a minimum of 95 % by an average weight per vehicle and year. Within the same time limit, the re-use and recycling shall be increased to a minimum of 85 % by an average weight per vehicle and year.
The Europeans have interestingly planned ahead for the future crunch of PGM's supplies. They have come to the conclusion that 'urban mining' can compliment the primary sources of mining.
The Europeans have been vocal in their perspective of the recycling sector, that it is an insurance for the future supply of materials. They claim it would thus conserve more natural metals and allow manufacturers to secure supplies for future production without price volatility and suffering supply constraints, similar to the 5 months strike going on in South Africa.
For such critical thoughts and directives on recycling, it exemplifies the value of PGM's and the importance of them in global markets and production. We then must necessarily change our attitude from "waste management" to "resource management."
THE SMOG COVERED BULL IN CHINA
Recently China has begun its offensive push against the worrying pollution. The people have spoken: Asian citizens want cleaner air.
The World Health Organization says about 2 million people die every year from air pollution, mostly in developing nations. Beijing is among the world's most polluted cities, it says.
China is to begin scrapping millions of cars that lack sufficient emission standards in the push to improve air quality. The pollution has emerged as an urgent priority to the Chinese leaders whom try to fend off public anger of the damaged air, water, and soil.
In a wide-ranging action plan to cut emissions over the next two years, China's cabinet, the State Council, said the country had already fallen behind in its pollution targets over the 2011-2013 period and was now having to step up its efforts.
Below are some photographs of China's pollution pandemic. The investor should really grasp visually how unsustainable it is:
(Photos from ThinkProgress.org)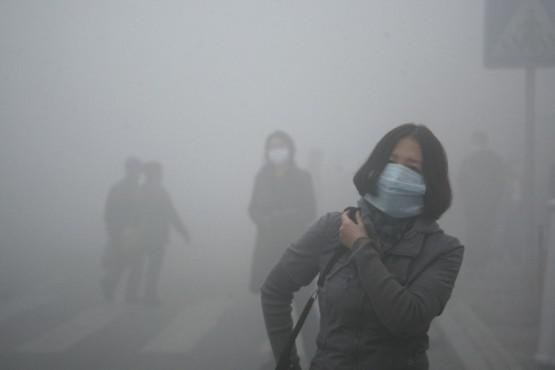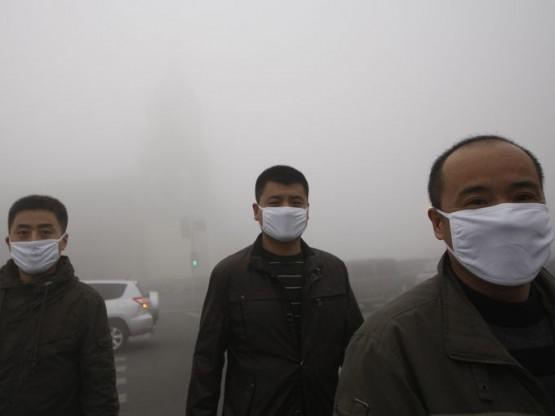 One may wonder where the pollution comes from. But consensus has that most of the air pollution comes from uncontrolled diesel exhaust due to the lack of catalytic converters on most Chinese trucks, says Byron King.
But what do Chinese citizens do? They wear face masks like you might use when spray painting your kid's art project. It's all they have. Meanwhile, Beijing's hospitals are clogged with people complaining about lung ailments. Schools have cancelled outdoor activities. Airports delay flights due to visibility. Stores have sold out of face-masks, and even industrial-grade gas-masks and filters. It's just as bad, or worse, in a multitude of other cities across China.
Can one really blame Chinese citizens at first stroke? Over the past 3 decades China was a very poor country. Adding catalytic converters and PGM's to vehicles increased costs to the consumer, which they lacked. The increased profit margins to the producers and the lower costs to the consumer may have seemed beneficial in the short run, but in the long run the effects have diminished any joy of cheaper vehicles.
(SOURCE: EURO-PACIFIC CAPITAL)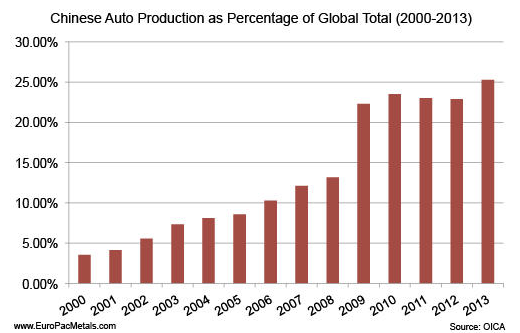 And with vehicle production increasing more than ever to deliver for the growing middle class of the most populated country in the world, the investor needs to question how can the people get mobility from vehicles and not choke to death from pollution at the same time? The answer: higher emission standards and clean technology from PGM's.
PART II.
THE PGM THESIS REVISITED
After a lengthy and visual part one, the investor should have a good grasp of the predicament that the PGM market faces in the coming years (I recommend that the investor read/skim through the links I have hyper-linked above in part one, if they have not).
Here is a summary of the thesis we have covered so far, and where we as investors go from here:
South African supplies, 75% of global platinum and palladium production, have proven unreliable and the PGM mining companies are structurally in danger.
Russia, which supplies the globe with the most palladium, has already dried up its above ground stock pile reserves to meet demand and with tensions growing and sanctions being placed, Russian supplies can not be guaranteed to meet future global demand.
Developing nations increasing incomes have caused substantial growth in the automobile markets, the largest use of PGM's.
The pollution plagued China has called for stricter emission standards for their rapidly growing vehicle market, which will increase the use of catalytic converters.
With platinum jewelry demand increasing globally, and PGM's being obtained in record amounts for investment vehicles such as ETF's, limited supplies are being taken off the market more quickly.
The options for the investor are very limited in the PGM market and are considered risky at best.
Urban mining, i.e. recycling, will become more prominent in the future of reliably gathering PGM's without countries geopolitical risks, diminishing reserves, expensive capex and cleaner technology.
Part two will now wrap the thesis up on the obvious potential of 'urban mining' and a company analysis of NovX21, which is poised to succeed from the increase in the recycling market.
NOVX21: THE INNOVATIVE URBAN MINING COMPANY
Urban mining is a phrase that will become more common in the nearing future. With diminishing "low hanging fruit" resources, rising all in sustaining costs (AISC) for mines, weak metals prices relative to the AISC, investors not intrigued with the geo-political risk of the leading mining countries for PGM's, and a fiscal policy towards fighting global warming and pollution, the urban mining industry will grow (i.e. recycling business).
NovX21 is a company that trades on the Toronto Ventures Exchange and has quietly made revolutionary and breathtaking developments in the clean PGM recycling industry with little recognition or care.
COMPANY OVERVIEW
The company has released the preliminary estimate of the economics for a four, 200 total tons-per-annum(tpa), reactors. Each reactor produces 50 tpa of recycling catalytic converters from automobiles and stripping them of their PGM's at mind-boggling low costs relative to industry leading smelters. But in fact with how absolutely compelling the demand looks for the PGM market, management is now looking to build 10 reactors (500,000 tpa) instead of the planned 4 (200,000 tpa) instead.
This link shows the companies CEO, Sylvain Boulanger, discussing on Business News Network (BNN) the importance of the NovX21 process.
Catalytic converters contain:
52% platinum
42% palladium
6% rhodium
The NovX21 technology has a yield of 97% PGM extraction and is currently working on their R&D (research and development) to obtain a 100% extraction yield.
There are about 3 grams k/g (3,000 grams per ton of CC) of PGM's in each catalytic converter that are recovered with their process. Look at the chart below for the economics of a 4 reactor (200 tpa) plant.
The economics are compelling (The chart is for the 200,00 tpa plant; not the 500,000 tpa plant):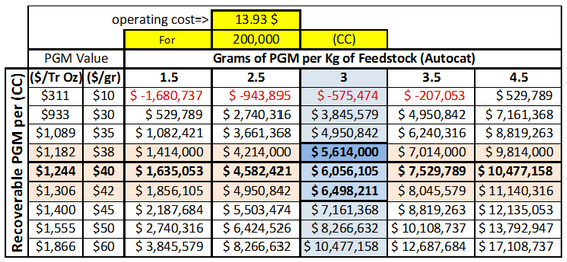 This, in my opinion, is very conservative prices relative to the dire situation in the PGM market. This also is the revenues for the 4 reactor plant, not the newly proposed 10 reactor plant (500 tpa), a 150% increase in production.
The company has operating expenses, minus the costs of acquiring the catalytic converters, of $168 / troy ounce.
The company has been operating its pilot 50 tpa reactor since 2012 on a non-continuous basis, mainly for further research and development of their future flagship 10 reactor plant. The 50 tpa reactor has worked very well and has impressed consultants such as Byron King and Jack Lifton, whom now stand behind the company. The current pilot reactor is not a revenue source at the low processing levels of 50 tpa, and the company does not have a steady long term feed agreement, yet.
But in May 2014, the pilot reactor will begin being fed with catalytic converters from European and North American suppliers who are interested in supplying the clean and cheaper recycling process.
This supply, which will be processed at our existing plant, shows that suppliers of catalytic converters are seeking to meet new environmental standards through the use of green technology. Treatment of these catalysts using NovX21's innovative process will allow providers to appreciate our technology's performance and the purity of the PGM-rich metal powder produced.
This is encouraging as automobile makers now have had their eyes opened about the capricious situation in the PGM market.
The next step will be a long term catalytic converter feed agreement for the soon to be built 10 reactors.
THE INTRIGUING NOVX21 PROCESS
The technology is very simple. It is actually hard to believe this company was the first to do this in a cost efficient way and patent the rights to the process.
It begins with converting the catalytic converter in a dry chlorine environment into a salt. The salt then is dissolved into a liquid. Once the salt is in liquid form, the engineers extract the metal at room temperature. And since NovX21 process doesn't require any melting of metals, at the end they gather the PGM powder and the ceramic from the catalytic converter. The ceramic is clean without any impurities and can be re-sold. The process wins on both sides this way.
Here is a simplistic summary of the companies process (explore the companies investor presentation to get a complete idea):
The company receives the catalytic converters from source.
They crush the catalytic converters into powder and place them into the reactors.
The process takes several weeks (7-8 weeks including refining)
PGM's recovery rate of 97%.
Ship to refiner for bullion stamping and open market selling.
Remember, the above is a very dry summary of the process.
CONVENTIONAL RECYCLING: EXPENSIVE AND DIRTY
Here is a brief summary of the current and traditional way of recycling catalytic converters:
The complete supply chain and processing of materials takes roughly 36 weeks.
Extremely capital intensive business costing billions of dollars to build and run smelters.
Using very old technology
Costly due to high energy use (melt metals at 1,500-3,000 Celsius)
Highly pollutant business (smokestacks industry)
No viable way at knowing a precise yield of PGM's recovered.
KILLING TWO BIRDS WITH ONE STONE
Traditional mines take years of drilling, permitting, construction and billions of dollars before any production and profits are made. The mines are not environmentally friendly due to carbon emissions and releasing dusts and harmful particles that are linked to health problems, says a study from MASSACHUSETTS INSTITUTE OF TECHNOLOGY (MIT).
If no action is taken to remediate the many environmental problems inherent to modern mining, the end cost for governments and communities would be devastating.
And as we covered above this segment, traditional recycling of catalytic converters is not much better.
NovX21 expects each of its plants to cost between $8-million to $10-million, with the ability to generate revenue in the range of $22-million to 29-million a year, depending on metals prices and operate at a gross margin of 33%.
NovX21 is clean technology. They consume very low amounts of energy to run their process giving them a very cheap OPEX and creates no pollution. The production by NovX21 has a 33% profit margin. It costs roughly 10 million dollars to build a 10 reactor plant, about 1% the CAPEX of the traditional mines. And the plant can be built within 8-12 months at the positioning of the contractors choice.
Example: Japan has very little natural resources to use on their island. In fact the CIA, Central Intelligence Agency, says:
Japan
negligible mineral resources, fish
note: with virtually no energy natural resources, Japan is the world's largest importer of coal and liquefied natural gas, as well as the second largest importer of oil
They do not have the luxury of building a platinum mine to domestically depend on their own PGM supply to feed the strong Japanese vehicle market. They are wholly dependent on outside production of the metals. Even if Japan did have an abundance of natural resources, the islands size relative to population would cause problems. Thus, it is realistic that Japan would be wise to consider a small investment in NovX21's technology as an insurance policy for recycling and securing domestic future resources.
POTENTIAL AT 1% OF THE MARKET
With the entire recycling market to be valued at $9 billion by 2018, NovX21 only needs to grasp 1% of that market to be substantially worth more than what it trades at today.
Example: 1% of $9 billion is $90 million. NovX21's fully diluted market cap presently during the writing of this article is about C$ 14.5 million and the price per share is sitting at about a dime (C$ .10 cents). The company, if exposed to only 1% of the recycling market, would be worth substantially more than the current market cap.
Now this is a simple assumption to take away from that, and obviously a catalytic recycling company depends on the price of the PGM's, but if the investor believes the bull case for PGM's as our lengthy part one had covered, PGM prices are inevitably going to rise. Therefore increasing the margins for NovX21.
THE MONEY TALKS
NovX21 will only take 8-10 months of construction and will be generating profits once catalytic converters arrive. As stated above, it will take $8-10 million to build the 10 reactor plant. The company stated it will generate between $22-29 million dollars of revenue with the 4 reactor (200 tpa) plant. It is safe to assume with a 10 reactor (500 tpa) plant, the revenues would be conservatively $55 million dollars. That would give the company $18,150,00 dollars EBITA (earnings before interest, tax, amortization) for just one 10 reactor plant.
Remember: as part one argued for, when metals prices eventually increase, the higher the margins for NovX21 will be.
THE TWO ROUTES OF CONSTRUCTION/FINANCING
The company has done a good job limiting dilutions and so far keeping a tight share structure. Currently NovX21 has about 2 million dollars in their bank account. I believe that the weak market price, besides being so unknown, is that there are about 45 million shares that could be exercised and into the open market.
Basic market cap: C$ 10.2 million
Fully diluted market cap: C$ 14.5 million
Also there is worry of how the reactors, which will be built as long as everything goes as expected, will be paid for. There are two options:
The company dilutes to raise capital through private placements
The local banks/government grants or loans will be sufficient to cover costs during the building.
I expect the latter option due to governments wanting to attract clean technology and entrepreneurship within their provinces. The company indicated a 9 month payback period after production begins.
But a fellow investor friend of mine had pointed out an interesting fact: If the 46.3 million options and warrants are exercised, that would bring in proceeds of C$ 10.5 million -- enough to fund a second 10-reactor plant
Most investors complain about the overhang of options and warrants, but fail to recognize the proceeds that would come into the company.
But in the meantime the warrants and options have not been exercised so the company will have to raise capital from the two options above.
The company hope to have the plant built by early 2015 once the location is decided upon.
INTRIGUING LONG TERM SHAREHOLDER VALUE
The company will be generating enough cash to expand organically, debt free, and further increase R&D.
Potentials for long run value:
The company will further R&D to recover PGM's out of E-waste (electronic waste) and flat screens with PGM-coated surfaces.
Increased disposable income due to reduced taxes from using "clean and green" technology.
Royalties from other manufacturers or recyclers for using the NovX21 patented process.
Specific cash flows from certain plants could be used for consistent dividends and share buybacks, increasing shareholder value.

Example: Lets say, in the future, Germany wants a 4 reactor (200 tpa) plant in their country. If NovX21 has a 10 reactor (500 tpa) plant in Quebec and another 10 reactor plant in Detroit sufficiently growing their expansions and R&D organically, the company can dedicate annual cash flows/royalties from the 4 reactor plant, $29 million revenues and $9.5 million EBITA, from Germany towards shareholders through dividends and/or share buybacks.
BOTTOM LINE: A CAREFUL SPECULATIVE BET
After the investor has read this lengthy macro and micro article, we conclude the thesis with the opinion that the long run fundamentals for platinum and palladium (PGM's) are very favorable both because of rising demand and waning supplies. As we have covered in part one, the root of all problems in the PGM mining business is weak metal prices that do not meet the cost of production
Its as simple as that: either prices go up. Or the lights will turn off.
And with the PGM recycling business expected to grow by $4 billion in 3.5 years, that has given NovX21 the perfect time to begin production.
Either from increased demand of the PGM's , more structural problems with South African suppliers, PGM import-dependent countries looking to secure future resources domestically, and diminishing reserves of PGM's from lack of capital investment by mines. It appears all roads lead to the same end -- a higher metal price.
Buying a single share of NovX21 gives the investor the following:
Exposure to the gains from higher prices of PGM's.
Taking part in the growing recycling market.
Profiting from the rapid increase in automobiles in developing countries, especially China.
Strong potential positioning for the war on pollution.
Ownership of a new process in the clean recycling frontier.
A patented technology until 2026-28.
Intriguing company net margins even at lower metal prices.
Substantial growth from new plants, joint venture royalties, and potential expansion from PGM's to other e-waste material sources.
If I could sum up my biggest risk for the company, it would be that they are still trying to lock in a steady long-term supply of catalytic converters to recycle.
But the automakers and manufacturers and jeweler's will not patiently wait with fingers crossed for South Africa to clean up their ways. Global demand will continue forward, with or without them.
And as the old French economist J.B. Say so immensely preached that, "supply creates its own demand." NovX21 has showed us their way of development and creating supply. And, inevitably soon, the demand will follow.
Disclosure: The author is long PORMF, SPPP. The author wrote this article themselves, and it expresses their own opinions. The author is not receiving compensation for it (other than from Seeking Alpha). The author has no business relationship with any company whose stock is mentioned in this article.
Editor's Note: This article covers one or more stocks trading at less than $1 per share and/or with less than a $100 million market cap. Please be aware of the risks associated with these stocks.