Understanding the Recent Sell Off
For those readers not familiar with the company, first a quick primer on Liquidity Services (NASDAQ:LQDT). The company operates a number of auction websites which are used by large private companies, the US federal government, and also state and local governments for their reverse supply chain needs - i.e. the disposal of unwanted assets. These assets are typically used products or unsold inventory that are being disposed at wholesale prices to commercial buyers. Some examples of disposed assets include: computers, consumer electronics, apparel or scrap metals. Historically large companies always had difficulty disposing of old inventory in a cost effective and efficient manner, and the advent of the internet and online auction services catering to this niche market has really transformed this industry over the past 15 years.
Recently the stock of Liquidity has sold off sharply, and at one point dropped as low as about $12.50/share, which is only one third of its value reached only 8 months ago: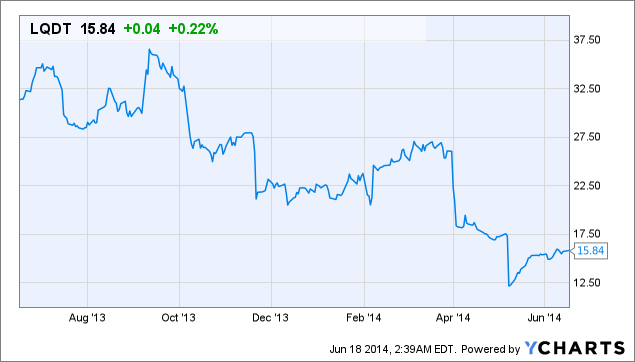 This sell-off initially started at the end of last year, because results released at the end of November were worse than Wall Street analysts were expecting, particularly the forward guidance which showed top line growth slowing to a meager 5% or so, which is a far cry from what the Street had been used to seeing from the company. In the previous few years Wall Street had gotten used to outsized growth of more than 30%, which it seems had inflated expectations significantly. If you look at the past 10 years as a whole, the company has seen growth fluctuate, as it is definitely tied to quarterly changes in some of the larger contracts which have dominated total revenue.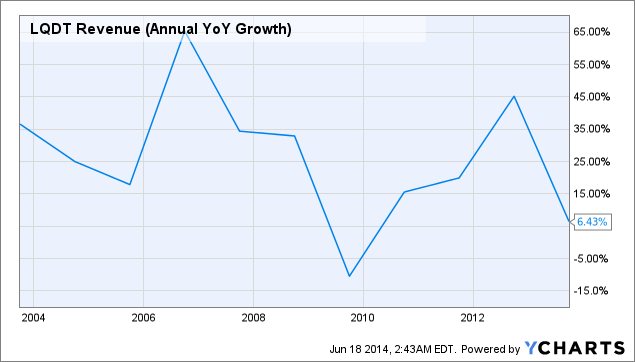 LQDT Revenue (Annual YoY Growth) data by YCharts
More recently in 2014, the stock took another big hit when it was announced that the DoD contract which accounts for more than 27% of total revenues would reduce in size starting in 2015 and would generate much lower margins. The company won the bidding to extend the non-rolling contract for at least another 2 years, and possibly as long as 6 years. This accounts for about 70% of the DoD surplus revenue. However the company withdrew from bidding for the rolling stock contract and will lose this completely starting in early 2015, which means the company will lose approx. 8% of its current total revenues. Even worse, the renewed part of the contract will have costs of original acquisition value (OAV) increasing nearly 2.5x to 4.35%. My estimate is that this will increase costs of goods sold (COGS) by about 20% and decrease gross margins 900 basis points to around 50%. Assuming no growth or reduction in operating expenses, this is significant as it would drop the company to nearly break even instead of net margins in the 8-10% range as it enjoyed in recent years.
While this may seem catastrophic, I believe the company will do much better than the market is currently giving it credit for, as the company was given nearly a year to prepare for this change (contract change doesn't take effect until early 2015), and in the mean time the company continues to grow other parts of its business. In addition the company has recently had heightened levels of operating expenses due to technology integration and enhancement projects, and as I'll explain below in more detail conservative accounting policies make official earnings appear lower than they could be.
Conservative Accounting Policies on Software Development Understate Earnings
In my analysis on Liquidity, I've noticed that management takes a fairly conservative approach to in-house software development costs. As stated in their most recent 10-Q, when describing accounting policies for their "Technology and Operations" expenses, company management states the following:
Because our marketplaces and support systems require frequent upgrades and enhancements to maintain viability, we have determined that the useful life for substantially all of our internally developed software is less than one year. As a result, we expense these costs as incurred.
This I thought was a bit peculiar, because as an IT consultant with experience in software development projects, I know that most companies do not develop software with an intended useful life of "1 year or less" (even in fast changing web technologies). To double check this point, I looked at the annual reports of several other web companies which develop substantial websites/marketplaces for their businesses. What I found is that all of them capitalize software development costs, as is common place in US GAAP, with useful life estimated between 2 - 5 years.
Below gives a few samples of some other well known web companies:
| | |
| --- | --- |
| Company | Useful life Used for Capitalizing Development Costs of Internal Software |
| Liquidity Services | <1 year (fully expensed) |
| Amazon (NASDAQ:AMZN) | 2 years |
| Monster Worldwide (NYSE:MWW) | 5 years |
| Dice Holdings (DICE) | 2 years |
| Priceline (PCLN) | 3 - 5 years |
| Ebay (NASDAQ:EBAY) | 1 - 5 years |
Now to say that Liquidity is in an environment which is more fast paced, or technology is changing more rapidly than these other companies is in my opinion quite a stretch. I would therefore say that a useful life of approx. 3 years could be justified for their internal software developments.
So what does this mean in terms of stated earnings? It's hard to say precisely, as the company doesn't breakdown in detail their entire "Technology and Operations" operating expenses, which were estimated at about $55m in the last 12 months. For sure some of these costs cannot be capitalized, as they relate to inventory storage or regular IT maintenance costs which must be expensed in the period incurred. But we can see from recent filings that this expense line has increased substantially in the past 2 years, which is mostly related to development projects in order to integrate many of the acquisitions. Just in the first 3 months of 2014 these expenses increased nearly $7m year over year, which was due mostly to additional development costs of software integration combined with operational costs around more warehousing needed (primarily as a result of the shift in merchandise types from the DoD contracts). In total I wouldn't be surprised if $20m of annual expenses or more is related to in-house software development costs, and if these costs were depreciated over 3 years instead of expensed immediately then it could reduce the reported yearly expenses by as much as $15m, meaning that reported net earnings could be adjusted upwards of 20-30% to be more comparable to other technology companies with similar business models.
This adjustment would lower the trailing P/E to around 10, which I find exceedingly cheap for a profitable company with no debt and solid free cash flow generation potential.
Network Effects Continue to Strengthen with Increasing Buyer Base
Liquidity Services has the largest market position for any of the online market places that specialize in disposing of old assets.
The company has grown via a mix of organic growth and made several acquisitions over the years, including for example:
GovDeals in 2008

Network International in 2010

TruckCenter.com in 2011

GoIndustry in 2012

NESA in 2012
Most importantly is that over the years the company has built up a strong network effect. As of the most recent quarter there was more than 2.5m registered buyers, a 9.4% increase over the previous year. Despite recently announced negative developments in the DoD contracts which caused the stock price to plummet, the company continues to quietly grow its network and increase registered users. This is hardly a company whose market position seems to be weakenin. In my opinion the value of the business over the longer term will be determined by the size of their marketplaces, not the short term fluctuations of increasing/decreasing contract volumes and margins.
No other company is even close to this scale in terms of the niche market for online wholesale of surplus assets, and as I explained in my previous article 6 months ago, this kind of business has staying power as companies will always have a need to dispose of unwanted assets, regardless of technological or industry changes.
Company has a Strong Financial Position with no Debt
Financially there are no issues with Liquidity Services, which is nice to see in a small cap company with a market cap of only $500m and large growth prospects. As of the most recent quarterly results, the company had more than $100m in cash and zero long term debt. The cash balance has actually increased more than $6m in the last 6 months despite all of the negative headlines on the company. As substantially all of this cash is in the US, the company has ample room for shareholder friendly allocation policies. Insiders still hold more than 20% of shares and should continue to have strong incentive to return the company to more significant growth, or at the very least repurchase shares while the stock is depressed. In the past they have repurchased a lot of shares when the stock price was down, and there is still significant room left on the current authority to repurchase more stock which I expect will happen in 2014.
Valuation
Looking a bit further at the current market valuation, and we can see below that Liquidity Services is currently trading at an EV/EBITDA valuation of about 5.4, and despite the stock's rebound off its bottom of $12.50 a few months ago, it remains valued near historically low levels: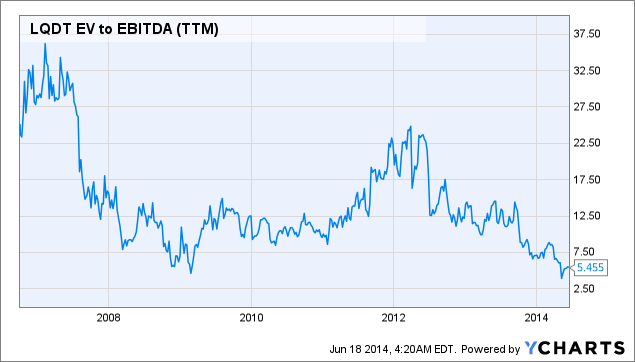 LQDT EV to EBITDA (TTM) data by YCharts
You don't find many internet businesses with P/E ratios under 15 which have consistently shown double digit growth rates, no debt, and high levels of FCF. This still seems too cheap to me for a business that has been highly predictable for a decade, and remains a very profitable operation, despite its recent troubles. In the past year FCF/share was more than 7% of revenues, and even with seemingly lower margins starting in 2015, the company should still remain profitable, especially knowing that they have a lot of advanced warning in order to trim operating expenses. What I think Wall Street forgets is that Liquidity has been slowly diversifying their customer base for years, and this will continue to decrease the risk on these larger contracts. For example they currently have more than 600 customers with $10,000 or more in GMV, and this number continues to grow.
Looking at Free Cash Flow over the years, this has been lumpy as the company has increased operational expenses and capital expenditures in phases as it finds opportunities to expand via acquisitions. Long term though, FCF/share has grown from $0.25 to $1.15 in the past 10 years. This is a CAGR of more than 15%. Going forward there are many opportunities for further growth, although the rate is likely to be slower at least in the near term due to the setback with the DoD contract, and also the likelihood of increased competition. My forecast is for a long term average of 10% growth. Using CAPM with reasonable assumptions I would discount the shares at 10%. Putting this together in a DCF model and I estimate the shares are valued at least at $20/share, and with historically low capital expenditure rates I would add another $2-$3/share for the cash assets on the balance sheet. Also when looking at historically EV/EBITDA multiples of about 10x, an argument can be made that the stock is worth $25-$30. I think this is especially true if you factor in my analysis on software development costs being expensed rather than capitalized, which I estimate would raise annual net income by as much as $15m.
Therefore this business remains too cheap at current levels and could see upside of 50% or more, as the market begins to realize the resilience of the business model and the temporary nature of the current earnings setback as the company continues to grow its customer base.
The Bottom Line
I stand by my argument from 6 months ago, that it can be hard to find good profitable small cap companies with the following impressive statistics: 1) long term growth potential of 10% or more, 2) 10+ straight years of consistent results, 3) zero debt, 4) a lot of cash, 5) management with significant skin in the game owning 20% or more of shares, and 6) offering you an earnings yield of 15%+. To me this seems like a great combination and a very good value for your money. Look for Liquidity Services to generate alpha as the market comes to realize that this company has a brighter future than it is currently getting credit for, and all is not lost because of its setback on the DoD contracts. I expect the stock has upward potential of at least 50% in the coming 1-2 years.
Disclosure: The author is long LQDT. The author wrote this article themselves, and it expresses their own opinions. The author is not receiving compensation for it (other than from Seeking Alpha). The author has no business relationship with any company whose stock is mentioned in this article.