"Welcome my son, welcome to the machine.
What did you dream? It's alright we told you what to dream"
--Welcome To The Machine, Pink Floyd, 1975
If you are someone that enjoys the artistry of investing, now may not be your favorite time to participate in capital markets. For the artistry of the investment decision making process has been squelched and distorted over the last several years by the moneymaking machines of computerized algorithms and seemingly endless liquidity flows from global central banks. But whether we like it or not, we do not get to invest in the markets that we want to have; we only get to participate in the markets that are given to us. And the reality remains that investment markets continue to provide an important vehicle to generate a higher rate of return on long-term savings, which is needed by many now more than ever with the interest earned from bank CDs and savings accounts locked at virtually nil. Investors can remain dedicated to their artistry in today's environment, but just as long as they recognize how it fits in the context of the forces that are driving capital markets.
Welcome To The Machine
One of the most important points to recognize in the current market environment is the sentiments of the carbon based individual matters little to the overall direction of financial markets right now. Traditional indicators such as magazine covers with bulls, proverbial "walls of worry", bullish versus bearish sentiment readings and basically anything quantitative or qualitative related to the retail or even the small to mid-size institutional investor simply do not matter right now.
How can this possibly be the case that the views of the individual investor do not matter to market performance? One has to look no further than mutual fund flow data to see why (it is worth noting in advance that the same principles apply to exchange traded fund flows). For once the U.S. Federal Reserve added daily Treasury purchases to its quantitative easing stimulus program, what the individual and small to mid-sized institutional investor was doing no longer really mattered. For while domestic equity mutual fund flows continued to decline by a net $370 billion since March 2009, the stock market has soared to new all time highs. If stocks continued on the path of mutual fund flows, it would imply the S&P 500 Index (NYSEARCA:SPY) trading well below current levels. Clearly, bigger forces are at work in today's market.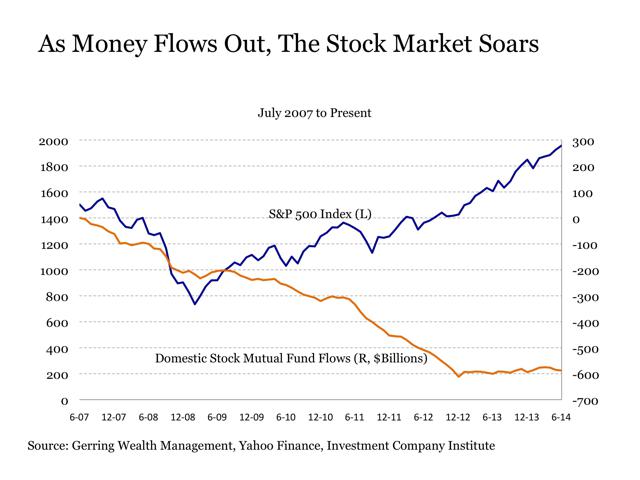 Another notable reading is valuations. Stocks are currently trading at 19.1 times trailing 12-month as reported earnings on the S&P 500 Index, which represents a 20% premium over its long-term historical average of 16 times. Not too bad on the surface, although it is worth noting that the "E" in the P/E ratio has received a considerable boost from companies not only benefiting from the low cost of capital but also issuing debt to repurchase shares. As a result, today's P/E ratio likely understates what valuations might otherwise be in a normal market environment.
From a longer term perspective, it is also worth noting that stocks continue to push the 10-year cyclically adjusted price-to-earnings ratio to new extremes. At present, Shiller's CAPE has now risen to over 25, which represents a more than 50% premium to its long-term historical average. Moreover, the CAPE has only been this high before three times in its long history in 1929, 2000 and 2007. And needless to say none of these instances ended well.
Now many have become quick to dismiss the CAPE as no longer a relevant valuation measure in the current market environment. But such a conclusion requires the acceptance of the belief that this time is different. Moreover, while the reasons for why the CAPE is suddenly no longer relevant do warrant consideration, they can be countered by just as many reasons why it is more relevant than ever.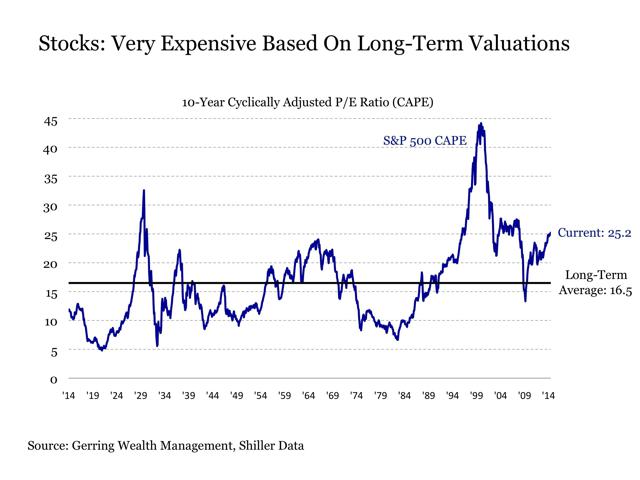 One such reason is the very high historical correlation between the CAPE today and the expected return of the S&P 500 Index over the next ten years. If this long-term historical relationship were to continue to hold, it would imply an S&P 500 Index that is likely to undergo a meaningful correction at some point over the next few years and would be trading not far from current levels a decade from now in 2024. While this should certainly be disconcerting to the individual investor, the machine seems to care little about this potential imbalance today and may push the CAPE even higher before it's all said and done. With this being said, secular bear markets do not end at high valuations like we are seeing today, which is why we are likely to see a meaningful bear market episode to confirm the projected path for stocks implied by the CAPE at some point over the next few years before it is all said and done, as the dependence on Fed liquidity in a persistently sluggish economic environment are not the usual markings of a dawning secular bull market.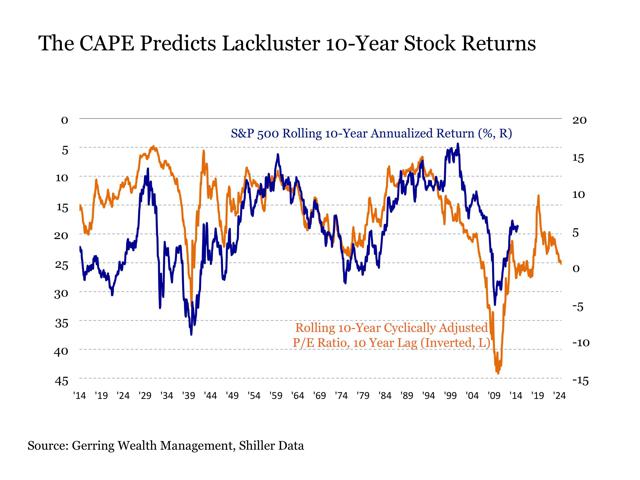 None of this means that things are different this time. It is never different this time. But markets can certainly seem very different for an extended period of time along the way before reality finally sets in. Yes, many will offer up explanations as to why it will continue to be different this time. Even Fed Chairman Alan Greenspan succumbed to such weakness during the build up of the tech bubble. And such are the conditions driving capital market today. For the entire universe of individual investors could be resoundingly bullish or definitively bearish on a particular asset class at any given point in time, but as long as the silicon based quantitative models and major institutional liquidity flows want to drive the markets in a particular direction, it will respond accordingly. Such is the way of the market right now, and it is important to willingly accept this key point for as long as it continues to last when managing an investment strategy today.
You Know You're Nobody's Fool
So if we accept the fact that the forces of the machine are driving the market, how can we not betray our artistry and still generate a solid risk-adjusted return today? In short, remain true to your convictions but also take what the market is giving you. This principle is not just limited to the stock market but applies across all asset classes. In addition, be patient but also stand ready to take action when it appears that the machine is finally about to break down, for once again, this time is never different.
U.S. stocks remain in a definitive uptrend that has been in place since the start of last year. This has continued despite the mounting economic and fundamental headwinds for stocks trading at these lofty levels. But as long as the uptrend remains in tact, it should be respected and investors may be well served to allocate accordingly.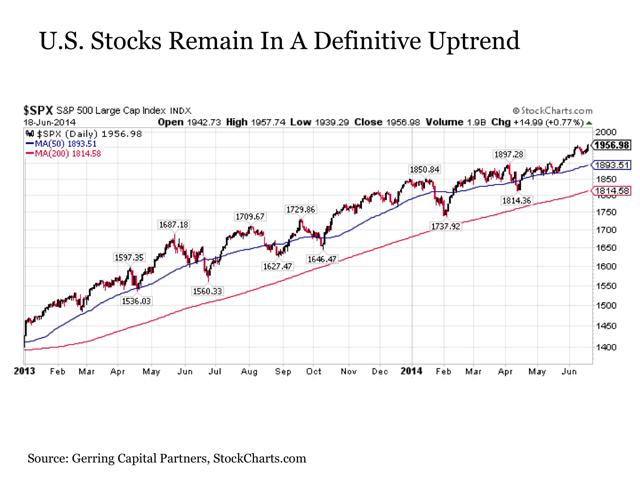 Stock allocations at this aging stage of the bull market should come with qualifications, however. First, investors may be best to focus on stocks that offer a reasonable valuation along with an attractive and growing dividend yield in the event that stocks were to enter an extended period of consolidation. Also, a focus on stocks that have demonstrated the ability to hold up well at least during the early stages of a major bear market may also be worthwhile. Examples in this regard include Procter & Gamble (NYSE:PG), McDonald's (NYSE:MCD) and Chevron (NYSE:CVX). In addition, having a clearly defined exit strategy is also important in the event that the stock market appears poised to break decisively to the downside. Lastly, investors may be well served to maintain an allocation to stocks at a lower percentage than normal as an added risk protection measure against a sudden market turn. These are just a few of the many factors to be mindful of when managing stock allocations today.
Beyond the stock market, investors should exercise varying degrees of caution when reaching for yield. For example, many segments of the high yield bond (NYSEARCA:HYG) market have been performing tremendously well over the last several years. But it is important to remember that this area of the market comes with a considerable amount of risk. For example, it is highly correlated with U.S. small cap growth stocks, which is far more risk than many recent yield chasing investors may be comfortable. Moreover, it is also worthwhile to point out that the effective yields being provided by the higher yielding segments of the bond market are also at historical lows. Returning to the high yield bond (NYSEARCA:JNK) market once again, the typical single B rated bond is offering a yield of just 5.16% today. To put this yield into context, this was the same yield on 3-month Treasury bills that are guaranteed by the U.S. government and are effectively considered the risk free rate as recently as 2007. Unlike T-bills, single B rated high yield bonds are far from risk free.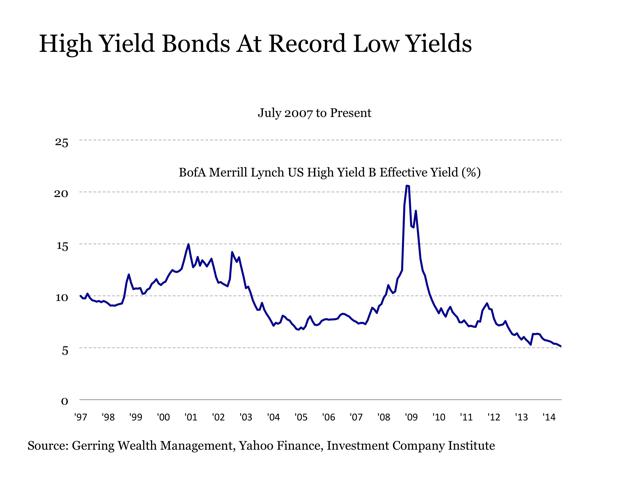 Unlike so many other categories, the U.S. Treasury market continues to trade with a reasonable amount of consistency. Although it has been counterintuitive from the moment that the Fed began buying Treasuries as part of their QE stimulus programs over five years ago, Treasuries have shown the tendency to go down when the Fed is engaged in QE and go up when the Fed is finished with buying Treasury bonds. And we have seen this same pattern develop since the start of QE3 at the beginning of last year. After struggling through much of 2013, U.S. Treasuries (NYSEARCA:TLT) have caught life thus far in 2014, perhaps in anticipation of the end of QE3 later this year. And as long as the Fed remains on the tapering path and the economy does not appear that it is picking up steam in any sustainable way, Treasuries could continue to push to the upside.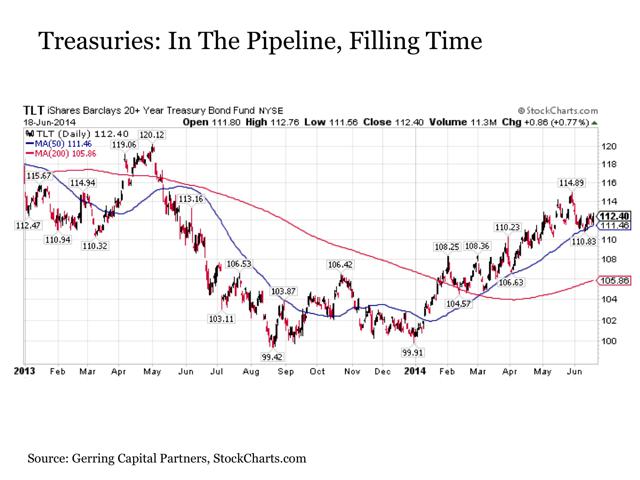 To round out the set, it's worthwhile to take a look at gold (NYSEARCA:GLD). In the category of don't fight the Fed, gold has certainly defied this claim over the last 18 months since the launch of QE3. For despite having the money printing winds at its back, it has struggled mightily by losing -25% of its value. So what went wrong for the precious metal that had been thriving for more than a decade on the weak dollar and easy money policies of the U.S. Federal Reserve up until that point? A variety of theories can be presented as to why, but the reality remains that just as stocks are in a dedicated uptrend, so too is gold in a dedicated downtrend. So while the upside potential associated with gold may still be considerable, it may also be prudent to stand aside in the meantime until we see a definitive breakout to the upside.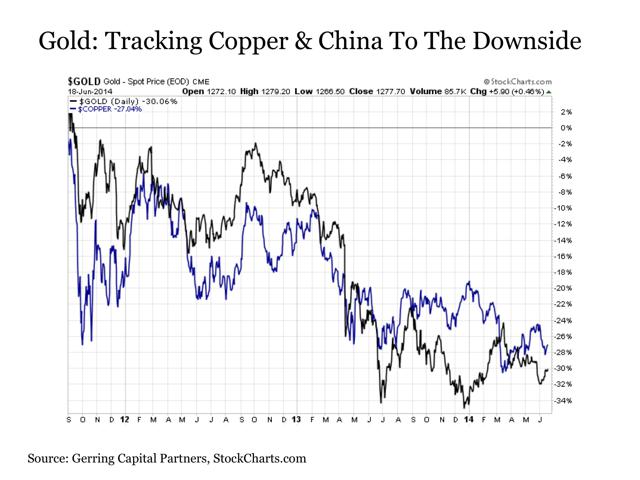 One point in particular has been notable about gold since its peak in mid 2011. While gold has historically had a fairly low correlation with copper (NYSEARCA:JJC) over time, the two metals have moved in virtual lockstep with each other to the downside since September 2011. Given that this was also the point where the China stock market (NYSEARCA:FXI) suddenly and sharply deviated from the path of the U.S. stock market, it is reasonable to consider that gold's recent woes have been as a result of forces emanating from China. This is a potential factor that should not be ignored when considering allocations to the yellow metal.
Bottom Line
Unprecedented machine like forces are currently the primary drivers of market performance today. And individual investors will continue to be well served to recognize the influence of the machine in distorting the market and driving potential outcomes that may seem otherwise to be highly unexpected. Of course, such conditions also continue to provide opportunity for the individual investor as long as they are willing to take the necessary steps to protect themselves accordingly through risk control along the way.
Disclosure: This article is for information purposes only. There are risks involved with investing including loss of principal. Gerring Capital Partners makes no explicit or implicit guarantee with respect to performance or the outcome of any investment or projections made. There is no guarantee that the goals of the strategies discussed by Gerring Capital Partners will be met.
Disclosure: The author is long CVX, PG, MCD, TLT. The author wrote this article themselves, and it expresses their own opinions. The author is not receiving compensation for it (other than from Seeking Alpha). The author has no business relationship with any company whose stock is mentioned in this article.
Additional disclosure: I am long stocks via the SPLV and the XLU as well as selected individual names. I also hold a meaningful allocation to cash at the present time.