Introduction
As a company rising from rock bottom, Advanced Micro Devices (NASDAQ:AMD) has recently started turning heads as they show with confidence that the new AMD is underway, something that I have previously wrote about. Following some analyst upgrades, AMD has traded up by nearly 10% in one week. Due to the company's working strategy and strong execution, I believe that the chipmaker's successful restructure will lead its stock to a major upside in the coming months and years.
Several months ago, AMD embarked on the last of its three-phase strategy, the transformation phase. Expected to be complete by the end of 2015, this phase is the most important and will give birth to new revenue sources and ultimately an entirely new company. For this article, I will briefly review AMD's restructure progress and then analyze the final transformation stage and each of the targeted markets the company will engage in. By understanding AMD's ability to successfully restructure, investors can much more easily determine if the stock is the right investment for them.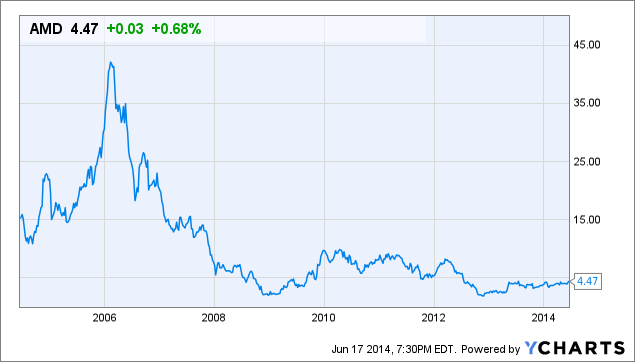 AMD data by YCharts
Changing the Company
AMD's stock price history visualizes that something went wrong. For decades AMD has held a strong enough foot against its competitor, Intel (NASDAQ:INTC). However in the last few years, AMD's highly inferior products left them with deep declining PC chip revenues leading to a free fall at the end of 2012. The downtrend led AMD's stock to a price under $2, the result of a downward slope that followed a glorious $40 price tag from nearly a decade ago. With a strategy started at the end of 2012 to save and restore the company to its former glory, AMD has introduced a three-phase plan centered on the words: Reset, Accelerate, and Transform.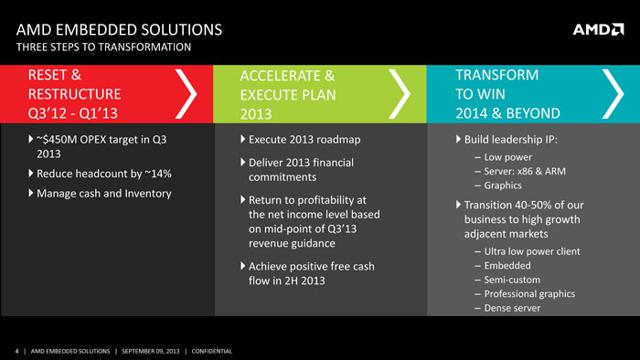 Source: AMD
A Brief Review of the Reset & Accelerate Phases (Phases 1 & 2)
The first stage involved resetting their business by reducing costs by as much as possible. Through 2012, AMD's revenue shrank so much that it was incapable of supporting their operations. At the end of the third quarter in 2012, AMD announced their plan to restructure the company and first cut costs. From limiting their associates to selling and leasing its own facilities, AMD underwent rapid changes in their operations. Since then, there has been a rebound in their operating income and for the last three quarters, AMD has successfully maintained a positive and stable operating income.

To accelerate their business, AMD devoted their efforts to rapidly improve their revenues by relying on their powerful graphics department. This was possible because AMD wasn't trailing behind their graphics competitor, Nvidia (NASDAQ:NVDA), as far as it was Intel in CPUs. It was a great plan that tested AMD's ability to innovate under pressure and successfully drive competitive products into the market. In other words, it showed that AMD had what it takes.
Before acquiring major graphics company ATI Technologies in 2006 for an outrageous $5.4 billion, AMD's primary source of revenue came from its Computing Solutions (CS) sector, or CPUs. However in the last several years, Intel's lead put AMD into a rapid and continuous decline of revenue in this space. This decline was far worse than the decline of the overall PC market and was scary. However, in the last three quarters, AMD's graphics department pushed out APUs for Sony's (NYSE:SNE) PS4 and Microsoft's (NASDAQ:MSFT) Xbox One, resulting in a rapid, company-saving revenue jump. In addition, this success was extended to an incredible new consumer graphics lineup along with a major, high-valued design win. That is Apple's new flagship desktop, the Mac Pro, which features dual AMD FirePro GPUs in every unit.
By looking at the chart below, you can see that AMD's Graphics and Visual Solutions (GVS) revenue ended up exceeded CS revenues due to this acceleration. This lifted the company's overall revenue and restored them to profitability.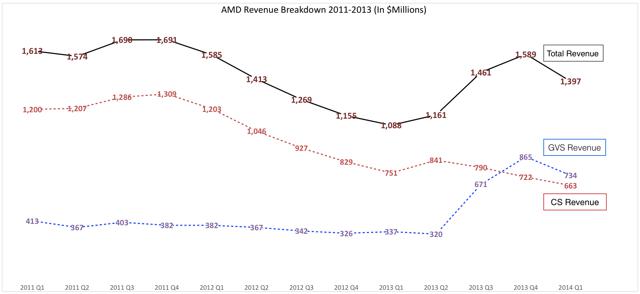 Phase 3: Transform
Traditionally, AMD was a company that competed with Intel in the x86 architectural space, but as I discussed with graphics above, AMD is able to generate more profits from other sectors. When CEO Rory Read joined, 95% of AMD's revenue came from the PC so when Intel finally and obtained and held the upper hand, AMD got pinned. This unhealthy duopoly, as Rory Read words it, wasn't working so without forgetting entirely about its important PC business, AMD decided to diversify and create a goal of deriving 50% of their total revenue in five areas that it sees as high growth opportunities:
Semicustom
Professional Graphics
Ultra-low Power Clients
Embedded
Dense Servers
AMD has set a goal to make these new markets generate 50% of their total revenue by 2016, leaving the PC with the other half. I agree that this is a great strategy for AMD, so to analyze their progress I will now cover each growth sector.
Semi-Custom
By welding the ingenuity of Sony and Microsoft's ideas with AMD's expertise, together they successfully developed a customized version AMD's Jaguar APU (learn about the APU) that now powers the highly successful PS4 and Xbox One gaming consoles. As of May 19th, just six months into their life cycle, Sony sold an outstanding 8 million consoles worldwide while Microsoft previously stated that it has sold over 5 million units. Together, this is over 13 million semi-customs APUs shipped and there are still parts of the world waiting to get their hands on these consoles.
Although AMD's CFO Devinder Kumar stated that the life of these consoles would be shorter than the previous eight years, sales of the current generation are still far from peaking. Generally, sales don't peak until a few years after its launch. It took the previous generation four years to peak. China, whose lifted their ban on gaming consoles will also enter the console market later this year which could be a great catalyst in improving sales.
The semi-custom business by AMD helped the console makers create powerful products at a very affordable price. Take a second and listen to the audience cheer when Sony officially announced that the PS4 would be available for $399. This was an incredible achievement. In addition to great pricing, Sony is actually generating a profit unlike its previous consoles that sold at a loss. The benefits of the semi-custom business can be expanded to more than Sony and Microsoft and AMD believes to think so. By the end of the year, AMD is expecting to launch at least 1-2 new semi-custom design wins and they expect to do the same in 2015 as well.
Professional Graphics
In 2013, Jon Peddle research estimated that approximately 4.9 million professional graphics processors were sold and for 2014 Trefis estimates an approximate 4% increase to 5.1 million units. The professional graphics industry is on the rise and AMD continues to view this area as a high growth area by continuing to invest in the sector. AMD has hired a many associates to focus in this area and as a result they have showed continuous professional graphics share growth for several quarters. With a current standing market share of 20%, Trefis also believes that the Mac Pro deal can serve as a catalyst to boosting its share to 30%.
At the end of 2013, AMD made its biggest milestone in professional graphics when Apple started using AMD's FirePro professional GPUs for its highly innovative Mac Pro. Each Mac Pro ships with two FirePro D300 or D500 GPUs and as a result has given AMD sequential growth in professional graphics along with a bit of prestige. AMD has been absent in Apple's products for a long time and it's great to see their presence back, especially for a top of the line, high-end product.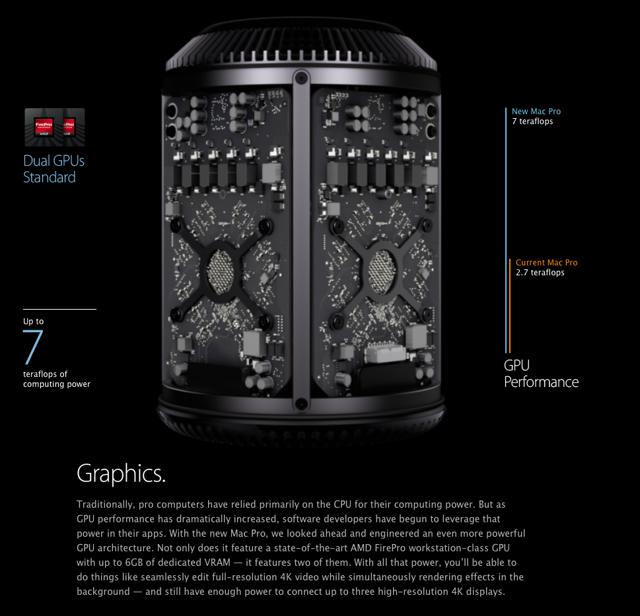 Source: logicrumours.com
Earlier this year, AMD also launched its W9100 graphics processor being the only GPU with over 2 teraflops of double precision computing. The W9100 has been positively received by professional from video designers to engineers looking for the best performance at 4k resolutions or higher. In addition, by bringing their latest advancements to servers, AMD readies their FirePro S-series cards for launch offering a large variety of solutions from compact and low power cards to ultra-high performance. As the professional graphics market continues to grow, I am very excited to see AMD heavily attacking this with tons of enthusiasm.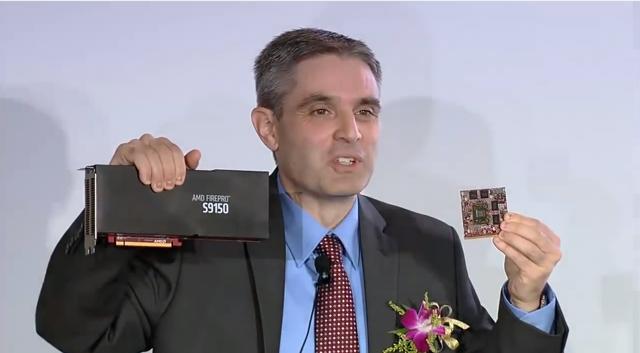 Wide range of AMD's S-Series GPUs; Source: AMD Presentation
Ultra-Low Power Client
With each passing day there is more and more room for efficiency to come and finally AMD has taken notice while making efficiency a part of its future. Until recently where AMD launched their latest Beema and Mullins APUs, efficiency was something that it showed little concern for. While Intel and its superior fabs continued to focus on efficiency and performance per watt, AMD was more eager to push out CPUs with more cores and higher frequencies that ended up getting them burned - even if they were more affordable.
After realizing that the products with the best efficiency get the design wins, AMD made a major transition and their recent products, Beema and Mullins have made outstanding progress. Intel's superior fabrication process is far greater than its competitors and has resulted in super efficient chips providing leading performance. Launched last year, Intel's current Haswell processor utilizes the performance and efficiency benefits of FinFET (3D) transistors in addition to being on an advanced 22nm process. Unfortunately, even though they are using new cores, Beema and Mullins are still stuck using the same traditional 2D process at the same 28nm as its predecessors from last year. Despite of this, they were still able to improve efficiency and generate vast improvements over the previous generation while producing competitive results.
According to AMD's benchmarks, the ultra low power processor Mullins for tablets offers well over twice the performance per watt than its predecessor, Temash. Beema, for low power notebooks also offers more than twice the performance per watt over the preceding Kabini APU.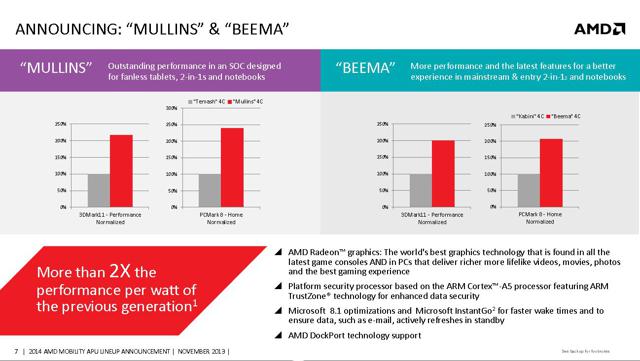 Source: Tom's Hardware
Another benchmark AMD demonstrated was their chips power consumption in idle compared to the previous generations. While the chart shows an idle draw at well below one watt, the importance is the jump that was made since they've started to focus on efficiency. A lot of improvements came from a software perspective and if you start drawing the dots of AMD using a more advanced fabrication process, you can imagine that the results will be leaps ahead and maybe even better than Intel. While this seems like a pipe dream, one of AMD's chip manufacturers, Global Foundries, is on route to secure a 14nm FinFET process with Samsung in a few years. As AMD is still slightly behind, they said that this is the "tip of the iceberg" making me highly optimistic about efficient solutions to arrive in the future.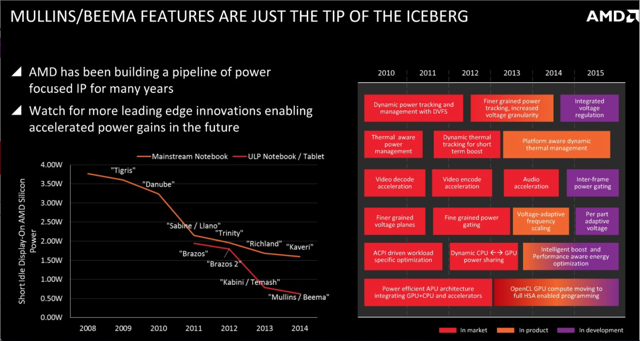 Source: AMD
Embedded
One of the lesser obvious and more hidden efforts in AMD's approach to new revenue streams lies in the hidden world of embedded chips. Unknown to most, embedded applications as a whole make up a great deal of our surroundings from transportation, GPS, games, digital signage and even multiple 4k displays. Scott Aylor, in charge of AMD's embedded solutions, jokes that "embedded is an eight-letter word that stands for eight hundred thousand different things." The whole sector is enormous and diverse - so of course AMD can't focus on every little product. Instead, AMD has decided to narrow their options into growing sectors that meet their specialties in performance computing and graphics. These sectors are centered around six high-growth vertical markets:
Thin client
Digital signage
Medical imaging
Communication & networking
Gaming machines
Industrial controls & automation
To target the broad industry, AMD has introduced a broad range of embedded processors to meet each embedded designers needs. AMD's new family of chips covers a wide range from low-cost, low-power, small form factors to advanced high performance chips. With the latest launch of the new codenamed G-Series "Steppe Eagle" APU and "Crowned Eagle" CPU, AMD has shown that they are very serious about this business and their performance improvements justify this.
"Steppe Eagle" offers a 60% increase in CPU performance over the prior G-series while having a configurable TDP as low as five watts, which can generate an overall performance per watt increase of 96%. In addition, Steppe Eagle sports the same award winning Graphics Core Next (GCN) architecture that AMD uses for the latest generation gaming consoles. "Crowned Eagle", a 64-bit x86 CPU, is designed for the growing demand in network services that is spiking from the uprising cloud. Crowned Eagle will be utilized in networking and communication infrastructures while also sporting a configurable TDP of as low as five watts.
Upon announcing the G-Series processors, AMD also announced that HP (NYSE:HPQ) has already adopted the new chips for their embedded solutions. Jeff Groudan, HP's Thin Client Product Management worldwide director says:
"There is a growing need for more advanced embedded solutions in healthcare, finance, education and retail services" while adding that "The AMD G-series SoC provides HP thin clients with enhanced security, value and unmatched performance."
By bending its expertise in computing and visual graphics while targeting the right segments, AMD is well positioned to take advantage of the growth in the embedded business. During the last earnings conference call, AMD said that there is a growing demand for the business that is expected to grow beyond $7 billion by 2016.
Dense Servers
Only one-third of the world has access to the Internet. There are also 6.1 billion mobile phone subscriptions where less than a billion are smart phones. It is more likely than not that the demand in the datacenter is going to grow because this is what mobile devices thrive on; without the datacenter mobile devices are hardly any useful. There is an extreme uprising demand for efficient datacenters and ARM is the low-power, low-cost king and the trend is pointing in their favor. Over and over in the past we have seen low cost, low power solutions win. By 2019, AMD predicts that ARM will command 25% of the server market and as the leader in ARM servers; AMD has positioned itself to take full advantage.
For the last several years AMD has been a follower. However, with dense servers, CEO Rory Read states that he wants to "identify this opportunity long before it takes place" and by the end of the year, AMD will be launching Seattle, the first 64-bit ARM-based server processor. AMD has reported that Seattle has received a lot of attention from its customers and it is just the beginning of AMD's journey in embracing the ARM architecture in servers.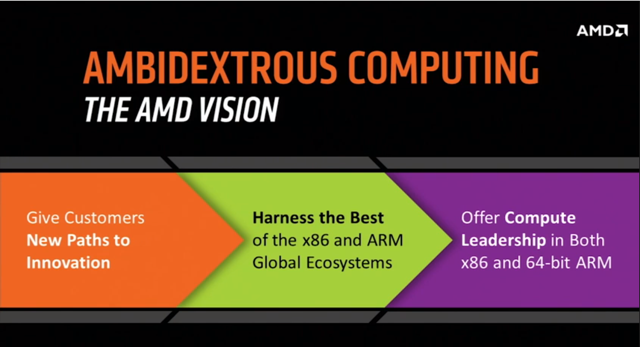 Source: AMD
From the customer perspective there are various server ecosystems to utilize in order to fit their needs. For example, the chart below shows two sectors. For the "Industrial Customer", they use x86 for the high end due to the higher performance requirements and on the low end they use ARM due to the more desirable power consumption and price point for their applications.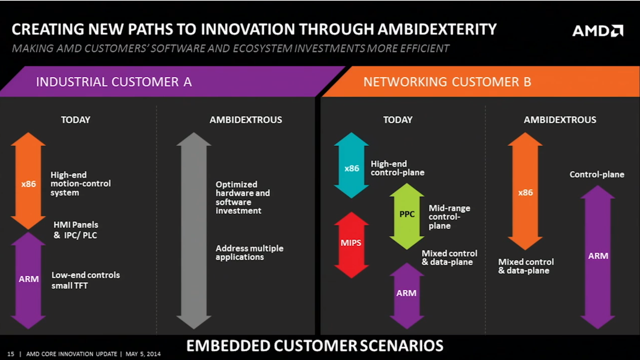 Source: AMD
With AMD's ambidextrous approach, it can work with a single customer and cover the entire broad spectrum of their needs from ARM to x86 and even architectures in between. If we look on the networking example, we can see that there are four different architectures that would each inconveniently require their own code base - costing time and money. Again, by utilizing AMD's ambidextrous approach, the customer can simplify its requirements through an easy, inexpensive and more effective solution.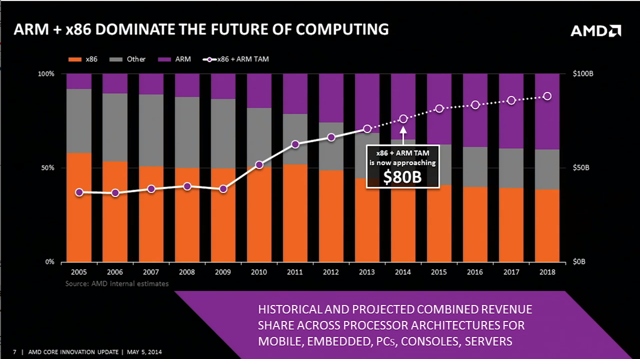 Source: AMD
AMD labeled the x86 + ARM total addressable market at $80 billion as seen in the chart above. It is exciting to see AMD simplify an industry by offering high-valued, easy solutions to customers and as the future of ARM and x86 begin to dominate the server industry, AMD's expertise and years of server experience position them very well to absorb the benefits.
Conclusion
A lot of AMD's progress towards its transformation phase was introduced within the last few months and shows that the company is making incredible progress. I believe that AMD's bending of its expertise in computing and graphics into new categories is a great strategy in boosting revenues. Coupled with solid execution over the last few years, this recent progress had made me highly optimistic about their success in restructuring.
AMD has set a goal of these new high growth markets generating 50% of its revenue by 2016 and AMD hasn't just laid out the plan. As I have written, AMD successfully demonstrated progress in each and every category. In addition to these new high growth markets, AMD is also making significant progress in the other revenue half, which will come from the PC. In my last article, I wrote that AMD's PC problem is over. AMD has already guided for sequential increases in PC revenue for the rest of the year and thanks to a softening PC market and AMD's new and highly competitive product lineup, I expect their guidance to be met.
Despite having risen over 10% in the last month, I believe that AMD at its current level is a great deal that will see an enormous upside in the coming years. The future is still hazy so trying to justify a price point is impossible. However I believe that at the very least, a double in price coming.
Disclosure: The author is long AMD. The author wrote this article themselves, and it expresses their own opinions. The author is not receiving compensation for it (other than from Seeking Alpha). The author has no business relationship with any company whose stock is mentioned in this article.