I wrote in a previous article about SolarCity (SCTY) not being the best investment at the moment. The main reasoning was that SolarCity is not profitable at the moment under great conditions (tax breaks, lowering costs of solar panels) and they don't control product of solar panels. I felt a lot of hype was generated by the fact that the CEO is Elon Musk and though he has made great strides with Tesla and SpaceX, I didn't see SolarCity being able to control costs as effectively without controlling the entire process. This means producing solar panels, selling and installation. Well that all changed on June 17th, 2014 when SolarCity announced that they would purchase Silevo for $200 Million with another $150 Million if certain benchmarks were met. This makes SolarCity a supplier of solar panels as well as the old business model of leasing solar panels to consumers. Obviously I feel this is a great first step towards growing in the solar power industry and a much needed step. There were a couple of good notes that I feel are worth noting with the purchase.
How to deal is being financed
Out of the $200MM, it has been reported that $168MM is in stock, $9MM in cash and $23MM in liabilities. With 84% of the purchase using SolarCity stock, they are making good use of the high run-up in the stock price to purchase Silevo. SolarCity stock has increased in price by 450% since the IPO in December 2012. Below is a graph showing the skyrocketing stock price since the IPO.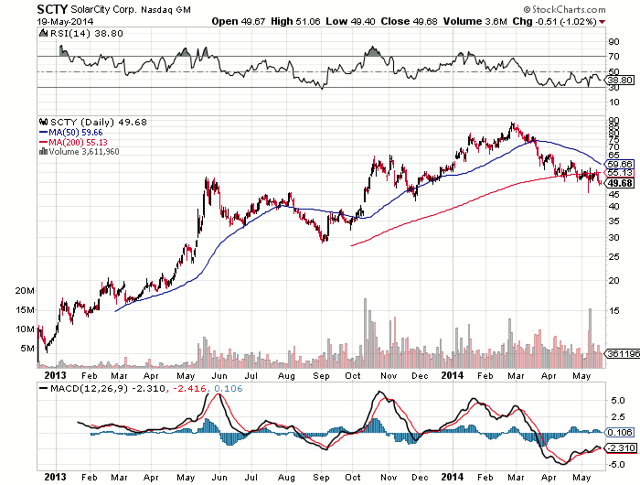 If you believe a stock market correction is in the near future, a growth stock like SolarCity could conceivably be hit hard which would lower the purchasing price using stocks alone. Similar to how Facebook funded the Oculus and WhatsApp acquisitions, SolarCity is making a smart decision of using stock as a purchasing tool at a high valuation. The $9MM in cash will make a small dent to the $577MM in cash and cash equivalents SolarCity has on its balance sheet as of the end of 2013. Also the high cash reserves helps absorb the $23MM in liabilities. Overall the way the deal has been structured, assuming the news report is accurate, shows SolarCity is being smart with its asset allocation.
Elon Musk and his ambitious goals
Elon Musk is not one to hold back is his ideas of what the future holds. He has big dreams and doesn't shy away from sharing them to the general public. His goal with Silevo though raised quite a few eyebrows on just the scale of the endeavor.
"We are in discussions with the state of New York to build the initial manufacturing plant, continuing a relationship developed by the Silevo team. At a targeted capacity greater than 1 GW within the next two years, it will be one of the single largest solar panel production plants in the world. This will be followed in subsequent years by one or more significantly larger plants at an order of magnitude greater annual production capacity," wrote Elon Musk, Peter Rive and Lyndon Rive on SolarCity's blog.
The biggest solar thermal power station is the Ivanpah Solar power Facility in San Bernardino County, California which has a capacity of 392 MW. So SolarCity with this purchase wants to build the world's largest solar power plant in two years. More power to him (pun very much intended) with this ambitious goal. There are questions about the demand but as solar power becomes a bigger part of the general public, demand should increase moving forward.
Questions about the impact of Silevo
Silevo is a solar cell innovator and photovoltaic (PV) solar module manufacturer that has evolved the use of silicon for solar to offer cost-effective high performance solar modules. With this acquisition, SolarCity has the capabilities to manufacture and sell solar panels on top of its current practice of purchasing solar panels for installation. Now Silevo itself is a relatively new company and has been building and selling their Triex solar panels since 2011.
SolarCity feels very confident the technology supplied by Silevo will give them a competitive advantage over some competitors, mainly First Solar, SunPower and SunEdison. They have more control of the upfront costs of manufacturing of solar panels and can better take advantage of the decreasing price of manufacturing solar panels. Cost cutting becomes easier as the process of manufacturing, selling and installing become integrated within one organization. This is the reason the other solar companies are moving to this business model. Which brings me to the main issue I think has to be looked at when evaluating SolarCity.
SolarCity does not make money
I get the fact that the goal of SolarCity is to grow and grow with the leasing model. As customers lock into the agreements, cash flow improves as leasing revenue starts to build. Right now they are growing their customer base 100% year-over-year which is a great sign. My argument is now SolarCity is becoming a manufacturer of solar panels along with the leasing model. Does this necessarily mean they are competing with First Solar (NASDAQ:FSLR), SunPower (NASDAQ:SPWR) and SunEdison (SUNE)? Possibly the is the eventual goal but right now SolarCity is being valued as equals to their competitors with a fraction of the revenue. Table 1 shows some financial metrics comparing SolarCity and its competitors.
Table 1 - SolarCity Versus Some of Main Competitors
Parameter
SolarCity
First Solar
SunPower
SunEdison
Market Cap
$6.2B
$7.2B
$5.3B
$5.9B
Total Sales in 2013 ($MM)
163.84
3,308.99
2,507.20
2,007.60
Net Income in 2013 ($MM)
(151.76)
353.04
33.55
(613.90)
SolarCity has the 2nd highest market cap at $6.2B but with less than 1/10th of the revenue. The price to sales for SolarCity is almost 38 times. The stock price also has run up by ~22% since the announcement they were acquiring Silevo. Will the acquisition of Silevo work out? Will they successfully build the 1 GW solar power plant? Will the customer base continue to grow at these levels? Will costs of manufacturing decrease to the point that SolarCity will be profitable in the near future? These are a lot of questions for a company that is trading at levels that has perfection baked into the current price.
Final Thoughts
SolarCity was a bit interesting before acquiring Silevo but the high valuation, no clear timeline on profitability and not controlling their supply of solar panels made investing in SolarCity tough. With the purchase of Silevo, SolarCity is taking the next step in integrating production, sale and installation all in one company. The issue of valuation is still present along with profitability but SolarCity is moving in the right direction. I still am firm in my belief First Solar and SunPower are better investments at the moment due to more experience producing solar panels and history of profitability. We will see what SolarCity does in the years to come but investing in SolarCity now is premature at this point.
Disclosure: The author has no positions in any stocks mentioned, and no plans to initiate any positions within the next 72 hours. The author wrote this article themselves, and it expresses their own opinions. The author is not receiving compensation for it (other than from Seeking Alpha). The author has no business relationship with any company whose stock is mentioned in this article.