Currently we are seeing a lot of unrest in countries that have a large impact on the world oil supply such as:
Ukraine:
Almost everyone knows that Russia recently annexed the Crimea. The EU, the US, and others feel that this was against international law. They have levied sanctions against Russia. This has yet to have a significant impact on Russian behavior. Instead tanks have recently rolled into the Ukraine through a checkpoint controlled by pro-Russian separatists in the Luhansk region. Two of the three Russian T-72 tanks -- a type Ukraine does not use -- moved towards Horlivka, a mining town in the Donetsk region, and one remained in Snizhne. Donetsk is the region of Ukraine that recently declared its independence after a referendum on self-rule. Putin has declared the "People's Republic of Donetsk" an independent country. It may be a matter of time before it too is absorbed by Russia. The situation in Ukraine only seems to be escalating.
A major natural gas pipeline exploded in central Ukraine on June 17, 2014, a day after Gazprom (OTCQX:GZPFY) said it was cutting off supplies to Ukraine in a dispute over pricing. Sabotage is suspected. The explosion destroyed a section of the Urengoy-Pomary-Uzhgorod pipeline, which runs from Russia's Arctic north, through Ukraine, to the border of Slovakia. The pipeline, which runs six feet underground, carries Russian gas to Ukraine, Slovakia, the Czech Republic, Austria, Germany, France, Switzerland, Slovenia, and Italy. It is capable of carrying 28 B cubic meters a year. For now Gazprom says the needed natural gas transport is being done through alternate pipelines. However, there is no saying that more pipelines will not suddenly blow up.
The whole situation is heating up. Putin's aide Sergey Glazyev published an article entitled, "undermining the economic strength of the United States" in order to force the US to stop the civil war in Ukraine. In counter propaganda he suggested that Washington is trying to provoke a Russian military intervention in Ukraine using the Kiev government as bait. He says this would allow the US to introduce new sanctions against Russia such as writing off Moscow's portfolio of US Treasury bills (about $116.4B at the end of April 2014). More importantly the new sanctions would prevent Russian companies from servicing their debts in EU and US banks. This would displace Gazprom, Rosneft (OTCPK:RNFTF), Lukoil (OTC:LUKOF) and other Russian oil and gas companies from the EU and the US energy markets. That would create a lot of turmoil in the world's energy markets.
I am not saying the above is going to happen, but it is a definite area of concern. Plus a significant natural gas artery to the EU has already been cut for the near term. It is unclear how much more damage will be done before this is over. The Ukraine is not a situation that energy investors can afford to ignore. It is getting worse instead of better, especially in terms of energy.
Iraq:
This situation seems to be the major concern of the markets today. Vadim Zlotnikov, chief market strategist and co-head of multi-asset solutions at AllianceBernstein said, "Investors are not yet pricing in significant problems (from Iraq). They are slightly fearful, but they have not yet reacted." Morgan Stanley warns that volatility could rise if violence continues. MS thinks Brent could go to $116/barrel. A poll of market strategists by CNBC think that disruption in Iraqi exports could push Brent to $120/barrel. They are bullish on oil prices. MS expects higher volatility to trigger fund flows back into crude. Some see crude heading to $150/barrel and even higher.
The various sects in Iraq have hated each other for centuries. Al-Maliki's government was highly Shia discriminatory (for Shias). The other sects don't want to live with this. I don't see a quick resolution. The oil supply is already starting to be affected. The Baiji refinery in northern Iraq was shutdown. The refinery accounts for more than one quarter of Iraq's refining capacity. Foreign workers were sent home. Then it came under mortar attack late June 17 and June 18, 2014 by the ISIL. In a separate incident 40 Indian construction workers from Mosul have been kidnapped by an unknown group. Their whereabouts are also unknown.
In the latest news al-Maliki has requested air support from the US in combating the insurgents. The insurgents are attacking in several areas north of Baghdad. They have already taken Mosul, Kirkuk, Baiji, and Tikrit. However, the Obama administration says it is several days away from any decision on involvement in Iraq. At stake in oil terms is about 2.7 million bopd of production. Follow this link to some Brookings Institute thoughts on Iraq.
Libya:
At the OPEC meeting on June 9, 2014, Libya was only producing 200,000 bopd Oil Minister Omar Shakmak said in Vienna. This is far from the capacity of 1.6 million bopd that it pumped before the 2011 conflict. It is unclear when Libyan oil will come back online. The protests are continuing.
All told the world oil production situation is very tenuous worldwide. Many expected the Libyan oil to be back online long ago. No one expected possible problems with the Russian oil supply. Few were expecting problems with the Iraqi oil supply. However, all of these areas are having or threatening to have significant problems.
How does an investor make money from this? An investor can try to invest in oil itself, or oil company stocks. Often oil company stocks can be the better idea. Oil does not have to keep going up for these companies to benefit. They will benefit from long term higher than normal oil prices as each new quarter passes. Usually the higher prices are not estimated in their results. Thus they will beat on revenues and earnings throughout this time; and their stock prices will go up. If the price of oil goes up further, so much the better. They will benefit that much more.
Investors can try to pick just the right company or companies to benefit best from these higher than normal prices, or they can buy an ETF that invests in a basket of the companies. Two ETFs investors may want to consider are the Energy Select Sector SPDR Fund (NYSEARCA:XLE) and the SPDR S&P Oil & Gas Exploration & Production ETF (NYSEARCA:XOP).
The XLE has a one year performance of 20.65%, a 5 year performance of 15.13%, and a 10 year performance of 14.12% as of May 31, 2014. It has a Gross Expense Ratio of 0.16% -- low -- and a dividend yield of 1.61%. With a PE of 15.51 and a Price/Book ratio of 2.18, it seems reasonably valued. Of course, if oil prices are going to go up, it is bound to move up with them. Its top holdings are:
Exxon Mobil Corp. (NYSE:XOM) -- 15.21%
Chevron Corp. (NYSE:CVX) -- 12.79%
Schlumberger NV (NYSE:SLB) -- 7.37%
ConocoPhillips (NYSE:COP) -3.87%
EOG Resources Inc. (NYSE:EOG) -- 3.81%
Pioneer Natural Resources (NYSE:PXD) -- 3.74%
Occidental Petroleum Corp. (NYSE:OXY) -- 3.63%
Halliburton Company (NYSE:HAL) -- 3.51%
Anadarko Petroleum Corp. (NYSE:APC) -- 3.21%
Williams Companies Inc. (NYSE:WMB) -- 2.82%
Essentially it is a combination of blue chip energy companies. These should survive well; but they will not generally be as influenced as smaller companies by the extra money they will earn with higher oil prices. Still they represent stability and dividends, which are what a lot of investors want. Unfortunately a few like XOM have assets in Iraq and elsewhere. It is unclear how much XOM's revenues and earnings will be affected; but investors should be aware of this. CVX is another company with interests in Iraq. Investors should do their due diligence before buying XLE.
The XOP ETF has a one year performance of 28.68%, a 5 year performance of 17.38%, and it does not yet have a 10 year performance figure as of May 31, 2014. It has a gross expense ratio of 0.35% and a dividend yield of 0.66%. With a PE of 19.27 and a Price/Book ratio of 2.10, it seems reasonably valued for an ETF built from a bunch of high growth stocks. If oil prices are going up, it will likely move up more quickly than the XLE ETF; but it will be less stable. The smaller stocks will benefit more from the added income, as many more of them have significant financial worries. XOP's top holdings are:
Goodrich Petroleum Corp. (NYSEMKT:GDP) -- 2.13%
Halcon Resources Corp. (NYSE:HK) -- 2.08%
Comstock Resources Inc. (NYSE:CRK) -- 1.66%
Newfield Exploration Company (NYSE:NFX) -- 1.65%
Triangle Petroleum Corp. (NYSEMKT:TPLM) -- 1.56%
Diamondback Energy Inc. (NASDAQ:FANG) -- 1.55%
Stone Energy Corp. (SGY) -- 1.45%
Sanchez Energy Corp. (NYSE:SN) -- 1.45%
Anadarko Petroleum Corp. -- 1.44%
Carrizo Oil & Gas Inc. (NASDAQ:CRZO) -- 1.41%
Eight out of ten of the above companies have short interest as a percentage of the float of greater than 7.5%. The only company on the above list that would be considered a blue chip is Anadarko Petroleum Corp. and/or possibly EOG Resources . All of these companies will benefit greatly from some unplanned on extra revenues. All of the ones with short interest over 7.5% should be susceptible to short squeezes. The XOP ETF should move up faster in a good oil price market than the stocks of the XLE. However, this ETF also provides more risk and a lower dividend. If you don't mind the extra worry, this ETF may be for you. Both ETFs should be adequately liquid. Both ETFs should be considered buys in the current situation.
Of course, if the bottom starts falling out of oil prices (or even the overall market), I would sell both. I would probably sell the XOP ETF first as the stocks in it are much more volatile. They have higher Betas in general.
The two year chart of XLE provides some technical direction for this trade.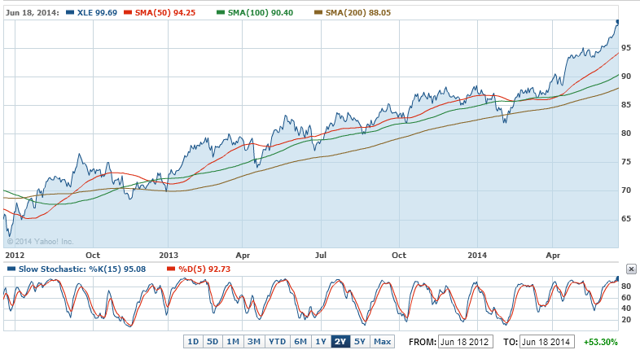 The slow stochastic sub chart shows that the XLE ETF is overbought. The main chart shows that XLE is in a strong uptrend. It appears to be overextended at this time; but under the current circumstances it could easily become more overextended. Conservative investors may wish to wait for a pullback before buying. More aggressive investors may wish to buy now. At this time it appears that there is a lot more negativity to come out of both the Ukraine and Iraq. This should mean higher oil prices and higher profits for the companies in this index. I do note that some of the major companies may be negatively affected by an Iraqi oil shutdown. For example, XOM has assets in Iraq. In that sense XOP may be a less complex buy at this time. If oil prices or the economy start heading downward significantly, investors will probably want to sell the XLE ETF quickly to avoid the down move. It can always be bought again later.
The two year chart of XOP provides some technical direction for this trade.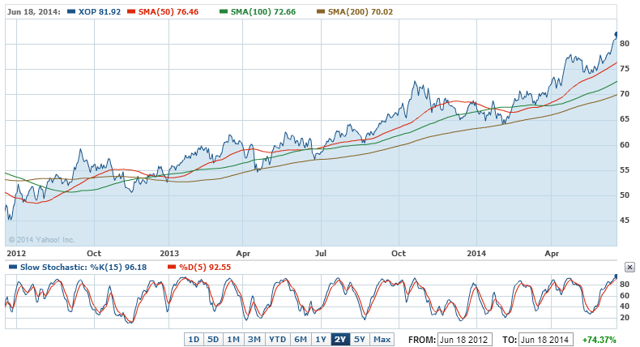 The slow stochastic sub chart shows that the XOP ETF is overbought. The main chart shows that it is in a strong uptrend. It looks to be a bit overextended. However, given the current world oil situation, one might expect it to be able to become even further overextended. Conservative investors may wish to wait for a pull back, but more aggressive investors may want to get in soon. There seems likely to be a good amount more of upside to the oil producers, especially funds that hold primarily US oil producers.
Since XOP has few majors in it, it also has little international oil trouble risk in it. It may be more risky in that the stocks are smaller and less stable; but the stocks themselves tend to do most of their development in North America, therefore they are in fact less risky in that they have little international exposure. CAPS rates XOP four stars (a buy).
The XLE ETF is more complex. It has majors like XOM in it. XOM has assets in Iraq that could be negatively impacted by a shutdown in Iraqi oil output. Investors should consider this before they buy. CAPS rates XLE three stars (a hold). However, under the current highly volatile circumstances, it is probably a buy. Even MS thinks the price of oil is likely going up.
Investors can decide for themselves which ETF (if any or both) they want to buy. Both have their good points.
NOTE: Some of the above fundamental financial information is from Yahoo Finance.
Good Luck Trading.
Disclosure: The author has no positions in any stocks mentioned, but may initiate a long position in XOP over the next 72 hours. The author wrote this article themselves, and it expresses their own opinions. The author is not receiving compensation for it (other than from Seeking Alpha). The author has no business relationship with any company whose stock is mentioned in this article.