Should Netflix (NASDAQ:NFLX) be a core part of your holdings? That's a tough question. It's hard to put a finger on this company's performance. On one hand, the stock has ample room to grow, and continues to do a great job of executing on strategic growth opportunities. However, on the other hand, the company is priced for perfection making it susceptible to short-term events, and disappointing quarters.
The company can crank the profitability up assuming the subscriber base increases in size, and pricing improves on the core subscription service. This will take some time (several years). However, assuming investors have a lot of patience; the risk to reward is pretty compelling.
The industry has bright growth prospects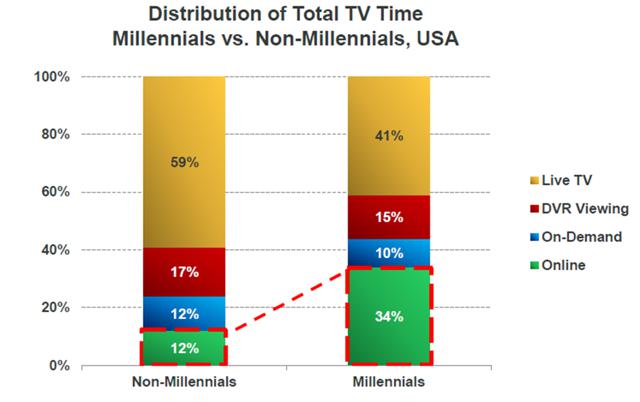 Source: KPCB
As you can tell, demographics trends indicate that the younger age demographic (millennials) are adopting online video content in droves when compared to other alternatives like live TV, DVR, and on-demand. Therefore, Netflix's future is soundly intact as it's appealing to a younger age demographic that will soon reach peak spending years when they hit their mid-30s.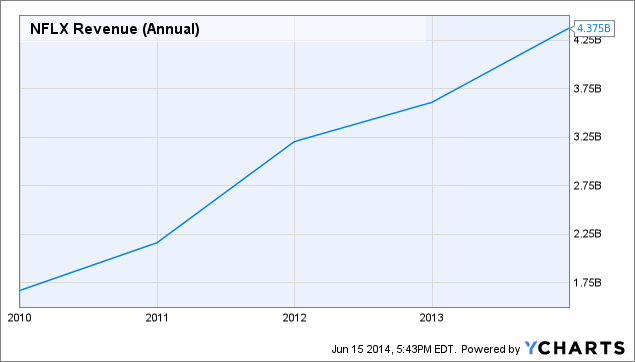 Source: YCharts
Over the past five years, Netflix sales have grown by 160%. However, this growth rate may in fact accelerate, which is why investors are pricing the stock at high valuations when compared to peers.

Source: Netflix
Mathematically, there are two components that directly contribute to Netflix's sales. The first is pricing, and the second is total subscriber base.
Reed Hasting (Chairman, CEO of Netflix) states that pricing will increase:
Rich, over the last couple of years, we have been improving the content selection on Netflix and broadening it, most recently with the addition of the amazing shows like House of Cards and Orange Is the New Black, and if we want to continue to expand to do more great original content, more series, more movies, we have to eventually increase prices a little bit. We are not doing much. We are doing $1 or $2, depending on the country and all the existing subscribers keep their current price.
Sure, the $1 or $2 doesn't sound like a whole lot. But over time, the combined impact of pricing and subscriber growth can boost sales significantly.
Year-over-year, Netflix grew its subscriber base by 35%. Pair it with incremental price increases, and we can come up with a model for Netflix's potential sales growth.

Source: AlexLeAnders
As you can tell, assuming the subscriber base grows to 159 million (perfectly attainable), and pricing increases to $19 per month ($238 per year), the company can generate $38 billion in revenue. Assuming Netflix operates at a 20% net profit margin, the company will generate $7.6 billion in net profit. If we assume the stock trades at 25 times earnings, the stock will have a $190 billion market capitalization.
Our five-year forecast may be a little too aggressive, as we model a 27.69% CAGR for subscribers over the next five years. Furthermore, pricing is modeled to increase by 20% CAGR over the next five years. Let's take that aggressive assumption, and slice it in half shall we? Let's look at figure 2 (what's below).

Source: AlexLeAnders
In this less aggressive scenario, we model subscribers at 12.67% CAGR, and pricing at 9.56% CAGR. Those are extremely attainable figures. Furthermore, I expect similar net profitability at 20%, on $35 billion, indicating that net profit will be $7 billion. Assuming the stock can trade close to the average S&P 500 earnings multiple (20-25), we can assume the stock can fetch a market capitalization of $140 billion to $175 billion.
Conclusion
Netflix has a lot of growth potential, which is why the stock trades at a 161 price-to-earnings multiple. The stock is extremely susceptible to short-term news, and earnings misses. Therefore, investors have to tolerate volatility.
Growth investments require a buy and hold mentality. Do not be dissuaded by short-term investing antics, for it is compound interest that is the greatest force in the universe, according to Einstein.
My verdict: buy Netflix.
Disclosure: The author has no positions in any stocks mentioned, and no plans to initiate any positions within the next 72 hours. The author wrote this article themselves, and it expresses their own opinions. The author is not receiving compensation for it (other than from Seeking Alpha). The author has no business relationship with any company whose stock is mentioned in this article.