Although a drought has hit Russia's agriculture sector and diminished growth somewhat, the country's exchange traded funds aren't being brought down.
The continued heat wave and consequent drought has diminished domestic activity. The economy shrank a seasonally adjusted 0.4% in August month-over-month. The economy expanded 3.7% in the year through August.
Russia's Central Bank may hold rates at its record low of 7.75% for a few more months, adding that "inflationary risks, defined by monetary conditions, remain at an acceptable level," writes Toni Vorobyova for ForexYard. The Central Bank may also raise banks' reserve requirements instead of rates to reduce the money supply.
Central Bank chairman Sergei Ignatyev already stated that the 2010 inflation could hit 8%, or a full percent above estimates made at the beginning of the month.
The agriculture sector made up 60% of the economic decline in August, followed by the transportation sector, while capital investment and construction buoyed the economy, reports Maria Levitov for BusinessWeek. The government expects the economy to grow 4% this year.
According to the National Intelligence Council, Russia is the sixth most influential nation in the world and that status will likely remain the same in the next 15 years as other emerging markets become more influential, writes Andy Potts for The Moscow News.
(Click charts to enlarge)
Market Vectors Russia (NYSEARCA:RSX)

SPDR S&P Russia ETF (NYSEARCA:RBL)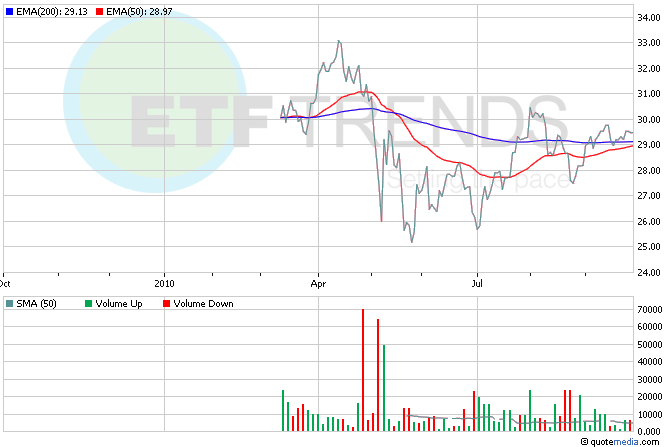 Max Chen contributed to this article.
Disclosure: None