Female Health Company (FHCO) has been able to sustain quality economics while benefiting from first mover advantage. They have garnered a near absolute monopoly of female condoms in the public health sector, who's goal is the prevention of HIV worldwide. New female condom manufacturers are starting to gain qualification as viable alternatives to FHCO's only condom FC2 and the Gates Foundation has announced their support to fund the creation of a superior condom that would promote more usage. The company has virtually no analyst coverage, the market does not like that FHCO's revenues are lumpy and recent selling indicates that the market believes FHCO's wide moat is in danger. Mr. Market expects slower growth and lower profitability. We believe that the market is overlooking the much harder to grasp qualitative aspects of female condom programming and how FHCO is positioned to maintain its dominant market position as female condoms become a more acceptable form of HIV prevention and contraceptive method going forward.
Brief Company Summary
We will not delve too much into the specifics of the company's background since other SA contributors here and here have done a great job describing the history of FHCO, the markets they compete in, new competition, as well as the economics of the company. It is easily identified that FHCO has had a clear, wide moat with returns on equity and assets above 30% with limited debt. The company needs relatively no capital to maintain their returns and needs relatively little cash to grow. Any company that is able to post numbers that high for sustained periods of time, as well as grow their top and bottom lines, are quality companies. Yet, FHCO's share price has been falling significantly since the end of last year.
As we would expect the market was originally overenthusiastic by extrapolating FHCO's large growth in both revenues and profits, while there were no competitors on the horizon. Last year at the peak share price near $10, the company was trading for more than 30 times after-tax profits and ex-NOL carryforwards. The turning point was during the last quarter of 2013 when FHCO had declined unit orders, which the market reacted to negatively since in the past revenues were always going up. Competition also started to garner attention as Cupid Ltd was awarded a small portion of the South Africa tender and achieved WHO pre-qualification.
FHCO's Moat
We feel that the market's reaction is unwarranted. The question is will higher competition in the female condom space lead to a commoditized business and will the new competition erode FHCO's wide moat?
To get a better idea of potential future of the female condom market in the public health sector, we think it is instructive to understand the whys and how's the public sector is utilizing condoms in the first place. It makes sense to spend significant effort researching here since these organizations create both the demand and supply of condoms across the globe, heavily influencing the fate of FHCO and other competitors.
Condoms have been shown to reduce the risk of heterosexual transmission of HIV by ~80% and other STIs (Weller S and Davis K, "Condom effectiveness in reducing heterosexual HIV transmission." Cochrane Database of Systematic Reviews, 2001) while also protecting against unwanted pregnancy; thus are an important part of reproductive health services for both men and women. To be effective, people must be motivated to use condoms, have access to quality condoms, and be able to use them consistently and correctly. To strategically make this possible condom programming is used, whereby local, regional and global public health organizations determine the strategy to promote the use of condoms. The following 7-steps are the most important factors in a condom program.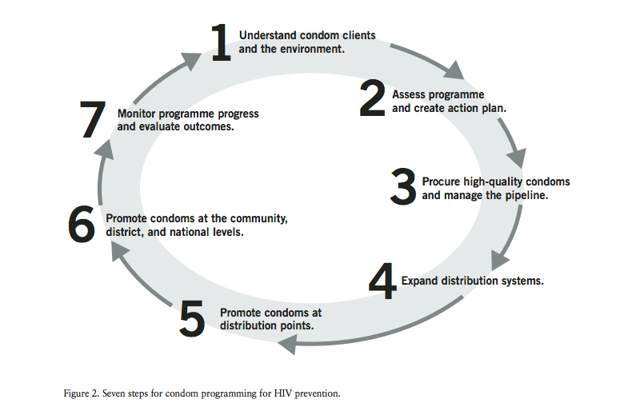 (Source: UNFPA Condom Programming Manual)
Of the above 7 steps, we feel that the 1st, 3rd, 5th and 6th steps are the most important factors when assessing the potential market for female condoms in the future as well as the areas condom manufacturers such as FHCO can provide added value. We believe that a company who already has significant scale, relationships with programmers and support to provide knowledge to both programmers and potential users has a sustainable competitive advantage as the female condom demand grows.
The first and one of the most important steps in a condom program is to identify the potential client population and their environment. The lag in female condom adoption as a contraceptive and preventative measure against HIV and STIs can be attributed to the environmental barriers present that discourage female condom usage such as: limited access, knowledge, gender norms, myths and perceptions, to name a few. A company that is able to help aid in breaking the social barriers will be at an advantage over another similar company both in the eyes of the public health organizations who buy and the ultimate users of the condoms.
Female Health Company has a group of international professionals that focus on providing education and positive perceptions of the female condom called the SUPPORT team. An example of the benefits of FHCO's SUPPORT team can be found when they teamed up with Footballers for Life and influential football players at the 17th International Conference on AIDS and STIs in Africa. Football For Life and influential footballers promoted the FC2 amongst men as a better feel over male condoms. We believe that the SUPPORT team and their partnerships with influential groups and organizations benefit both the growing demand of female condoms while also building FHCO's FC2 brand. Other competitors will be disadvantaged by not having a group in place to both support, educate and promote their products. New companies have to build these teams from scratch which is possible, however, we feel that it will be a significant challenge for newcomers to create the relationships with programmers and organizations as well as awareness of end users.
Also, we note that FHCO has a significant amount of materials available that are used and available to facilitate education in workshops on how to use the FC2 and how to work around the barriers that might inhibit the usage of female condoms. We have tried to find similar training materials for other competitors such as Cupid Ltd's female condom, however, we have not found any. Even CEO Karen King discussed during the recent earnings call the lack of training and educational materials available on the Cupid condom:
"Since achieving WHO clearance in June 2012, we are aware of only modest orders from new in groups, estimated at less than 2 million units. Cupid was awarded a portion of the last South African tender. The end users acceptance of Cupid has yet to be established as it employs a very different design from FC2. Given its different design, user education may be an important factor. To our knowledge, Cupid does not provide the training and support materials, which FHC has found critical to user acceptance and continued use."
Although brand awareness might not be the most important consideration for potential users now, due to the nature of condom distribution in developing countries, we feel that the market's view that a lower cost female condom will overtake FC2 is overrated. According to the 3rd step in a successful condom program, procuring quality condoms that meet client needs is very important since the overall success of a program is determined upon usage. Attractiveness and functionality are the keys. If a cheap condom with a different material or design does not provide the same experience as a slightly more expensive condom, then public health organizations will chose the slightly more expensive condom because it will have a better chance of being used consistently. We believe that the market misunderstands that the ultimate users of the condom pay a significantly lower price purchased by the public health organization and that the organizations main goal is not low cost but quality and functionality that has the best chance of achieving intended result, which is continuous usage. Continuous usage will depend on behavioral modification and we see education and support outreach as a very important aspect of female condom usage which Female Health Company has an advantage over other competitors.
It is hard to forecast the direction of technological innovation in female condoms going forward, but we feel that a female condom manufacturer that is able to innovate while keeping costs down is another competitive advantage. FHCO's decision to transition from the polyurethane FC1 to the nitrile FC2 demonstrates the companies ability to improve on their product while also being more cost efficient to reach more individuals at risk for HIV. We believe that FHCO will continue to innovate their product offering and have the skilled personnel to navigate transitions in innovation. Moreover, FHCO continues to own the patents and the intellectual assets attributed to the FC1. Although management has not stated any usages for these unused assets, there is a potential for the company to either sell the assets to another company or resume production if there becomes a market need for the condom either in their current markets or future markets.
With more options from different manufacturers available, we feel that the greater amount of choices will provide an environment that promotes the usage of female condoms leading to an increase in the demand of female condoms. We do not expect female condom usage to be on par as male condoms due to social barriers, but the gap will continue to close between the two. As the market matures, the female condom manufacturer with the largest scale, brand recognition, greatest network of relationships with public health organizations and awareness group will have the largest market share of the female condom market. We feel new female condom manufacturers that do not focus on growing relationships with public health organizations and do not have a support group to provide education to distributors and end users will be at the greatest disadvantage at the beginning.
Consumers
Another market that Female Health Company could expand into that is largely untapped is the global consumer market for female condoms. This market is significantly larger than the public health market in which FHCO currently competes in.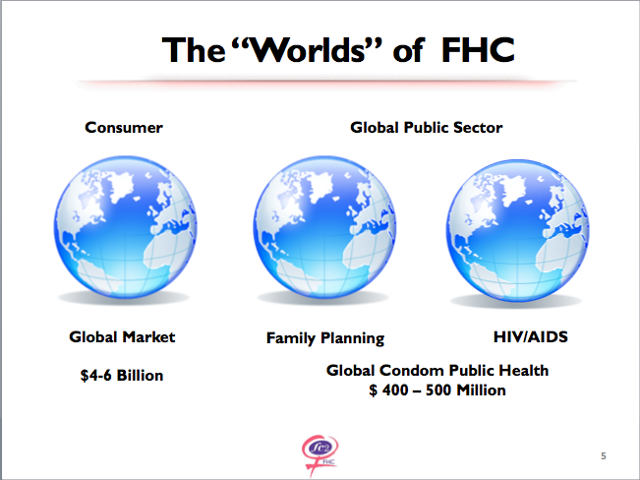 (Source: FHCO investor presentation)
The global consumer market is still not familiar to the female condom, yet we feel that the female condom has a potential to become widely accepted since it will give women another method of HIV, STI and pregnancy prevention. Women in more developed nations tend to have more rights and can bargain more with another form of protection which FC2 and other female condoms would provide. FHCO's experience and competency on educating women on the benefits, and functionality of FC2 in the public health market would directly translate to the consumer market who has limited experience, if any, of female condoms.
Although we feel it is possible that FCHO could attain moderate market share here, there are significant challenges in continuing to build a brand, building up capacity and a distribution network. Our view is to leave this market out of our valuation and any growth with consumer global market will be gravy for FHCO.
Valuation
We take two angles when valuing Female Health Company, a multiple of pre-tax and after-tax earnings and discounted cash flow. First, we need to address the significant tax carryfoward that the company has. Significant net operating losses during FHCO's early days are likely to be useable in the future, so we must separate the NOL value from FHCO's operating business.
Currently, the company has $82 million in NOLs both domestically and internationally. To value the NOLs we discounted the potential tax savings to the present as shown below. Note our estimate is based on our assumption that the company should be able to continue to grow revenues 20% annually, maintain similar operating margins and discounted the tax savings at 10%.

(Source: Our Calculations)
A $20 million current value of the tax carryforward would then be deducted from the current enterprise value of $152 million making the company worth $132 million ex-tax carryforward. This enterprise value is a better determinant of the true cost of the company. A normalized tax rate the company would be paying if there were no carryforward tax benefit would be based on their statutory tax rate. The statutory tax rate globally for FHCO has averaged around 35-36% the past couple of years, and we would expect this tax rate to be the amount the company has to pay in the future.
Since the company has lumpy revenues due to the buying patterns of their customers, we feel that the recent trailing twelve month revenue figure is not a normalized occurrence. To get a good idea of the company's earning power we do not use trailing twelve month figures but normalize earnings. Our estimate of normalized earnings for this year would be $30 million in revenue which would be below the last two years. This would equate to roughly $10 million pre-tax and $6.4 million in profits with a 36% tax rate. This would indicate that FHCO is currently trading at 13.2 times pre-tax earnings and 20 times profits. We would consider these prices to be a fair price for a company with a significant advantages in a quickly growing market.
Our discounted cash flow model utilizes a 20% revenue growth rate for the first 5 years declining to 5% in year 10, 36% in taxes and similar historical margins. Our estimate would be that the fair value of these cash flows would be $6 a share. Adding in the $0.70 a share in the present value of tax assets, shares would be currently trading at a meaningful discount to intrinsic value of ~17%. The company has a solid balance sheet with zero debt and there is optionality that the company is able to grow significantly if it is successful in gaining share of the global consumer condom market.
Risks
60% of their sales came from UNFPA and a considerable amount comes from only a few organizations. Normally a concentration of a few customers is a recipe for disaster for companies, however, we feel that the focus on public health organizations is an exception to the rule. Normally a buyer would change to a different product or service based on price or technological innovation, however, since FHCO has first mover advantage and has garnered a reputation with the female market, has a product that is promotes continuous use through training and education and has an educational and training focus makes a health organization less likely to move based solely on price.
Another company with significant resources could enter into the female condom market. Their product could be superior, cheaper and the company could be successful in educating a wide majority of women on how to use and persuade their male partners to continuously use their condom. We feel that competitors are currently focused on beating on price and do not focus on education. A larger competitor with significant resources could easily purchase Female Health Company and immediately gain major market share, however, we feel that the significant ownership by the management team and board would not make this possible, unless at a very steep prices.
A superior method of preventing and treating HIV and other STIs could be produced. We feel that this is extremely unlikely to be intended anytime soon for prices that are cheaper than condoms.
Conclusion
Female Health Company produces a viable alternative to the prevention of HIV, STIs and pregnancy. Their focus on education allows them to continually expand acceptance of female condoms and builds their brand as the female condom of choice. Public health organizations focus on quality condoms that have the best chance at being used continuously and are not focused on the cheapest price. We feel that shares of FHCO are meaningfully undervalued and have significant optionality if they are successful in gaining share in the global consumer condom market.
Disclosure: The author is long FHCO. The author wrote this article themselves, and it expresses their own opinions. The author is not receiving compensation for it (other than from Seeking Alpha). The author has no business relationship with any company whose stock is mentioned in this article.
Additional disclosure: This article is meant for instructional purposes and not meant as a recommendation to buy or sell. The only kind of intelligent investing is through your own due diligence.