By Christopher Gannatti
While emerging market equities have not been a favorite asset class over the past few years, some emerging market strategies have performed better than others. The WisdomTree Emerging Markets Dividend Growth Index (Dividend Growth) has been quite strong during the first part of 2014; to date, it has returned nearly 8%. So what's driving it?
Put simply: country breakdown. By design, Dividend Growth's ability to access pockets of surprisingly strong performance within different emerging market countries has set it apart. The chart below illustrates how it differs from the MSCI Emerging Markets Index (MSCI EM).
What's Behind Dividend Growth's Strong Start to 2014?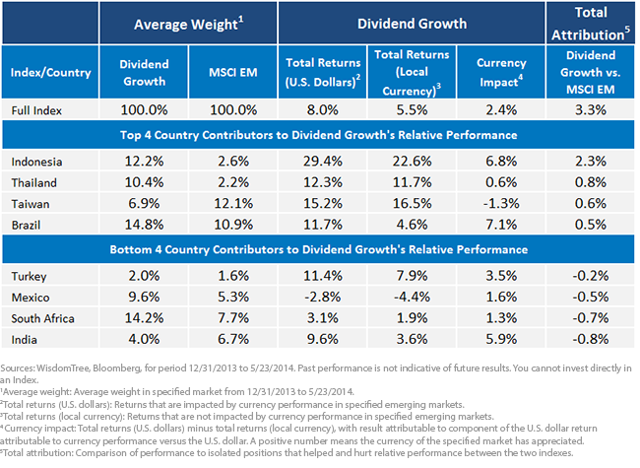 The Highlights:
Indonesia Has Been Strong: Indonesian equities are a prime example of an emerging market that went from being among the worst performers of 2013 to one of the strongest in 2014 over this period. Dividend Growth represents a nearly 10% over-weight position compared to the MSCI EM-and this was a major component of the relative outperformance. Within Indonesia, Dividend Growth had its biggest exposure within the Financials sector, which has delivered greater than 40% returns to start off 2014. Based on Dividend Growth's stock selection criteria-namely its focus on three-year average return on equity (ROE) and return on assets (ROA)-Indonesian firms looked strong, which is a big reason for their prominent over-weight.
Currencies Are Coming Back: Of the eight markets shown above, Taiwan is the only one that indicated a depreciating currency against the U.S. dollar over this period. Emerging market currencies, generally speaking, faced difficulties throughout 2013 as the U.S. Federal Reserve discussed tapering. Specifically, if we gauge the performance of the Indonesian rupiah, Brazilian real and Indian rupee over 2013-the three strongest shown in this table-we see -19.54%, -13.15% and -11.01% respectively. Clearly these currencies have been coming back in 2014, and this is a major factor helping the performance of the Dividend Growth Index.
Bottom Contributors Are Still Performing Positively: It speaks to a strong shift in sentiment when even the markets that are detracting from Dividend Growth's relative performance against the MSCI EM are performing positively. During 2013, positive performance across emerging markets was tough to find, but thus far in 2014, that picture has shifted. India deserves special mention here-especially with the strong equity performance following the recent election. Its 4.0% average weight in 2014 may not seem like much, but across WisdomTree's broad-based emerging market Indexes focused on dividend payers, it is actually the highest exposure to India available. Dividend Growth captures qualifying Indian equities because they tend to have above-average long-term earnings growth expectations as well as above-average measures of ROE and ROA. The only thing they don't have is high levels of cash dividends, which explains how the 4.0% average weight is still well below the weight in the MSCI EM over the same period.
The Case for Future EM Dividend Growth
Even though uncertainty may roil emerging market equities, concepts like "dividend growth" and "quality" tend to remain attractive to investors. The fact that the MSCI EM has over 95% of its weight in firms that have paid at least one dividend in the past twelve months is a testament to the fact that emerging markets provide a rich hunting ground for dividend payers. WisdomTree's unique selection criteria provide a more precise focus on firms with potential to deliver ongoing dividend growth through a focus on growth (long-term earnings growth expectations) and quality (three-year average ROE and ROA). While volatility similar to what was seen in 2013 can be an ever-present risk, we are very excited about the potential for this Index over the medium to long term and look forward to seeing what it can do over the coming market cycles.
Important Risks Related to this Article
Investments in emerging, offshore or frontier markets are generally less liquid and less efficient than investments in developed markets and are subject to additional risks, such as risks of adverse governmental regulation and intervention or political developments.
Dividends are not guaranteed, and a company's future ability to pay dividends may be limited. A company currently paying dividends may cease paying dividends at any time.
Performance, especially for very short time periods, should not be the sole factor in making your investment decision.
Christopher Gannatti, Research Analyst
Christopher Gannatti began at WisdomTree as a Research Analyst in December 2010, working directly with Jeremy Schwartz, CFA®, Director of Research. He is involved in creating and communicating WisdomTree's thoughts on the markets, as well as analyzing existing strategies and developing new approaches. Christopher came to WisdomTree from Lord Abbett, where he worked for four and a half years as a Regional Consultant.