I had dinner with Mr. Xiqun Yu, CEO of China Education Alliance (CEU), in Beijing last week. About halfway through dinner Mr. Yu said to me, "We want to be the next EDU. We want to be their current size in three years time." I had to pause for a second and make sure I heard him right, since EDU (New Oriental Education) is the largest company in the for-profit education space in China. I quickly did the math. CEU has about $17m in LTM net income and EDU has $78m in LTM net income. That meant Mr. Yu wanted to grow his profits 4.5x within the next three years. Mr. Yu spent the rest of dinner telling me how he plans to accomplish his goal. I realized my investment in CEU could be much more lucrative than I had expected.
In a nutshell…
If Mr. Yu comes anywhere close to making his growth target, CEU will be an amazing investment from current levels. It is trading at 6.2x 2010E fully diluted EPS (2.4x ex-cash), and growing organically at about 30% per year. In a worst case scenario the company is clearly undervalued relative to its peer group and should be at least a double. In a best case scenario the combination of multiple expansion, organic growth and acquisitions, could lead to a 10x return on CEU within the next three years.
CEU Overview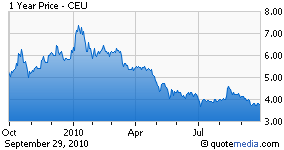 China Education Alliance is a test preparation company based out of Harbin with a presence in the northeastern part of China. The company provides test preparation services for students preparing for the high school and college entrance exams. CEU is primarily an online business, with approximately 70% of its revenue coming from its website www.chn-edu.com. Students, or more likely students' parents, can purchase prepaid cards that allow the students to download study materials from the company's database. CEU has a database of over 350,000 files of test papers, practice exams, and instructional videos prepared by the best teachers (CEU refers to them as "famous instructors") in northeastern China. Like many internet businesses, CEU has great margins, a high return on tangible capital, and strong cash flow. The remaining portion of CEU's business comes from training centers. These centers provide in person test preparation and tutoring services as well as vocational training in information technology for young adults.
The company currently has a market cap of about $120 million with about $75m in cash as of June 30. CEU has grown strongly over the last several years and has been consistently profitable since inception as shown below: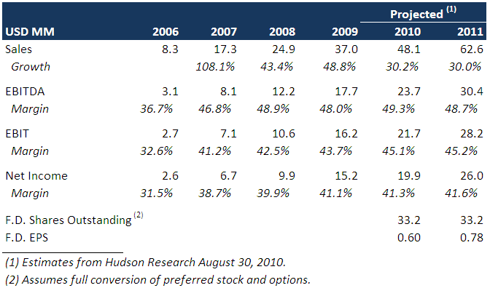 Growth Plans
The first thing the reader should know is that CEU grows organically at about 30% per year. The company has given 30% top line growth as its guidance for 2010. After a slow start in Q1, the company posted strong results for Q2. I confirmed with Mr. Yu at dinner and he told me they would definitely make their 30% target this year. Then I asked him about Q3 and he said it was going well and grinned.
Mr. Yu has plans to expand the training center portion of the business rapidly over the next two years. In Beijing the company plans to launch 6 training centers. Mr. Yu said his goal is to launch 50 centers throughout China over the next two years. At a cost of RMB 3m per center, this is $22.4 million.
The training centers are a good business, but they also act to build a brand name in the area so that internet test prep businesses can be started. The company would like to replicate its internet business in northern China throughout the country. The company's internet business in northeastern China cannot be grown to the rest of the country because the different provinces in China have different materials for their exams and the famous instructors also differ by region. Thus it is important to establish a physical presence in a new area and create brand awareness in order to be able to attract students and famous instructors to a website.
Mr. Yu confirmed as well that acquisitions will play a major role in CEU's growth. Currently the company is looking at several private schools for 6-18 year olds that it thinks will pair nicely with its test prep business. Mr. Yu would like to close two private school acquisitions in 2010. The price for two would be under $30 million. Mr. Yu is planning to visit one of these schools for due diligence during the National Day holidays next week. Mr. Yu said he is also looking for test prep centers to acquire.
CEU has stated on many earnings calls that it does not want to pay more than 7x earnings for an acquisition, and this has made acquisitions difficult, because the market rate is about 15x net income currently. I am glad the company is taking its time to preserve shareholder value, but I hope like others that it is successful in buying some good businesses at low prices.
Valuation
CEU is currently valued far lower than other Chinese internet companies and far lower than other companies in the Chinese education market. However, CEU has growth comparable to or better than the other companies in its industry, very high margins, and a high return on tangible capital. In terms of its size, it has as much net income as ChinaCast Education (OTCPK:CAST), and more net income than China Distance Education (NYSE:DL) and ChinaEdu (NASDAQ:CEDU) combined. The comparable companies are shown below broken down between internet businesses and education businesses.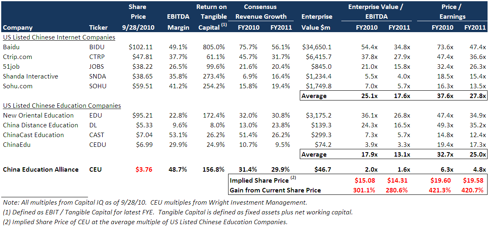 I attribute the low valuation primarily due to lack of proactive investor marketing. CEU has not often attended industry conferences and few analysts cover the company. Therefore it has become overlooked in the equity markets. The company's approach to investors appears to be changing with the appointment of Zack Pan as CFO and the appointment of HC International as IR agent.
Conclusions
Overall, I think Mr. Yu has a good chance of turning CEU into the next EDU. He appears to have the singular workaholic focus that is a critical feature of successful entrepreneurs. Organically the company still has a lot of room to grow, and the business creates a tremendous amount of cash which should give further capital for acquisitions in the future.
My conclusion is that with more aggressive investor marketing and some on-target growth in the coming quarters, CEU will eventually move up strongly in valuation.
If CEU were to simply trade at the 15x multiple (plus cash) that smaller targets are selling for in China, it would be worth $11.28 per share, a 3x from the current price. If CEU were to trade in line with its industry peers in China, it would trade at approximately 4x-5x its current price, as the comps show. If it were to trade like other Chinese internet businesses the price would be even higher. Finally, if you look at the investment from the perspective of a longer term holder and assume the business grows to several times its current size in the next 2-3 years and obtains a fair multiple, one can see how CEU could become a 10x within three years.
Disclosure: Long CEU