We're waking up this morning to the
first uptrend signal for homebuilding stocks all year,
based on the Thomson Reuters
Trend Intensity signal
.
That omen comes amid new data that suggest U.S. housing prices are hunting for a bottom.
Facts of note:
As of last night's close, homebuilders become the 27th of 40 sectors we track to begin a new uptrend, based on our Trend Intensity signal. It helps us spot new trends, and gives us cues about their strength and length.
The last time we saw a positive signal for homebuilding stocks was late December of last year. From there, the
XHB
posted a 25 percent gain to this year's highs in April.The XHB has slightly outperformed the S&P since the start of last week. That's not much, but it's lagged badly from the April highs – down 19 percent versus only 6 percent for the benchmark index.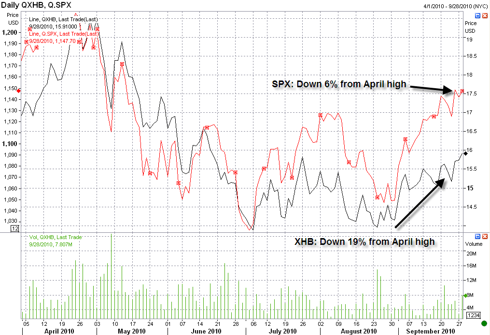 This week's Case-Shiller data was the most dismal since March (the 20-city index up only 3.2%) But traders bought on the news. It appears to be a sign that sentiment is changing.
Other facts of note:
-- New housing starts are bouncing around their lowest levels in 47 years.
-- August housing starts were much better than expected.
-- California is on the rebound, with housing starts up for the fourth-straight months.
-- Rates are at a low, and have fallen even for jumbo mortgages.
-- Lumber prices are rising (considered a good sign for building). They consolidated in Q2, and continued to rise in Q3.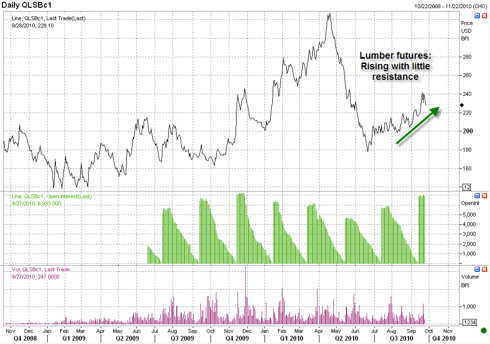 -- Stock markets are up strongly. That could help sales of higher-end homes that are paid for with buyers' stock and commodity trading gains (think Toll Bros. (NYSE:
TOL
)).


Disclosure: none