Analysts revised their earnings estimates considerably lower for ViaSat (NASDAQ:VSAT) following the company's earnings miss on May 20. This sent the stock to a Zacks Rank #5 (Strong Sell).
While shares have fallen significantly since late March, the stock still does not look like a bargain at more than 100x fiscal 2015 consensus estimates.
ViaSat provides high-speed fixed and mobile broadband services, advanced satellite and other wireless networks and secure networking systems, products and services. The company operates through three segments:
Government Systems (42% of total revenue), which develops and produces network-centric internet protocol (IP)-based fixed and mobile secure government communications systems. Revenues from the U.S. government as a customer comprised approximately 21% in FY2014.
Satellite Services (29%), which provides retail and wholesale satellite-based broadband services for consumer, enterprise and mobile broadband customers primarily in the United States.
Commercial Networks (29%), which develops and produces a variety of advanced end-to-end satellite and other wireless communication systems and ground networking equipment and products that address five key market segments: consumer, enterprise, in-flight, maritime and ground mobile applications.
Fourth Quarter Results
ViaSat reported results for the fourth quarter of its fiscal 2014 on May 20. Adjusted earnings per share (but including stock-based compensation) came in at a loss of 3 cents, well below the Zacks Consensus Estimate of 10 cents.
Revenue rose 11% to $343.9 million, missing the consensus of $350.0 million. It was the company's weakest top-line performance in two years. Revenue increased 35% in the Satellite Services segment but declined 3% in its largest segment -- Government Systems.
The EBITDA margin did improve, however, from 10.7% to 14.0% of total revenues. This was driven in part by an improvement in its gross profit margin (revenue - cost of product and service revenue/revenue) from 24.7% to 27.1%.
Estimates Falling
Following the Q1 earnings miss, analysts revised their estimates significantly lower for both fiscal 2015 and 2016. This sent the stock to a Zacks Rank #5 (Strong Sell).
You can see the sharp drop in estimates in the company's "Price & Consensus" chart: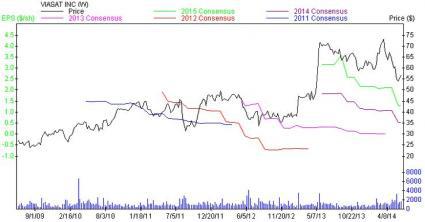 The 2015 Zacks Consensus Estimate is now $0.54, down from $1.09 before the Q4 report. The 2016 consensus is currently $1.29, down from $2.12 over the same period.
Valuation
Shares of ViaSat are down more than 20% from their late March highs. But the stock doesn't look like much of a value here.
VSAT trades at 106x the current 2015 Zacks Consensus Estimate. That is well above its 10-year median of 23x. The stock also trades at a lofty 44x the 2016 consensus. Its EV/EBITDA ratio is more reasonable at 17x, but this is still above its 10-year median of 13x.
The Bottom Line
Given the significant negative estimate revisions from analysts and lofty valuation multiples, investors should consider avoiding ViaSat at least until its earnings momentum improves.
VIASAT INC (VSAT): Free Stock Analysis Report (email registration required)