Earnings estimates have been soaring for Delta Air Lines (NYSE:DAL). The company delivered better-than-expected Q1 results in April and has reported solid traffic numbers for both May and June.
The stock has pulled back a bit as oil prices have risen due to turmoil in Iraq. But the valuation picture looks reasonable with shares now trading at less than 12x forward earnings.
Delta Air Lines offers service to 333 destinations in 64 countries on six continents. It operates a mainline fleet of more than 700 aircraft and serves nearly 165 million customers each year. The company is headquartered in Atlanta.
First Quarter Results
Delta Airlines reported better-than-expected first quarter results on April 23. Adjusted EPS came in at 33 cents, beating the Zacks Consensus Estimate by 4 cents. This was in spite of terrible weather in the quarter.
Operating revenue rose 5% year-over-year to $8.916 billion, ahead of the consensus of $8.895 billion. This was driven by a 9% increase in domestic passenger revenue and an 18% increase in Latin American revenue.
Meanwhile, total operating expenses were flat year-over-year as adjusted total fuel expense declined 6%.
Delta Air Lines also generated $390 million in free cash flow in the quarter. The solid cash flow allowed the company to increase its dividend by 50% and announce a new $2 billion share repurchase authorization in May.
Second Quarter Shaping Up Well
The positive momentum from Q1 appears to be continuing into Q2. Delta Air Lines has reported solid passenger unit revenue for both May and June, with increases of 6% and 7%, respectively. The company also expects Q2 adjusted fuel price per gallon of $2.93-$2.98. It was $3.03 in Q1.
Estimates Soaring
Given the strong Q1 results and encouraging May and June statistics, analysts have revised their estimates significantly higher for Delta Air Lines. This has sent the stock to a Zacks Rank #1 (Strong Buy).
The Zacks Consensus Estimate for 2014 is now $3.11, up from $2.58 ninety days ago. The 2015 consensus has increased from $3.03 to $3.62 over the same period. You can see this sharp increase in the company's "Price & Consensus" chart: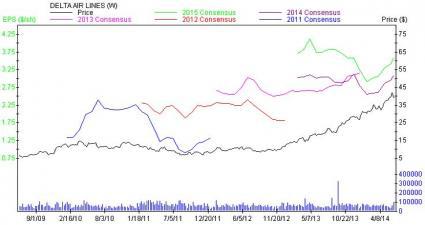 Delta Air Lines is not the only airline seeing positive earnings estimate revisions. In fact, the "Transportation - Airline" industry ranks in the top 11% of all industries by Zacks based on earnings momentum.
Reasonable Valuation
Shares of Delta Air Lines have soared more than 40% year-to-date, but the stock has pulled back a bit over the last week or so. This is most likely due to rising oil prices thanks to turmoil in Iraq.
But if oil prices don't skyrocket from here, the valuation picture looks reasonable for Delta Air Lines. The stock currently trades at less than 12x 12-month forward earnings and less than 3x book value.
The Bottom Line
With strong earnings momentum and reasonable valuation, Delta Air Lines has a lot of potential to fly even higher this year, provided that oil prices don't fly higher themselves.
DELTA AIR LINES (DAL): Free Stock Analysis Report (email registration required)