3D Systems (NYSE:DDD) has taken a massive correction in the past few months, losing nearly half its value from its 52-week high of $98 per share. However, it looks like DDD bottomed out and started its rally after its recent Investor and Analyst Day.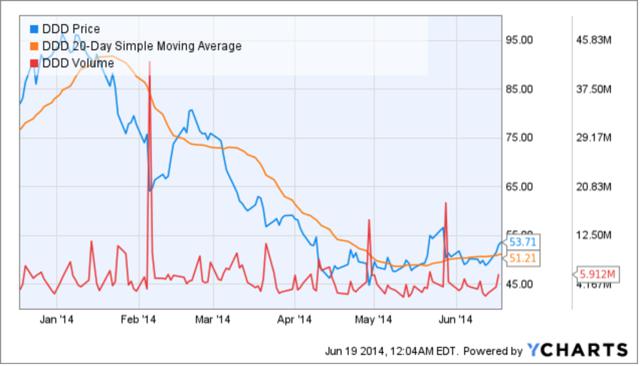 Why DDD Crashed
That was simple. Both DDD and Stratasys (NASDAQ:SSYS) got way ahead of themselves, along with ExOne (NASDAQ:XONE). Normally, hyper growth stocks in the tech sector with growth between 30%-50% goes for a PS ratio of around 10. It may be slightly up or down depending on forecast and PE and EPS.
There were no explanations for the inflating stock prices besides hype. Whenever there's a hype, there will be a correction. The moment came when DDD announced that it would invest more money into R&D causing its EPS to be cut in half. This sent the PE ratio higher and created a catalyst for the bear camp to short the stock. It was a double blow to DDD, as its PS and PE ratios were inflated, causing a massive correction. Those who shorted the stock above $90 were rewarded with a nice profit.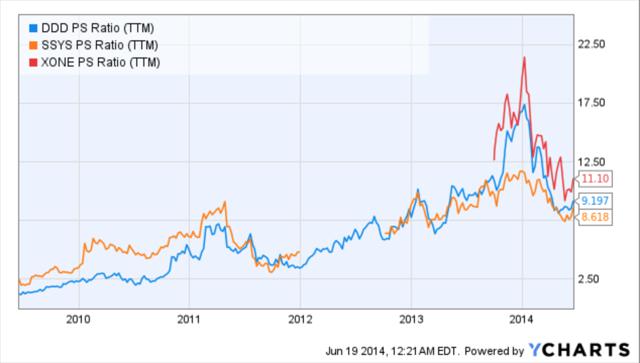 Why DDD Bottomed Out
DDD is now back to its appropriate PS ratio of 9.8, but PE ratio of 126 is still out of whack. Looking at the charts above, both volume and stock price seem to have stabilized. The DMA is showing a bottomed out curve and slightly upward trend thanks to a positive forecast.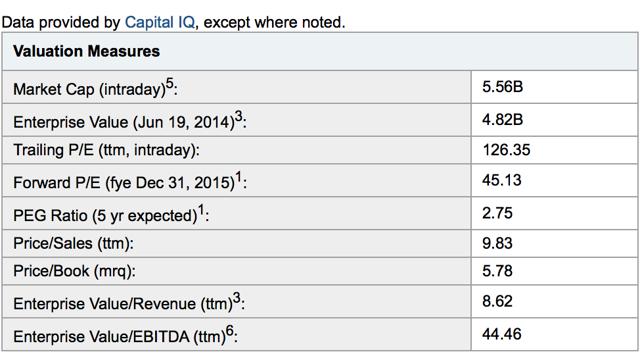 Source: Yahoo Finance
The forecast from the Investor and Analyst Day had some very positive highlights:
1. $1B Revenue for 2015
2. Margins are expected to increase in 2015 (55%-60%)
3. Forecast for 2014 is raised by $15M to $695-$735M
4. EPS is expected to remain the same even after the recent secondary offering
5. Promising new technology that is increasing jetting speed by 50x
6. Consumer revenue to increase in 2H 2014 due to additional new products and partnerships
Investor confidence increased after the forecast and the sentiment for DDD is mostly bullish. This caused the stock to stabilize and recover slightly from $49 to $53. There are more important reasons why DDD won't head back to the low-mid $40s range.
1. Organic growth is still expected to be 30% for the next year
2. DDD is mostly debt free, with only $19M in debt and over $306M in cash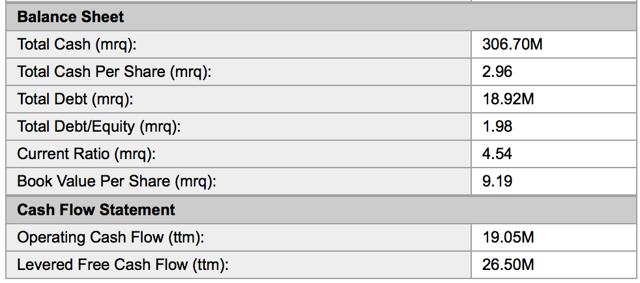 Source: Yahoo Finance
DDD's business operations bear very little risks with its high margins, low debt, and plenty of cash on hand. DDD is also cash flow positive. There are very few financial risks associated with its expansion. The only risk I see is if it accelerates its acquisition spree, burning up all the cash. That route will force DDD into issuing more shares to fund acquisitions causing dilutions for shareholders.
How To Strategize For Maximum Gains
The account I manage has both margin trading and options. This allows me to maximize my gains through a combination options and long positions. The investor sentiment is bullish, and the stock shows clear signs of bottoming out. In order to maximize my gains, I need to leverage my money with options while reducing my risk of the tiny chance for another massive correction.
Buying call options when you see that bottom or close to it will set you up for a nice gain on the rebound. For me, I bought in when the share price was around $50 flat with a cost of about $3 each expiring July 19. My order for common shares did not go through since it never hit my price target of $47. If it did, it would be ideal. But because of volatility, I don't take any chances of overpaying, even if I miss the chance. The call options are safer and will end up making more money overall. Long positions would hold up more of my money for other positions that may see a dip. Therefore, I try to catch long positions only dips to make sure holding up my money leads to good ROI.
In this situation, I don't recommend an instant straddle at the same price. This is because the chances of the stock continuing upward is much higher than sinking. The PS ratio and forecasts are excellent with some room to grow. Whenever there's a spike in share price, I would buy puts for dirt cheap, preferably under $1 at the highest strike price possible. There will probably be one if the 3D printing industry or SSYS/EXONE receive good news. If not, there's no point in buying puts, since probability is in my favor. All I have to do is time the sell during a big spike.
Depending on whether you can get a favorable price for your puts, you should sell some calls to recover the money invested and eliminate any risk of losing money. Hold the rest to see how high it can go and cash out right under $60. At $60 per share, DDD's PS ratio starts to get out of whack again. There's no point in taking the risk of another correction.
Remember that options are even more dependent on timing than long positions. Common shares do not have expirations, and you can literally wait out a correction. Options can expire worthless, so you don't have that luxury. You can buy long term options, but then you are paying much higher premiums and thus lowering your gain percentage. Depending on how well DDD performs in July, I have a choice of either exercising the remaining options or cashing in. That's why having a margin account can be great when you trade options. Exercising options with margin accounts only tie up a percentage of your cash depending on your margin percentage.
Final Thoughts
Overall, I am very bullish on 3D Systems. It has a large portfolio of patents that is unique. Its industrial printers are high margins with steady growth. The consumer products will continue to be a small part of its revenue until 3D printers are more practical economically and functionally. I don't see any financial problems that could affect its operations or expansions. Investor confidence is picking up, and the business is expected to be more efficient with improving margins. We still have not seen any definitive product announcement from Hewlett Packard (NYSE:HPQ). It may be a threat, but not any time soon. Even if HP enters the market, I don't think there would be much competition with DDD, since the 3D printing market is still in hyper growth. It is not a zero sum game for the foreseeable future.
DDD's net income is currently only $43M, which is the reason why the PE ratio is over 100. It's not hard for 3D Systems to double net income and effectively cut the PE ratio in half. That could happen next year with the expected higher gross margins. If that happens, DDD's share price should rally by a good amount. The bears had their turn, and it's time to be bullish with DDD again.
Disclosure: The author has no positions in any stocks mentioned, but may initiate a long position in DDD over the next 72 hours. The author wrote this article themselves, and it expresses their own opinions. The author is not receiving compensation for it (other than from Seeking Alpha). The author has no business relationship with any company whose stock is mentioned in this article.
Additional disclosure: I have call options and may initiate additional positions in the next 72 hours.