Since its formation following the merger of US Airways and American Airlines in late 2013, shares of the new combined carrier, American Airlines Group Inc (NASDAQ:AAL) are up more than 68%. However, I believe significant upside remains.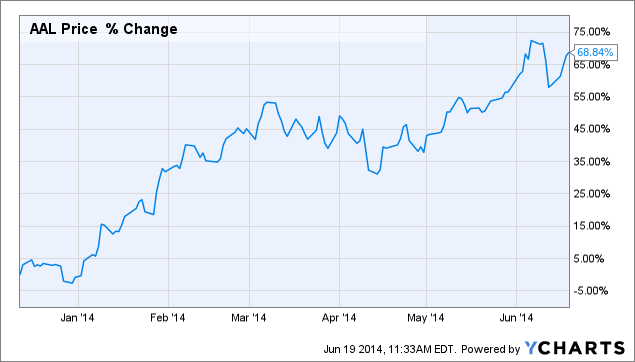 AAL data by YCharts
Valuation Discount To Peers
As shown by the chart below, AAL is trading a significant discount to the other major airlines, Delta (NYSE:DAL), United Continental (NYSE:UAL), and Southwest (NYSE:LUV). While Delta and Southwest have proved to be the best operators, and deserve to trade at a premium, United has not proved to be a great airline operator and is also trading at a big premium to AAL. In addition to trading at a significant discount to peers, AAL also has the ability to significantly enhance its earnings through cost cutting related to the integration of US Airways and American. In my view, at the very least, AAL should be trading at the same P/E as United. The consensus forecast for 2014 AAL earnings is $5.21 per share. Using United's current forward multiple of 11.5, AAL should be trading at $60 per share.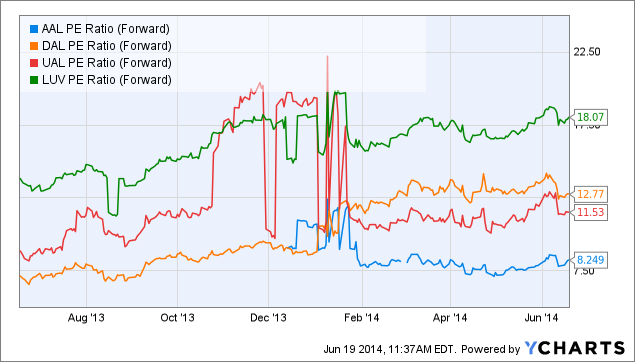 AAL PE Ratio (Forward) data by YCharts
AAL's $10 billion cash hoard
AAL currently has close to $10 billion or $13.42 per share of cash. I believe AAL will soon put its cash to use by launching a buyback program and possibly a dividend. Delta has already started buying back stock and I believe AAL will follow. Given AAL's current valuation, I believe shareholders should favor a buyback over a dividend. Any announcement of a buyback should help send AAL shares higher over the short term. Over the long term, a buyback will decrease the share court and help boost EPS.
Iraq Risk
I have recently gone on record stating that I believe the situation in Iraq is likely to get worse before it gets better. While the situation in Iraq will likely lead to higher oil prices, I believe the airline industry is better positioned than it was in the past to deal with increasing energy prices. The main reason why airlines are better positioned to deal with rising energy costs is the recent industry consolidation. Mergers between United and Continental and American and US Airways have led to reduced flight numbers, higher capacity, and better pricing power for the airlines. If energy prices spike, I believe airlines will find it easier to pass along price increases than was the case in the past. It is interesting to point out, as shown by the chart below, how well airlines have done despite a 56% increase in oil prices. Clearly, the positive of changing industry dynamics has outweighed the negative of rising energy costs. Due to this, I believe any pullback brought on by tensions in Iraq should be viewed as a long-term buying opportunity.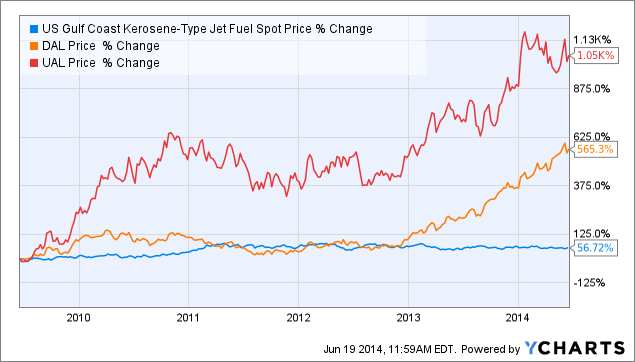 US Gulf Coast Kerosene-Type Jet Fuel Spot Price data by YCharts
Conclusion
AAL is undervalued relative to its peers and should be bought. AAL's use of its cash is likely to be a catalyst that sends shares higher. The main risk currently facing AAL and other airlines is the potential for rising oil prices due to the situation in Iraq. While rising oil prices will certainly send airline shares lower temporally, I believe any pullback is a buying opportunity as consolidation in the industry has made it easier for airlines to pass along increases in fuel prices.
Disclosure: The author has no positions in any stocks mentioned, and no plans to initiate any positions within the next 72 hours. The author wrote this article themselves, and it expresses their own opinions. The author is not receiving compensation for it (other than from Seeking Alpha). The author has no business relationship with any company whose stock is mentioned in this article.