After the broad sell-off in growth stocks, momentum trading is making a comeback, with one momo tech exchange traded fund play outpacing other broad sector options.
The PowerShares DWA Technology Momentum Portfolio (NASDAQ:PTF) surged 12.5% over the past month. Meanwhile, broad market-cap weighted tech ETFs Technology Select Sector SPDR (NYSEARCA:XLK) and the iShares U.S. Technology ETF (NYSEARCA:IYW) are up 4.2% and 6.1%, respectively.
After the Feb. 19 changes, PTF now tracks a Dorsey Wright & Associates index, the DWA Technology Technical Leaders Index, which is comprised of 30 companies based on their relative strength or momentum.
Momentum strategies select stocks that show an accelerating price or volume. Proponents argue that momentum stocks are more likely to keep moving in the same direction than change. Consequently, the investment style relies more on short-term trends instead of market fundamentals.
Due to PTF's focus on relative strength, the fund is heavily tilted toward more nimble and smaller companies. PTF's market-cap allocations include mega-cap 5.6%, large-cap 19.8%, mid-cap 39.6%, small-cap 27.7% and micro-cap 7.3%.
The PowerShares ETF is filled with growth stocks like MICROS Systems (NASDAQ:MCRS) 6.5%, SunEdison (SUNE) 5.8% and Amphenol Corp (NYSE:APH) 5.8%.
Potential investors should be aware that this tilt could make the fund more susceptible to market downturns, as witnessed in the recent sell-off in growth stocks, but the ETF could also make significant gains in a rallying market.
In contrast, XLK and IYW lean toward large, established tech names. While the tilt toward large-cap names, like Microsoft (NASDAQ:MSFT) and Apple (NASDAQ:AAPL), help keep these ETFs stable during down markets, the investments are also slower to move during market rallies. XLK allocations include mega-cap 70.7%, large-cap 18.9% and mid-cap 10.4%. IYW weights mega-cap at 63.9%, large-cap 18.4% and mid-cap 13.9%.
PowerShares DWA Technology Momentum Portfolio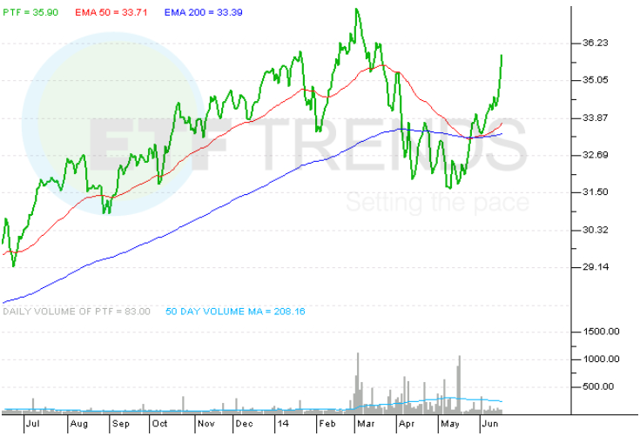 Disclosure: The author is long MSFT, AAPL. The author wrote this article themselves, and it expresses their own opinions. The author is not receiving compensation for it. The author has no business relationship with any company whose stock is mentioned in this article.