Oracle (NYSE:ORCL) shares are trading lower after the company reported an earnings miss for its fiscal Q4. While this quarter was certainly a weak one for ORCL, I believe the weakness is a buying opportunity for long-term investors.
Earnings Report
ORCL reported EPS of 92 cents per share vs expectations of 95 cents per share. Revenue for the quarter came in at $11.3 billion, lower than the $11.48 billion that analysts had expected. ORCL's biggest segment, Software & Cloud revenue rose 4% to $8.9 billion. New software license revenue was flat at $3.8 billion. Software license updates and product support revenue increased 7% to $4.7 billion. Hardware systems revenue increased 2% to $1.5 billion. While growth was slower than some had hoped, ORCL's quarter was not a reason to doubt the company's long-term plans. ORCL shares fell by 8.75% after the company reported "disappointing" Q4 results a year ago. Of course, ORCL shares quickly recovered and moved close to all-time highs in 2014. I believe ORCL's decline on the most recent quarter will also prove a good buying opportunity.
Valuation
As shown by the chart below, ORCL is trading at a very reasonable valuation based on both forward PE and price to free cash flow. ORCL is an especially interesting stock right now because so many other high-quality stocks are trading at high historic valuations. Such is the case for Johnson & Johnson and Boeing. Another reason why I believe ORCL is cheap, is its large cash reserve. Currently, ORCL has more than $37 billion in cash. While ORCL has already announced a significant share buyback program, the company could easily buy back a lot more stock if the opportunity presents itself.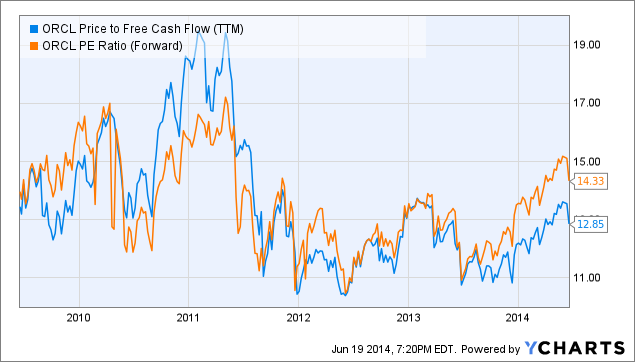 ORCL Price to Free Cash Flow (TTM) data by YCharts
Larry Ellison
Technology companies are notoriously difficult to invest in for the long-term because the industry changes so quickly. Certainly investors in some of the traditional old tech companies such as Microsoft (NASDAQ:MSFT), Intel (NASDAQ:INTC), Cisco (NASDAQ:CSCO), and HP (NYSE:HPQ) over the past decade have discovered that the industry is difficult for even the best companies of the day to succeed over the long-term. ORCL is unique among the big tech companies because it is still run by its founder and visionary, Larry Ellison. In my opinion, Ellison ranks right up there with Bill Gates and Steve Jobs as far as great technology thinkers and business leaders. Simply put, Ellison is someone who you want to bet on. Ellison has made clear his plans for ORCL to transition more to the cloud. This is important as many skeptics argue that competitors such as Salesforce (NYSE:CRM) have gained the upper hand and are a serious threat to ORCL. Throughout its history, ORCL has proved incredibly adroit at buying companies, integrating them into ORCL, and making a ton of money in the process. ORCL has sometimes used a strategy of aggressively competing with its rivals, knocking them down, and then buying them at cheaper prices. While that may or may not be Larry Ellison's strategy for the cloud, I think he will succeed in making ORCL the top player in the cloud.
Conclusion
Investors should use ORCL's post earnings dip to accumulate shares. ORCL trades at a cheap valuation and has an aggressive capital return program. Perhaps the best reason to buy ORCL is its CEO Larry Ellison. ORCL is unique among big tech companies in that it is run by its founder. For this reason, I am confident that ORCL will be able to successfully navigate the changing technology business landscape.
Disclosure: The author has no positions in any stocks mentioned, but may initiate a long position in ORCL over the next 72 hours. The author wrote this article themselves, and it expresses their own opinions. The author is not receiving compensation for it (other than from Seeking Alpha). The author has no business relationship with any company whose stock is mentioned in this article.