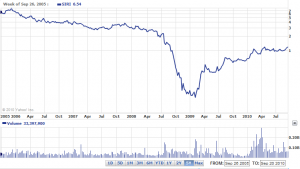 On Friday, we learned that several market makers had filed a complaint and met with the Securities & Exchange Commission regarding the gaming of sub $1.00 stocks, while highlighting the manipulation of Sirius XM (NASDAQ:SIRI) & YRC Worldwide (NASDAQ:YRCW) specifically by as yet undisclosed persons. The issue itself allows for certain high net worth persons and institutions to buy SIRI shares on one exchange while simultaneously selling them at another. The wash sale that results from a trade spread at 1/10,000th of a penny is a zero sum game, yet the traders then enjoy the advantage of rebates given by the exchanges for having these large volume orders routed through them.
Focusing solely on their own losses, none of the market maker's conversations give any consideration to the effect on the price of SIRI shares, appearing indifferent to the devastating effects this has had on investor returns, both actual and potential. What might Sirius be trading at today without this manipulation, and why have the market makers waited until Sirius XM shares have risen well beyond the one dollar threshold to lodge a complaint? The answer to some may be even more repulsive...
Sirius XM shares were first sentenced to penny stock prison back in July 2008. SIRI investors have watched as various exchanges have taken turns on both the bid side and the ask side. While the complaint alleges that different exchanges were used by the arbitrageurs, those of us that follow Sirius XM know otherwise. These trades were executed through the same exchange, over and over. The primary exchange used would then be changed by the traders. Patient SIRI investors have watched as the CINN exchange was used, then BSTN, then CBOE, etc. The problem with these exchanges is that they knew these wash sales were taking place, and are now trying to deflect blame by stating that the bid and ask were placed on different exchanges. This is where the full wrath of the SEC can come down and it appears they are seeking to avoid prosecution with their claims.
The only reason to lie, is to cover up another lie. The exchanges clearly knew these illegal trades were taking place, and did nothing. I recall a video news clip that featured Jim Cramer of TheStreet.com, in which he suggested the best way to profit off of Sirius XM was to buy Knight Trading (NYSE:KCG). Clearly, Mr. Cramer understood what the game here was and how Knight Trading itself could profit from this potentially illegal trading tactic. This is in direct opposition to the assertion that many of these trades originated from overseas, which is nothing more than an attempt to misdirect the authorities.
So why after more than two years of this manipulation have the powers that be decided to speak up? I assure you that if money was being lost by the market makers as the complaint indicates, this issue would have made headlines 18 months ago. Sirius XM shares have seemingly been paroled from penny stock prison, and the expectation barring any further manipulation is that Sirius XM shares will rise to $1.35-1.50 over the next twelve months.
The answer may be that the powers that be are trying to force Sirius XM into a reverse stock split. As stated by Sirius XM CEO, Mel Karmazin, at least a dozen times, and reiterated by him just over a week ago; "no one has given me a good reason that a reverse split needs to be done." If Sirius XM shares are pulled back again to sub one dollar levels, Sirius will have to acknowledge the fact that choosing to remain friendly to retail investors comes with a price. That price is the manipulation of its stock by the institutions that are locked out of the equity due to the large percentage of shares held by retail investors.
While the powers that be have complained to the SEC and made that complaint public, their reasons for doing so are suspect. This reads more as a message than a complaint, stating that nothing can really be done to prevent this type of mainpulation from occurring. I can only wonder who the message was meant for...
Update: YRCW afterhours Wednesday that it will institute a 1-for-25 reverse stock split.

Disclosure: Long SIRI