During my old deal days, whenever an investor - senior debt, subordinated debt, equity - placed capital that did not fully reward it for the risk taken we exclaimed, "That's mullet money." In reality, a mullet is a dumb fish that sits at the bottom of the ocean. If a fish swims into its mouth, it eats. Otherwise, it starves to death. So mullet money is another word for "dumb money." That's what entered my mind a few days away when Molycorp's (MCP) bonds surged after a peer received equity funding.
Bonds of Molycorp Inc., the owner of the largest rare-earth deposit outside of China, rose to the highest level in more than a month after a peer sold shares and its chief executive officer indicated raising equity was an option to combat dwindling cash.

The miner's $230 million of 3.25 percent convertible notes due 2016 traded at 76 cents on the dollar at 2:07 p.m. in New York, up from 65.1 cents May 27, according to Trace, the bond-price reporting system of the Financial Industry Regulatory Authority. Sydney-based Lynas Corp. sold shares last month to bolster its cash, according to a press release dated May 30.
The article implied the following:
If Lynas (OTCPK:LYSCF) (OTCPK:LYSDY), a rare earth competitor, could raise equity then so could Molycorp.
Molycorp's bonds, trading at a steep discount, were a great investment since an equity raise was an option.
With an equity raise, Molycorp would be in a better position to pay interest and principal on its indebtedness. Also, bankruptcy risk would be off the table.
However, bondholders are providing "mullet money" for the following reasons:
Why Buy Bonds With An Uncertain Event Priced In?
The article, Molycorp's Long-Term Debt Does Not Reflect Bankruptcy Risk, displays the company's projected cash out flows.
According to the projections, Molycorp could run out of cash by 1Q 2015, rendering it unable to pay interest or principal on the bonds.
Sans a capital raise, the bonds will likely go into default.
There is a placeholder in the projections for a capital raise. However, management has not intimated it will raise capital, or in what form that capital will be in. Also, if Molycorp raised debt capital higher up the capital structure - revolving credit facility, for instance - there would be fewer assets available to repay the sub-debt in a potential bankruptcy; it could weaken the value of the subordinated bonds further.
Even At 65.1 Cents, The 3.25% Bonds Are Over Valued
In my opinion, all of Molycorp's subordinated debt is valued from 3-5 cents on the dollar. The following table illustrates how the bonds were valued: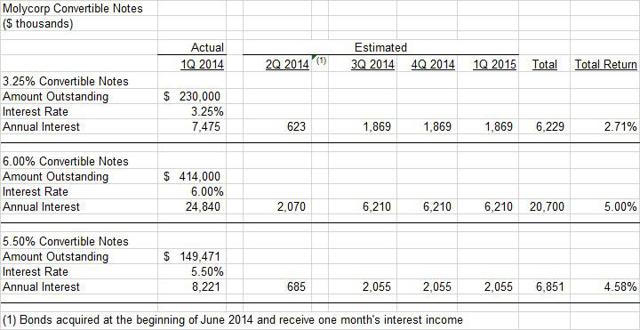 I assumed the following for the 3.25% subordinated debt:
3.25% interest on $230 million bonds equates to about $7 million in annual interest income to the bondholder.
I assumed one month's worth of interest for June 2014 ($623 thousand) and quarterly interest payments through 1Q 2015. Total interest income of about $6 million equates to a return of about 2.7%.
By paying approximately 3 cents on the dollar, an investor would be repaid his upfront investment, and anything after that - principal, interest, equity - would be considered upside.
The other notes were valued in the exact same manner, including the corresponding interest rates and principal amounts.
Equity Holders Have Not Priced In An Equity Raise
The equity holders may not have priced in an equity raise either. With the shares hovering at around $2.94/share, I do not believe the dilution from an equity raise is priced in. The following chart shows where the shares have traded over the past six months: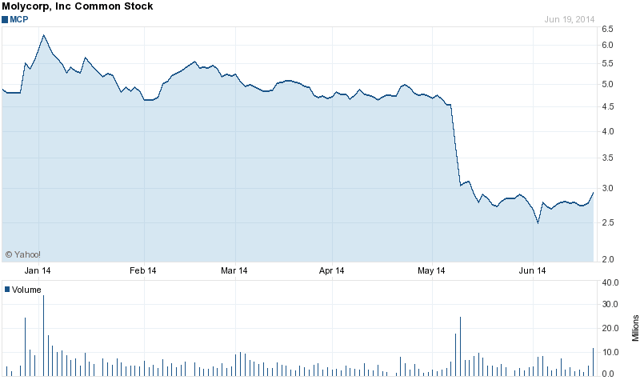 The shares fell off in early May after a disappointing 1Q earnings report. The stock hit a 52-week low of $2.44/share on June 3rd and traded from $2.70-$2.80/share until it closed at $2.94/share yesterday. However, equity holders seem to think that Molycorp can turn things around without diluting the shares via an equity raise:
We don't know that [Molycorp needs new capital]. They may or they may not. They have to improve the operational results. If they do what you assume, they won't. I make the opposite assumption, that the results will progressively get better (although Q2 will likely be awful). The bonds don't reward investors in a bankruptcy event. They do, however, reward investors quite well in a survival and repayment event.
Moody's Recently Downgraded Molycorp To "Caa2"
Moody's rates debt based on companies' ability to repay it. Today, Moody's downgraded Molycorp from Caa1 to Caa2, citing [i] weakness in rare earth prices, [ii] cash burn, and [iii] debt levels that may be unsustainable. Never did Moody's factor in a capital raise when assigning its debt rating.
Conclusion
Investors should buy bonds based on what they are actually worth. By buying Molycorp bonds with the assumption the company will raise equity in a similar manner as Lynas is foolhardy. Molycorp's bonds do not reward investors for the risk involved. Therefore, I believe bondholders are providing mullet money.
Disclosure: The author is short MCP. The author wrote this article themselves, and it expresses their own opinions. The author is not receiving compensation for it (other than from Seeking Alpha). The author has no business relationship with any company whose stock is mentioned in this article.
Additional disclosure: I own June puts and September puts on Molycorp