As the summer rally continues, we continue to see much debate as to whether or not this bull market is coming to an end. There are many arguments for both sides. However, the one thing I can say is to change any type of market sentiment or direction, be it a bull market or a bear market you need a catalyst to bring about change.
History has shown us that catalysts come in many forms or fashions. The problem is, when they come most people do not recognize them until it is too late. The reason is that the catalyst takes time to affect the markets. For instance, the eventual default of a country takes time to work its way through the credit markets and then into bonds and equities. The time from possible bankruptcies to the actual event does not play out overnight so naturally the market effects take time as well. No matter what the catalyst is, it has to bring about the change in market sentiment and that quite simply takes time.
The other problem with spotting catalysts is that they can be different things at different times. For instance, taking the country bankruptcy issue above, sometimes a country defaulting will change sentiment, but other times investors will be able to shrug it off. So what affects market sentiment seems to change depending on whatever is the strongest driver of the market at that particular time. Market sentiment does not react rationally to the same information all the time. However, market sentiment is what brings about change in the existing market. Therefore if you monitor market sentiment you should be able to grasp if the current market direction is going to change or not.
One of the best forms of measuring market sentiment is volatility. If you look at market volatility and it is low, then odds are the present market direction will continue. If the market volatility is starting to increase, then you should be aware that market sentiment is changing and that the market could soon change directions. Market volatility is how much the market is currently moving up or down on any given day. The more the market moves the greater the volatility.
If you then take this knowledge and apply it in graphical form to the S&P you can quickly see how much easier trending markets are to spot. You can also clearly see, that volatility is very good predictor of a change in market direction.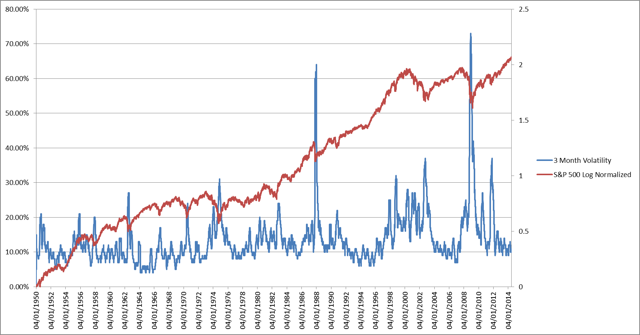 Source: www.finance.yahoo.com SPY is used as a proxy for the S&P 500.
So what does this mean for the S&P right now? From this graph you can also see that we are currently in a very low volatility regime. It is with some assurance that one can delineate that this bull market is still very strong and until market volatility starts to increase you should not mess with this bull.
Disclosure: The author has no positions in any stocks mentioned, and no plans to initiate any positions within the next 72 hours. The author wrote this article themselves, and it expresses their own opinions. The author is not receiving compensation for it (other than from Seeking Alpha). The author has no business relationship with any company whose stock is mentioned in this article.