AMD (NASDAQ:AMD) and Nvidia (NASDAQ:NVDA) had been hit with some daunting news by Digitimes about GPU shipment being down 30-40% for Q2 2014. There has been plenty of discussions speculating about that truth. Notably, Justin Jayne wrote an article detailing what may have caused it. Justin had good insights but he missed some business patterns that many have overlooked.
Remember that this is about Add-In-Board (AIB), not integrated GPUs. This automatically put APUs and iGPUs out of the picture.
There are four important clues from Digitimes' news:
1. They cited Bitcoin cryptocurrency as the reason for drop in demand.
2. Trapped by existing inventory.
3. This information was from Channel Retailers.
4. AMD and NVDA refused to lower the price but rather dropped shipment volume.
Update: The Digitimes news quoted Bitcoin. That is probably a typo, because Litecoin is the craze in late 2013 to early 2014. Miners say AMD GPUs are up to 5x more efficient at mining Litecoins than NVDA GPUs.
What It Means
Here's what it tells me:
1. These graphics cards are for retailers/etailers instead of OEMs.
2. This is temporary and expected, so both brands would drop volume rather than price. Consumer demand is normal but vendors had overestimated demand and overstocked.
It's obvious what happened here. The channel retailers overstocked graphics cards because of the heightened demand for Bitcoin mining in late 2013 and Q1 2014. You can read more details about that here. Now, Bitcoin mining has become inefficient with consumer GPUs, and the crash of cryptocurrency in general washed off whatever demand the Bitcoin hype made. Retailers have excess inventory that they need to get rid of. We all know how fast electronics depreciates so it is a major concern for retailers. Then why does AMD refuse to drop the price to match the supply volume? There's a good answer to that.
First, let's understand the other side of AMD's business people don't usually talk about. In supply chain, operations and logistics management, you never chase demand. This is especially true when you are selling high-tech electronics. You have to do your market research and figure out consumer demand. Then you normalize the demand rate to get your constant production capacity. When you put in a contract for production capacity, there's a definitive cap in production rate. There's some room for increased production but it comes with a higher cost. AMD tends to avoid pulling in orders unless they have to.
If AMD wanted a significant production increase, then a new line of production at TSMC or Global Foundry is needed. That's not cheap. Neither can it be done quickly as a reactive decision based on demand spikes. It takes months to tool and properly calibrate the machines. That's assuming that these fabs have open production lines. This method obviously didn't happen.
Other Reasons For AIB Shipment Decline
Since 2011, GPUs for AIB shipments had been declining consistently. This was a predicted pattern for the PC industry because of AMD's APU being good enough for low-mid range gaming. At the same time, Intel (NASDAQ:INTC) also beefed up its integrated GPU and married it with almost its entire range of processors. The cannibalization of low-mid range AIB graphics cards was expected to happen. Decline of shipment volume happen YoY and most dramatically in Q2 on an annual basis.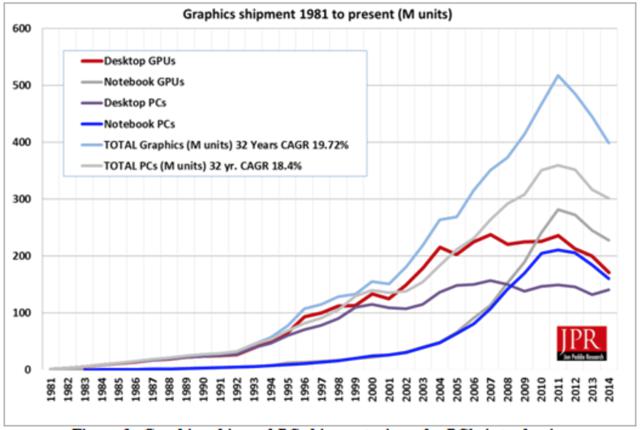 Source: JPR
In general, Q2 always experiences the lowest shipment volume out of all four quarters. It's just the business cycle. There's not much consumer demand in Q2. Volume shipment won't pick up until Q3, which usually experiences the highest shipment volume. In Q3, retailers build up inventory for the back-to-school season and Q4 holiday season. You can see this clearly in the chart below.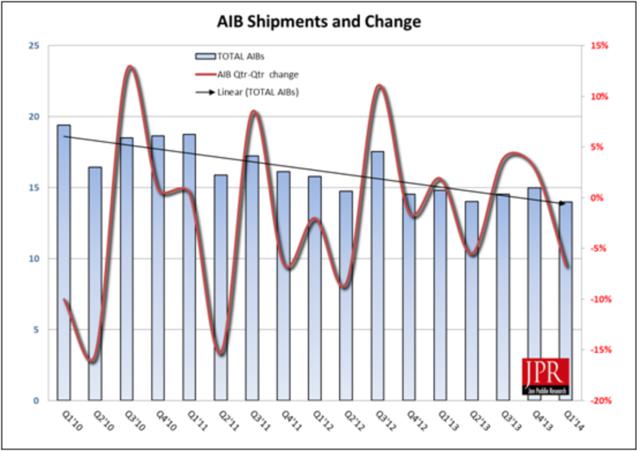 Source: JPR
The last reason for the Q2 decline is especially true and unique for 2014: AMD's console APU sales to Microsoft (NASDAQ:MSFT) and Sony (NYSE:SNE). New consoles affect AIB sales and shipment volume because consumers will buy the new consoles. Millions will play console games instead of PC games. We all know software sells hardware in gaming. When you look at the sales chart for the latest game by Ubisoft, Watchdog, it is clear that people prefer consoles over PC. That would significantly affect sales of PC AIB graphics cards and shipment volume.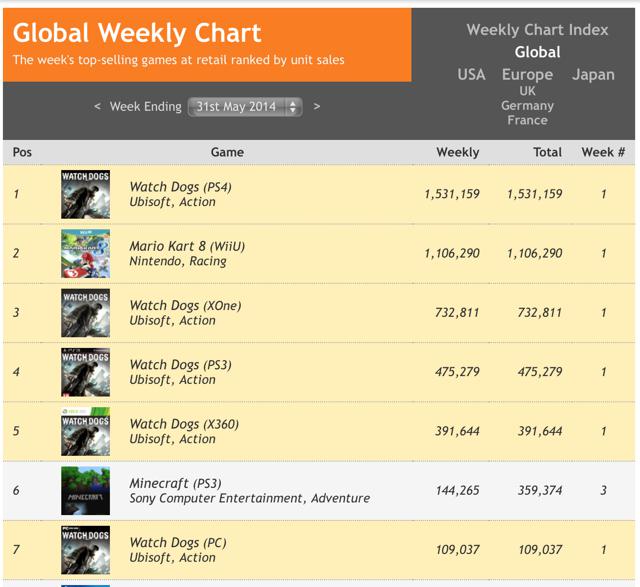 Source: VGChartz
Conclusion
There are four reasons why GPU shipments will experience a steep decline for Q2:
1. Consoles
2. PC market in general is down
3. Bitcoin mining is down
4. APUs and Intel's iGPUs continue to cannibalize the low-mid range AIB graphics cards.
The real question is whether this will significantly affect the top or bottom line. The answer is no. All of this is predictable. The trend illustrated by JPR's data is consistent. Low volume of Q2 is a known fact. AMD had never taken the cryptocurrency demand spike into account because of the way production is planned. The company planned production based on normalized demand rather than chasing temporary spikes. The console cannibalization effects can be predicted with some level of accuracy by AMD since the company is in all three consoles. The company will probably have more data and statistics to make that projection better than any analyst can. Basically, all these factors were probably already built into the forecast for AMD's Q2 outlook.
The worst case scenario is for AMD to lower prices, stirring higher demand to lower excess inventory. That's not necessary because AMD's inventory for GPUs after Q1 is low since it was forced to use it up to meet the Bitcoin mining craze. AMD can cut shipment volume to vendors and just replenish its inventory. This is a logical assumption since AMD had no desire to lower prices and it can't cut production since it signed a contract with defined production capacity.
Disclosure: The author is long AMD. The author wrote this article themselves, and it expresses their own opinions. The author is not receiving compensation for it (other than from Seeking Alpha). The author has no business relationship with any company whose stock is mentioned in this article.