BlackBerry (BBRY) delights. The smartphone company presented impressive first-quarter 2015 results yesterday, which highlighted that substantial operational progress has been made under the leadership of John Chen. Most importantly, BlackBerry's financial results (presented below) were surely causing massive cognitive dissonance for bears, who continue to beat the cash burn drum.
Without further ado, let's jump right into BlackBerry's first-quarter results:
Revenues of $966 million, slightly lower than $976 million in the prior quarter, but beating the consensus estimate of $954 million.
Adjusted gross margin of 48%, compared to 43% in the previous quarter.
Adjusted operating expenses fell off a cliff and declined 57% y-o-y and 13% q-o-q.
GAAP net income stood at $23 million ($0.04 per share), which compares against a net loss of $423 million ($0.80 per share) in the previous quarter.
BlackBerry's adjusted earnings per share came in at ($0.11), but handsomely beat the consensus estimate of a $0.25 per share loss.
Most importantly, BlackBerry showed ample liquidity, with total cash and investments in the amount of $3.1 billion.
John Chen, executive chairman and chief executive officer of BlackBerry, commented on first-quarter achievements:
"Our performance in fiscal Q1 demonstrates that we are firmly on track to achieve important milestones, including our financial objectives and delivering a strong product portfolio. Over the past six months, we have focused on improving efficiency in all aspects of our operations to drive cost reductions and margin improvement. Looking forward, we are focusing on our growth plan to enable our return to profitability."
Bottom Line
Chen massively tackled operating expenses, reduced the bleeding on the sales front and steered BlackBerry to GAAP profitability. At the same time, BlackBerry's cash and investment position has further improved, taking any meaning out of the bears' cash burn arguments.
Why BlackBerry is still a Strong Buy
BlackBerry has clearly demonstrated that it can turn the ship around and that the company shouldn't be declared dead prematurely - a mistake many investors unfortunately continue to make.
Though BlackBerry still produced an adjusted loss of $60 million, thanks to $204 million in after-tax CORE charges and a $287 million debenture fair value adjustment, BlackBerry's value proposition can easily be seen by looking at its balance sheet.
BlackBerry reported $1,710 million in cash and equivalents, $975 million in short-term investments and $333 million in long-term investments, bringing the total cash and investment value at the end of the first quarter 2015 to $3 billion. If one added the restricted cash balance of $69 million to it, total cash/investments stood at approximately $3.1 billion, and have substantially improved from the $2.7 billion reported at the end of the previous quarter.
As a result, BlackBerry holds about $5.86 per basic share in cash and investments. With a current share price of around $9, BlackBerry trades at just about a 50% premium to its (gross) cash position, highlighting an almost comical equity valuation.
In fact, I think the market pretty much values nothing else but BlackBerry's cash and investment position, its patent portfolio and the Device business. BlackBerry's Enterprise, QNX and Messaging businesses are effectively not valued by the market.
Chart situation
Investors cheered BlackBerry's results yesterday, and sent shares higher by about 10%.
Since I hold a long position in BlackBerry shares, I certainly appreciate the solidifying turnaround in BlackBerry's business.
However, investors should be realistic and anticipate a long recovery story. My opinion: The slower and more sustainable BlackBerry's turnaround, the better for long-term shareholders.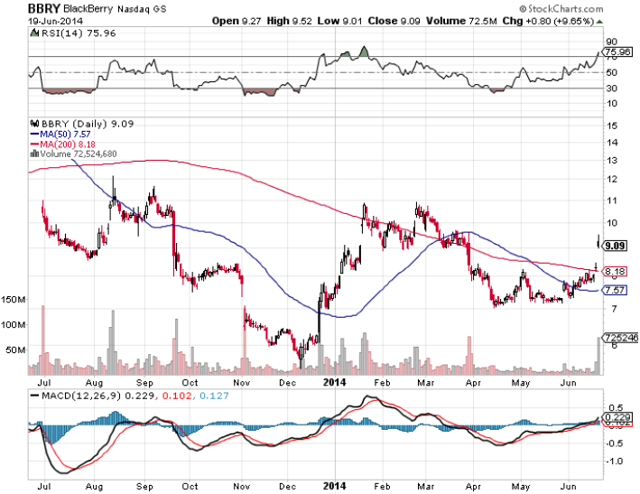 (Source: StockCharts.com)
Conclusion
BlackBerry's first-quarter results have proven what I have been saying for months: Turnarounds take time. BlackBerry has a lot of intrinsic value, and Mr. Market errs in assigning a less-than-$5 billion valuation to BlackBerry's equity.
As I have pointed out above, BlackBerry has a tight grip on its cost structure, returned to GAAP profitability and actually strengthened its balance sheet q-o-q. Still, the market materially undervalues BlackBerry's long-term earnings prospects, as investors still overwhelmingly focus on BlackBerry's hardware division.
This is a grave mistake, but also represents tremendous opportunity for constructive, critically-thinking investors who identify the apparent undervaluation of BlackBerry. The market is so negative with respect to BlackBerry that it only values its cash/investment position, its patents and its Device unit, while the rest of BlackBerry's business can practically be had for nothing.
If Chen continues to deliver operational improvements, rolls out the Z3 in more countries and returns to cash flow profitability (maybe even faster than communicated to the market), I wouldn't be surprised at all if BlackBerry traded at $20 over the course of next year.
Since turnaround investments work out the same way most of the time (that is, they succeed), chances are investors who purchased BlackBerry at $7-8 will come out on top in the long run and will be laughing all the way to the bank. I have seen it often enough. Strong buy.
Disclosure: The author is long BBRY. The author wrote this article themselves, and it expresses their own opinions. The author is not receiving compensation for it (other than from Seeking Alpha). The author has no business relationship with any company whose stock is mentioned in this article.