By Craig Bowles
Overview
Bed Bath and Beyond, Inc. (NASDAQ:BBBY) is slated to report 1Q 2014 earnings after the bell on Wednesday, June 25. The earnings release is expected at approximately 4:15 p.m. EST followed by a 5:00 p.m. conference call available at Bed Bath and Beyond Investor Relations. The home furnishing and retail company operates close to 1500 stores and is an index component of the Standard and Poor's 500 and NASDAQ-100.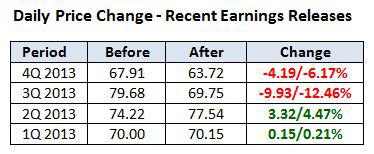 Outliers & Strategy
Key measures:
Earnings Per Share: Company guidance is for $0.92 to $0.96. The Street estimate is $0.95 (range $0.92 to $0.97) (source: Yahoo Finance). Consensus is down from $1.03 three months ago. The company normally reports a "clean" number comparable to estimates.
Revenues: Analysts expect an increase of 2.9% y/y to $2.69 bln (range $2.67 bln to $2.72 bln).
Earnings Per Share Guidance for 2Q2014: The current Street estimate is $1.20 (range $1.17 to $1.24).
Bed Bath and Beyond insiders sold 822,368 shares over the last twelve months and 160,664 over the last three months. Over the last decade, stock buybacks have reduced their float by nearly a third. The company repurchased 7.5 million shares worth of $532 million in 4QFY13 and still has a balance of $1.1 billion remaining under the repurchase program announced in December 2012.
Wal-Mart (NYSE:WMT) set a negative tone for retailers after reporting earnings and revenue at the low end of analyst expectations with negative comp store sales. Pier 1 Imports (NYSE:PIR) fell 13% after missing estimates and lowering guidance. Increased prices for necessity items, such as food and fuel, may be having a negative effect on discretionary purchases.
P/E of 12.6, Price/Book of 3.1, Price Sales of 1.1, and Price/Cash Flow of 9.3 are all showing value relative to the 5-year average and the industry.
Bed Bath and Beyond shares have a 1-day average price change on earnings of 5.50%. Options are pricing in an implied move of 5.03% off earnings.
Recent News
06/17 Lumber prices are said to lead housing related stocks by one year but panel prices didn't show the same improvement as framing lumber in Q3 of last year, shown by RandomLengths.com.
06/10 Wolfe Research downgraded Bed Bath and Beyond to Underperform from Market Perform, according to a post by WKRB.
06/07 Home furnishing stocks are compared with Bed Bath and Beyond seen as a value play, in this post on The Motley Fool.
04/11 Following last quarter's earnings report, Citigroup (NYSE:C) downgraded BBBY to Neutral from Buy in favor of Williams Sonoma. What has turned out to be a smart call cited continued margin problems for 2015 and concern about the "ongoing increasing negative impact from

couponing,

" according to Barron's Blogs.
Technical Review
Bed Bath and Beyond moved up from $55 to $80 in 2013, but has nearly retraced the advance. The first half of 2014 being similar to the last half of 2012 gives optimism. Recent trading has been mostly in a $60-$62 range but the fear of lower lows probably is keeping buying tentative below $64. Downside support remains but below $55 would bring in fears of a long-term trend change. (Chart courtesy of StockCharts.com)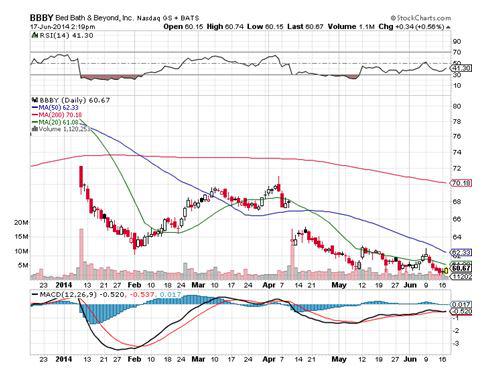 Summary
Bed Bath and Beyond is a worry for analysts due to margin pressure. The company normally reports close to consensus estimates, so the company reporting better than $0.95 and/or 1.9% on comparable store sales could be seen as a positive even if revenue comes in closer to $2.68 bln. While analysts don't have very high expectations for the next year, the stock is beginning to attract some attention on a relative valuation basis. Guidance should be interesting given the rising cost of necessity items with oil prices pushing well over $100/brl.
Disclaimer: By using this report, you acknowledge that Selerity, Inc. is in no way liable for losses or gains arising out of commentary, analysis, and or data in this report. Your investment decisions and recommendations are made entirely at your discretion. Selerity does not own securities in companies that they write about, is not an investment adviser, and the content contained herein is not an endorsement to buy or sell any securities. No content published as part of this report constitutes a recommendation that any particular investment, security, portfolio of securities, transaction or investment strategy is suitable for any specific person.
Disclosure: The author has no positions in any stocks mentioned, and no plans to initiate any positions within the next 72 hours. The author wrote this article themselves, and it expresses their own opinions. The author is not receiving compensation for it (other than from Seeking Alpha). The author has no business relationship with any company whose stock is mentioned in this article.