The following is a list of stocks in rally mode, i.e. trading above their 20-day, 50-day and 200-day moving averages.

Judging by the increase in short interest in these names over the last 3 months, it's obvious that short sellers expect these rallies to end soon. What do you think?

Short float data sourced from AOL Money, based on trends between June 15 and September 15. Full analysis below.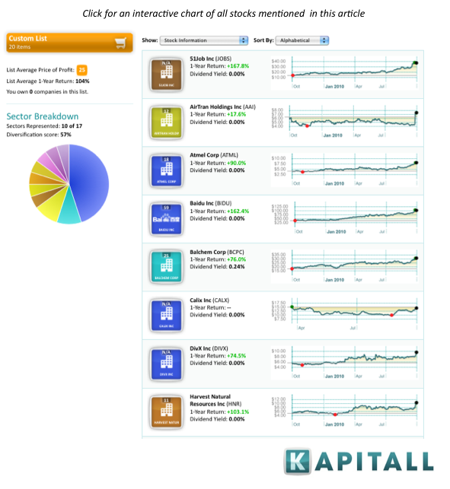 1. HFF Inc. (NYSE:HF): Mortgage Investment Industry. Market cap of $319M. Shares shorted increased from 32,649 to 774,455 over the last 3 months (with short ratio increasing from 0.4 to 9.8 days). The stock has gained 33.97% over the last year.

2. Keithley Instruments Inc. (KEI): Scientific & Technical Instruments Industry. Market cap of $338M. Shares shorted increased from 74,150 to 455,270 over the last 3 months (with short ratio increasing from 0.4 to 3.5 days). The stock has gained 278.98% over the last year.

3. Texas Pacific Land Trust (NYSE:TPL): Diversified Investments Industry. Market cap of $384M. Shares shorted increased from 3,740 to 117,472 over the last 3 months (with short ratio increasing from 0.4 to 2.1 days). The stock has gained 31.33% over the last year.

4. DivX, Inc. (DIVX): Multimedia & Graphics Software Industry. Market cap of $301M. Shares shorted increased from 1,500,000 to 1,660,000 over the last 3 months (with short ratio increasing from 1.8 to 9.4 days). The stock has gained 58.77% over the last year.

5. TPC Group Inc (NASDAQ:TPCG): Chemicals Industry. Market cap of $438M. Shares shorted increased from 31,145 to 283,554 over the last 3 months (with short ratio increasing from 0.9 to 3.6 days). The stock has gained 269.23% over the last year.

6. Wabash National Corp. (NYSE:WNC): Trucks & Other Vehicles Industry. Market cap of $549M. Shares shorted increased from 3,330,000 to 6,890,000 over the last 3 months (with short ratio increasing from 1.6 to 4.6 days). The stock has gained 172.2% over the last year.

7. 51job Inc. (NASDAQ:JOBS): Staffing & Outsourcing Services Industry. Market cap of $1,053B. Shares shorted increased from 33,611 to 333,743 over the last 3 months (with short ratio increasing from 1 to 2.5 days). The stock has gained 172.29% over the last year.

8. Rackspace Hosting, Inc (NYSE:RAX): Internet Software & Services Industry. Market cap of $3,258B. Shares shorted increased from 16,150,000 to 27,720,000 over the last 3 months (with short ratio increasing from 6.9 to 17 days). The stock has gained 51.13% over the last year.

9. AirTran Holdings Inc. (AAI): Regional Airlines Industry. Market cap of $994M. Shares shorted increased from 17,630,000 to 17,910,000 over the last 3 months (with short ratio increasing from 4.9 to 11.9 days). The stock has gained 16.88% over the last year.

10. Oclaro, Inc. (NASDAQ:OCLR): Semiconductor Equipment & Materials Industry. Market cap of $810M. Shares shorted increased from 1,610,000 to 4,130,000 over the last 3 months (with short ratio increasing from 2.8 to 6.3 days). The stock has gained 189.56% over the last year.

11. TriQuint Semiconductor, Inc. (TQNT): Semiconductor Industry. Market cap of $1,463B. Shares shorted increased from 6,870,000 to 8,430,000 over the last 3 months (with short ratio increasing from 1.5 to 3.3 days). The stock has gained 20.82% over the last year.

12. Ladish Co. Inc. (NASDAQ:LDSH): Metal Fabrication Industry. Market cap of $472M. Shares shorted increased from 718,280 to 802,315 over the last 3 months (with short ratio increasing from 4.8 to 9.6 days). The stock has gained 93.5% over the last year.

13. Harvest Natural Resources Inc. (NYSE:HNR): Independent Oil & Gas Industry. Market cap of $349M. Shares shorted increased from 2,100,000 to 2,420,000 over the last 3 months (with short ratio increasing from 7.4 to 14.2 days). The stock has gained 107.17% over the last year.

14. Calix Inc. (NYSE:CALX): Communication Equipment Industry. Market cap of $522M. Shares shorted increased from 484,240 to 1,470,000 over the last 3 months (with short ratio increasing from 4.9 to 9.1 days).

15. Pacific Sunwear of California Inc. (NASDAQ:PSUN): Apparel Stores Industry. Market cap of $366M. Shares shorted increased from 5,300,000 to 7,120,000 over the last 3 months (with short ratio increasing from 4.2 to 7.5 days). The stock has gained 3.94% over the last year.

16. Balchem Corp. (NASDAQ:BCPC): Meat Products Industry. Market cap of $871M. Shares shorted increased from 1,170,000 to 1,330,000 over the last 3 months (with short ratio increasing from 8.9 to 15.4 days). The stock has gained 74.22% over the last year.

17. Baidu, Inc. (NASDAQ:BIDU): Internet Information Providers Industry. Market cap of $36,095B. Shares shorted increased from 10,520,000 to 9,550,000 over the last 3 months (with short ratio increasing from 0.8 to 1.3 days). The stock has gained 162.98% over the last year.

18. NetScout Systems Inc. (NASDAQ:NTCT): Business Software & Services Industry. Market cap of $868M. Shares shorted increased from 1,360,000 to 1,480,000 over the last 3 months (with short ratio increasing from 5.4 to 8.4 days). The stock has gained 52.39% over the last year.

19. Atmel Corporation (NASDAQ:ATML): Semiconductor Industry. Market cap of $3,725B. Shares shorted increased from 14,270,000 to 22,200,000 over the last 3 months (with short ratio increasing from 1.9 to 2.9 days). The stock has gained 92.14% over the last year.

20. Theravance Inc. (THRX): Biotechnology Industry. Market cap of $1,463B. Shares shorted increased from 5,750,000 to 5,870,000 over the last 3 months (with short ratio increasing from 9.1 to 13.8 days). The stock has gained 34.64% over the last year.

Disclosure: No positions