Recently, Facebook (NASDAQ:FB) introduced a new application, Slingshot, which is designed to directly compete with Snapchat. The app is pretty much the same thing as Snapchat, but doesn't inform users if somebody takes a screenshot of their image, and it has the Facebook brand embedded within it. Many have speculated that Snapchat can justify such a lofty valuation because of its potential to grow into its own community. If you're interested in learning more about the potential future of Snapchat, this article provides some great insight into where things may or may not be headed.
As we all know, Facebook developed Slingshot because Snapchat rejected Facebook's bid of $3 billion. When I heard Facebook developed this application, I became curious as to roughly how much free cash flow the project would have to add to Facebook in order to match Snapchat's valuation. To figure this out, I used a simple discounted cash flow analysis. For those of you who are unfamiliar with this process, I will explain each step I take thoroughly throughout this article. If you want to learn more about the process of a discounted cash flow analysis, I will refer you to this website.
Assumptions
Before we delve too deeply into this, I want to justify the assumptions, which I will use throughout this article. First, the objective of this analysis will be to figure out roughly how much free cash flow will be required each year to justify a $3 billion valuation of Slingshot. $3 billion will be the final valuation of the project because this was the amount Facebook proposed to buy Snapchat for. For all of my numerical data, such as Facebook's tax rate, cost of debt and cost of equity, I will pull numbers from S&P's Capital IQ. Now that we have our basic assumptions set up, it's time to move into calculating the Weighted Average Cost of Capital.
Weighted Average Cost of Capital or WACC
The Weighted Average Cost of Capital is literally a weighted average of the company's cost of using money. Knowing the WACC of a company is critical when performing a DCF analysis because it provides you with a rate to find out what the free cash flows are worth now. is The two primary components of a WACC are the cost of debt, and the cost of equity. To find the WACC, you simply need to multiply each of these components by their weights in the company's capital structure, and add the results together. Now, let's find the WACC of Facebook.
Cost of Debt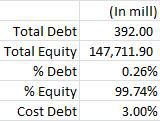 (Figure 1 Source: Created by Author)
Figure 1 above reflects a relative cost of debt for Facebook, as well as the weights of both the equity in the company, and the debt. I figured 3.00% would be a relatively accurate cost of debt given that CapIQ ranged their various debt costs from 1%-11%, and Facebook doesn't have a lot of borrowed money, meaning there isn't a lot of risk associated with their debt.
Cost of Equity
Finding the cost of equity is a bit trickier, as you will need to be familiar with the CAPM in order to figure out an appropriate cost. Using these figures, I list below in Figure 2, you can see what components went into finding my cost of equity.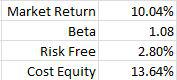 (Figure 2 Source: Created by Author)
To use these numbers to find a cost of equity, we will use the CAPM formula. The CAPM is widely regarded by academics as a reliable method to account for the cost of equity in a company because it takes the risk of the market (Market Return) and the risk of the company compared to the market (Beta), and the risk free rate (Typically the 10-year treasury). Below in Figure 3 is a formal formula of the CAPM.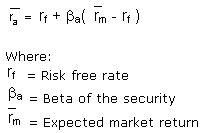 (Figure 3 from Investopedia)
As you can see, we are simply going to take the risk free rate and add it to the product of Facebook's beta and the market risk premium. Market risk premium is simply the Expected return minus the risk free rate, hence, the premium investors are expected for taking on market risk. In my numbers, I simply used 2.8% as the risk free rate. I understand that this rate tends to fluctuate over time, but given that interest rates should come up a bit within a few months, 2.8% is a sound number. Facebook has a CapIQ beta of 1.08, and Bloomberg analysts rate the market risk premium at 10.04%. These two numbers I simply pulled up from a Bloomberg terminal, and CapIQ. Plugging these into the CAPM, we come up with an equity cost of capital of 13.64%.
WACC
We can now multiply each of these costs by their respective weights to come up with a WACC for Facebook. I will again show all of my components to reveal the WACC in figure 4.

(Figure 4 Source: Created by Author)
As we can see, when the costs of capital are weighted and averaged, we come up with a value of 13.61% for the WACC for Facebook. Again, none of this is 100% for sure or accurate, this is just an approximation to figure out a relative value for the amount of free cash flow the Slingshot project would need to generate to compare with the Snapchat valuation.
Discounted Cash Flow Analysis
Now that we have a discount rate, we can build out a rough projection of what the free cash flow will need to be each year to justify a valuation close to Snapchat. Some additional assumptions I will make will be that the project had no startup costs, and that the long run growth rate of the project will be 8.00%. I chose 8.00% as a long run growth rate because according to figures I gathered from CapIQ, the five-year average growth rate in the internet services sector is 18.16%, and in order to be conservative, I cut this number in half and shaved a bit off so that the number would be reasonable.
Below in Figure 5, I posted my calculations from excel.
(Figure 5 Source: Created by Author;

To walk through how I figured everything out, I took the WACC and used it as my discount rate to find the present value of the cash flows. To find the Terminal Value (TV), I took the final cash flow, multiplied it by one plus the long run growth rate, and divided it by the WACC minus the long run growth rate. I then added all of the discounted cash flows together with the terminal value to end up with a valuation for Slingshot.
To figure out what the cash flows were, I pretty much plugged in random numbers using the guess and check method until the valuation of the project came out close to $3 billion. The number for each year's cash flow came out to be $122 million. This means that in order for Slingshot to generate as much value for Facebook as Snapchat theoretically should have, it will need to add about $122 million each year to the cash flow of Facebook.
Conclusion
I understand that this was a very basic DCF, and that there are multiple ways we can look to find these cash flows. However, the objective was simply to figure out an approximate figure of how much free cash flow the project would have to add to Facebook to match the valuation of Snapchat. I hope you found this process interesting, and good luck to you all in your investing!
Disclosure: The author has no positions in any stocks mentioned, and no plans to initiate any positions within the next 72 hours. The author wrote this article themselves, and it expresses their own opinions. The author is not receiving compensation for it (other than from Seeking Alpha). The author has no business relationship with any company whose stock is mentioned in this article.