Tumi Holdings, Inc. (NYSE:TUMI), along with many other retailers, had a rough first quarter due to the harsh winter weather, among other reasons. This Zacks Rank No. 5 (Strong Sell) lowered full year guidance as a result.
Tumi makes travel and business products and accessories including luggage and business cases and bags. It distributes through 130 company-owned stores in high-end retail malls, premium outlet malls or on high-end streets. It also sells via its e-commerce website.
A Miss in the First Quarter
On May 8, Tumi reported its first quarter results and missed on the Zacks Consensus Estimate. Earnings were $0.12 compared to the consensus of $0.17.
Comparable store sales, including company-owned website sales, rose 5.3% year-over-year but that compares to an increase of 16.4% in the first quarter of 2013.
Excluding e-commerce sales, direct-to-consumer North American comparable store sales rose just 2.6%. Internationally, the results were stronger with direct-to-consumer comparable store sales, excluding e-commerce, rising 12.5% in U.S. dollars.
Gross margin also improved to 58.1% from 56.4% in the year ago quarter.
Lowered Full Year Guidance
Given the weakness in the first quarter, Tumi lowered its full year EPS and sales guidance. Net sales are now expected to increase between 12% and 15% for the full year, down from the prior guidance of 15% to 17%.
Earnings per share is forecast between $0.88 to $0.92 down from the former guidance of $0.92 to $0.96.
The analysts responded by lowering their full year estimates as well. Four estimates have been lowered in the last 60 days. That has pushed the Zacks Consensus Estimate down to $0.90 from $0.95.
That's still earnings growth of 12.2% for 2014.
Shares Near 52-Week Lows
Shares of Tumi have been on a roller coaster all year long. However, they sank to new 52-week lows after the earnings report.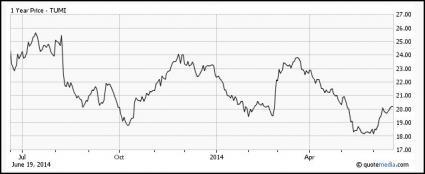 Does that mean Tumi shares are a deal?
Not really.
Tumi is still trading with a forward P/E of 22.5. If it had blistering growth, that P/E might not be that high. But with earnings growth only expected to be around 12% this year, that's still a high price to pay for the shares.
If you're looking to invest in an accessory and bag company, you might want to consider Michael Kors Holding Ltd. (NYSE:KORS) instead. It's also not cheap, with a forward P/E of 23, but analysts expect 22% earnings growth this year. Investors are at least able to get growth for the high multiple. It's a Zacks Rank No. 2 (Buy).
TUMI HLDGS INC (TUMI): Free Stock Analysis Report
MICHAEL KORS (KORS): Free Stock Analysis Report