Bancorp of New Jersey's (NYSEMKT:BKJ) talented CEO died in 2013, effectively derailing the stock. Since hitting a high in August, shares have fallen 15%, grossly underperforming the regional bank index (NYSEARCA:KRE) by 2600 basis points. The reaction is understandable: Founding chairman and chief executive Albert Buzzetti mentored the bank through a powerful growth spurt, expanding BKJ from 1 to 9 offices in only 8 years. Although his death is a loss for the company, I believe the bank will continue to deliver strong growth and represents an attractive entry point.
First, the board was well-prepared for the succession, appointing Michael Lesler the bank's new CEO within a week of Buzzetti's passing. Lesler has been with BKJ since its inception in 2006, serving first as CFO and more recently COO, suggesting strong continuity. Lesler has been deeply involved in BKJ right from the beginning - there will be no departure in master plan. Second, BKJ's growth strategy is moving right along: A new branch opens up in Englewood Cliffs later this year. Its other Englewood office grew its deposit base by 50% in one year, suggesting this market is a good one.
So, the bank is still very much on track. And therein lies the investor's opportunity - a chance to buy a fast growing bank that has been forgotten. This one is completely off the radar. Institutions own a mere 1% of the company.
Moreover, the New Jersey banks are ripe for consolidation. The region has lots of small banks operating in a highly competitive neighborhood. Further, BKJ just experienced a leadership loss, making the board more receptive to a sale. Indeed, the money to be made could be extraordinary: Lesser small-cap banks like LSB Financial (NASDAQ:LSBI) and TF Financial Corporation (NASDAQ:THRD) sold for hefty TBV premiums. Considering its stronger ROA and ROE, BKJ might sell out at 1.6X TBV.

Even if an acquisition never materializes, BKJ is a race horse worth owning. During the financial crisis, BKJ barely missed a beat, adding loans, assets, and deposits. Since its 2006 beginning, the bank has organically grown its assets 8X, net loans 5X, deposits 4X. I know of no other bank that has increased its branches de novo by 900% in 8 years. In a few years, the bank has cobbled together a thriving business serving Bergen, one of the wealthiest counties in the country.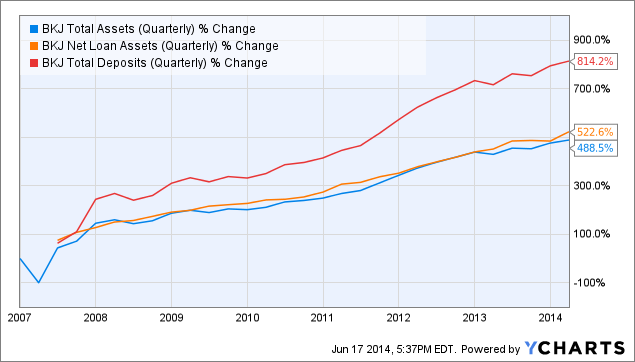 Revenue has increased 380% and revenue/share has increased 280%.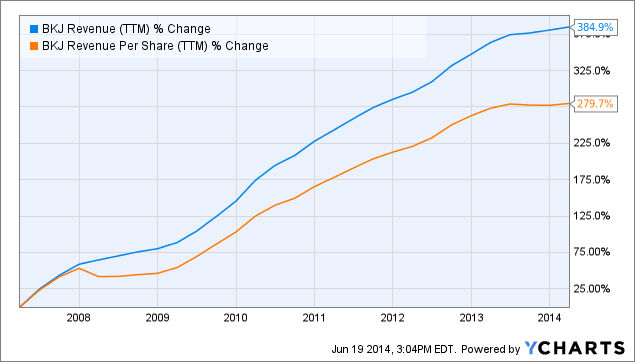 Since its inception, BKJ has improved its returns.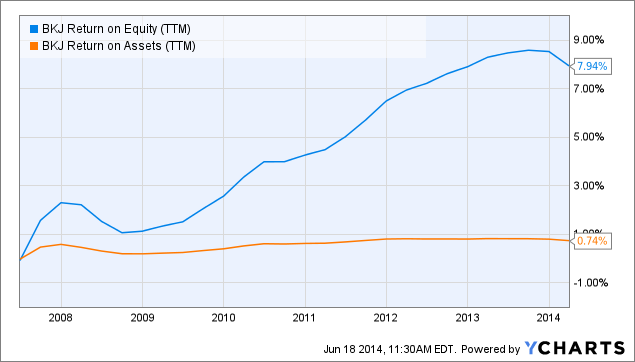 Surprising Efficiency For A Small Bank
Of course, there is a downside to de novo bank expansion. Opening new branches can be tough on the bottom line, especially for small banks. It can take years before new branches ever turn a profit. In the meantime, the bank must support all the personnel and new premises long before generating income - short-term, not a very cost-effective process.
BKJ has managed its expansion expenses remarkably well. Despite rapidly expanding from one to nine branches in just 8 years, BKJ maintained expense discipline and generated a superb 56% efficiency ratio that would be the envy of much larger banks (sub$700 million asset banks generally run efficiency ratios above 70%). The well-run Wells Fargo comes in with a worse 58% efficiency. Needless to say, BKJ slaughters Bank of America's miserable 82% efficiency ratio. With 66 full-time staff for 9 offices, BKJ is one mean machine - especially considering that the bank is situated in perhaps the most expensive region of the country when it comes to leases and salaries.
With the combination of growth and cost control, BKJ has put together a steady earnings ramp up. Indeed, most of its 8Q quarterly reports trumpet record earnings and record assets - even during the banking collapse. Since its 2006 start, BKJ has increased its EPS TTM by 682%.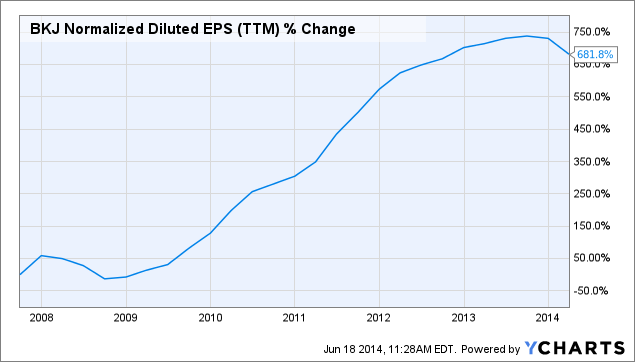 Last Quarter: Weaker Earnings - A Problem?
Naturally, any investor has to address BKJ's last quarter. The bank earned 16 cents vs 21 cents in the year-ago quarter. The fall in earnings resulted from higher personnel costs associated with its new branches and a greater loan loss provision due to the bank's increasing loan portfolio (blue arrows). Neither should alarm investors. Simply, BKJ needs more staff because it is growing and is prudently increasing its loss provision to reflect a larger loan portfolio.
Reassuringly, total interest income and net interest income (red arrows) were both higher.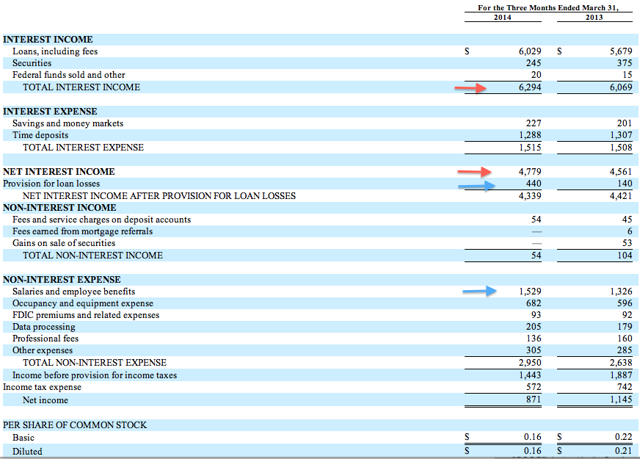 Moreover, credit quality is outstanding. Last year, net charge-offs amounted to 0.02%. Last quarter, BKJ wrote off $40,000 in bad loans of its $503 million portfolio.
Risks
- Operates in highly competitive market. Response: BKJ has grown its assets 8X during perhaps the worst banking crisis of the last 70 years.
- Vulnerable to downturn in Northern New Jersey economy. Response: BKJ serves well-healed Bergen County and New York City is only a stone throw away.
- Declining net interest margin. Response: The bank has shifted toward higher yielding CRE and HELOC loans.
- This is a tiny financial with a small float and should be considered for speculation purposes only.
Bottom Line
With its recent share price decline, Bancorp of New Jersey has become attractive for both investors and potential acquirers. Few banks have posted such superlative growth during this economic maelstrom. BUY.
Disclosure: The author has no positions in any stocks mentioned, and no plans to initiate any positions within the next 72 hours. The author wrote this article themselves, and it expresses their own opinions. The author is not receiving compensation for it (other than from Seeking Alpha). The author has no business relationship with any company whose stock is mentioned in this article.
Additional disclosure: The opinions in this document are for informational and educational purposes only and should not be construed as a recommendation to buy or sell the stocks mentioned. Past performance of the companies discussed may not continue and the companies may not achieve the earnings growth as predicted. The information in this document is believed to be accurate, but under no circumstances should a person act upon the information contained within. We do not recommend that anyone act upon any investment information without first consulting an investment advisor as to the suitability of such investments for his specific situation.
Editor's Note: This article covers one or more stocks trading at less than $1 per share and/or with less than a $100 million market cap. Please be aware of the risks associated with these stocks.