Many income investors concentrate on real estate investment trusts and master limited partnerships in order to catch some yield. However, focusing entirely on traditional income investments might be a big mistake as other alternative income structures not only offer equally attractive yields, but also crucial diversification benefits.
One such company is Prospect Capital Corp. (NASDAQ:PSEC), an asset management business investing equity and debt capital in diversified middle market companies. Prospect Capital is being regulated as a business development company, which implies that it is not taxed at the corporate level as long as the company pays out at least 90% of its earnings.
High payout ratios are also the reason why investors should not expect too much capital appreciation from an investment in Prospect Capital. The majority of total returns will come from the dividend side.
Probably the most noteworthy takeaway about business development companies is that they are the primary beneficiaries of a consolidating banking sector. When traditional lenders such as banks cut back on lending during the financial crisis, asset management companies like Prospect Capital or Ares Capital Corporation (NASDAQ:ARCC) moved in to snatch up significant market share in the middle market.
As a result, Prospect Capital's equity, portfolio size and net investment income skyrocketed over the last six years: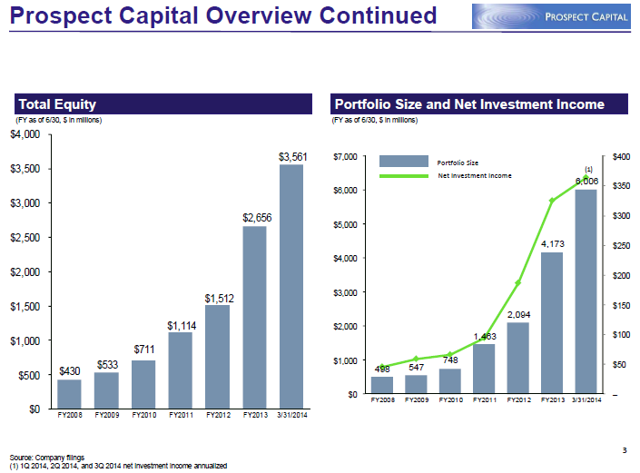 (Source: Prospect Capital Investor Presentation June 2014)
In fact, Prospect Capital has not only increased its book value of equity from $430 million to $3.6 billion over the last six years, but also ballooned up in market capitalization.
Prospect Capital (with a market cap of $3.5 billion) is now the second largest business development company in terms of market capitalization right after Ares Capital, which has a market cap of $5.2 billion.
Recent series of negative news has exposed Prospect Capital to significant selling pressure
Prospect Capital had to swallow more than its fair share of bad news in 2014. First, business development companies got the boot from S&P and Russel indices earlier this year. This is big news for investors trying to mimic an index and who are required to buy the constituents of an index due to their investment mandate. Not being part of a major index usually leads to selling pressure.
Secondly, the company disappointed investors by missing third quarter analysts' earnings estimates.
Thirdly, Prospect Capital announced in its latest 10-Q filing that the SEC might require the company to restate its financials. According to the SEC, certain wholly-owned holding companies were indeed investment companies, which are required to be consolidated. This certainly upset the market and lawyers were already lining up and filing class action lawsuits.
On June 10, 2014 Prospect Capital finally announced that a restatement of prior period financials is not necessary, which calmed unnerved investors.
Despite all that, there are good news, too. A series of insider purchase transactions have been reported by the company lately.
The C-league -- Chief Executive Officer John Barry, Chief Operating Officer Grier Eliasek and Chief Financial Officer Brian Oswald -- recently expressed their confidence in the earnings prospects of Prospect Capital and loaded up on shares in the low $10s.

(Source: Yahoo Finance)
Chart situation
As can be seen in the chart below, Prospect Capital faced serious selling pressure at the beginning of May.
However, shares have rebounded strongly and still offer another solid purchase opportunity (the insiders think so, too).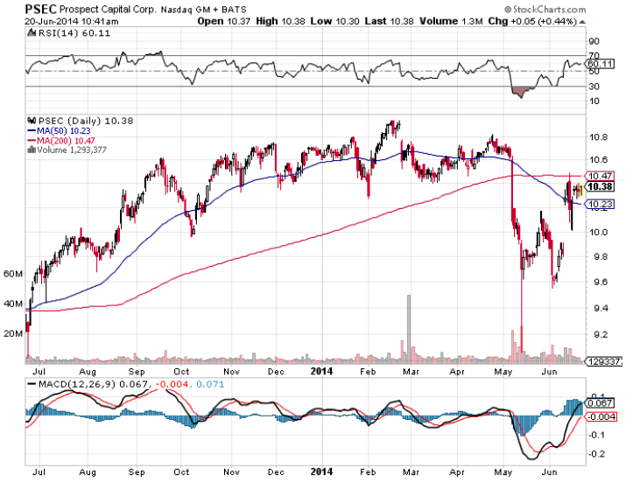 (Source: StockCharts.com)
Conclusion
Prospect Capital remains a high-quality business development company whose share price has quickly rebounded from a series of negative news. Further insider transactions from a variety of high-ranking officers highlight that the company remains undervalued. At a nearly 13% yield and with a solid dividend history, Prospect Capital is a Strong Buy.
Disclosure: The author has no positions in any stocks mentioned, and no plans to initiate any positions within the next 72 hours. The author wrote this article themselves, and it expresses their own opinions. The author is not receiving compensation for it (other than from Seeking Alpha). The author has no business relationship with any company whose stock is mentioned in this article.