Being a value investor, I'm always looking for stocks that have experienced dramatic drops due to temporary weakness. Over the past few weeks, there have been several retail stocks that saw sharp declines due to poor 1Q2014 earnings results stemming from extreme winter weather and other short-term factors. In this article, I'll profile 2 retail stocks that saw sharp declines followed by strong insider buying activity. One of the best times to buy a stock is at 52-week lows when insiders are buying their own stock. After all, there are a thousand reasons for insiders to sell stock, but only 1 reason for insiders to buy stock. They believe the stock will increase in value.
DSW Inc. (NYSE:DSW)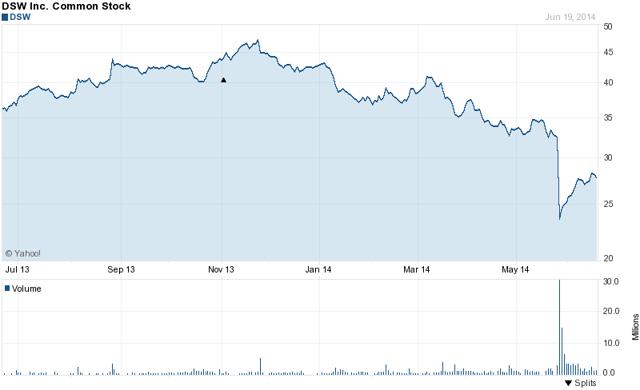 DSW is a branded footwear and accessories retailer in the US with 410 stores in 42 states, the District of Columbia and Puerto Rico. The company also recently completed a 49% acquisition of Town Shoes Limited, the largest footwear retailer in Canada for $68.7 million. The purchase agreement also allows DSW to purchase the remaining 51% in 3-4 years. After DSW reported disappointing 1Q2014 earnings on May 28, 2014, the stock dropped roughly 27% to $23.62. The week after this drop, insiders loaded up on the stock triggering a bullish signal.
| | | | | |
| --- | --- | --- | --- | --- |
| Date | Insider | Position | Transaction | Value |
| 6/4/2014 | Meixelsperger, Mary | EVP & CFO | Purchase @ $25.94/share | $ 134,136 |
| 6/4/2014 | Ferree, Debora | CMO | Purchase @ $25.72/share | $ 51,880 |
| 6/3/2014 | Jordan, William | Officer | Purchase @ $25.65/share | $ 514,400 |
| 6/2/2014 | Meixelsperger, Mary | EVP & CFO | Purchase @ $25.18/share | $ 25,650 |
Source: Yahoo Insider Transaction activity
Thirteen weeks ending May 3

($ millions)

2014

2013

Y/Y % change

Net Sales

$ 598

$ 601

-0.5%

Cost

$ 411

$ 418

-1.7%

Gross Profit

$ 188

$ 182

3.3%

Operating Profit

$ 61

$ 54

13.0%

Net Income

$ 38

$ 34

11.8%

Diluted EPS

$ 0.42

$ 0.38

10.5%
Source: DSW earnings release
Looking at the 1Q2014 earnings report, it appears the sharp drop in the stock price may have been overdone. While revenue was stagnant and 2014 EPS guidance was lowered to $1.45-$1.60, DSW has strong positions across the US and is a recognized and established shoe retailer. More importantly, the extreme winter weather impacted sales resulting in flat revenue growth. DSW opened 14 new stores during the 1st quarter and plans to open 35 new stores in 2014. As a result of the additional stores, management expects total sales growth in increase in the low-single digit range in 2014.
An important take-away from the store expansion is the manner in which the company is conducting it. The company has zero long-term debt and actually lowered 2014 CapEx by $10 million to $120 million. The company is fundamentally sound with EV/revenue of 1, P/E of 16.5 and operating cash flow of $271 million. To top it all off, the company pays a sustainable dividend yield of 2.7%. If insider buying activity tells you anything, the top insiders at DSW believe the company is on the right path and the worst of the bad news is behind it. DSW is a fundamentally solid company that was over sold as a result of a disappointing quarter. It's difficult to find value stocks in a market constantly hitting new highs, but DSW fits the bill as a value stock at current levels around $27-$28/share.
Goldman Sachs upgraded DSW on 6/17/14 to a buy from neutral, stating, "On attractive risk/reward following a rare dislocation following 1Q earnings, with a 3% dividend yield, $6/net cash per share and catalysts, we recommend buying ahead of the inflection". Goldman also raised their price target from $27/share to $35/share, or roughly 25% higher.
Dick's Sporting Goods (NYSE:DKS)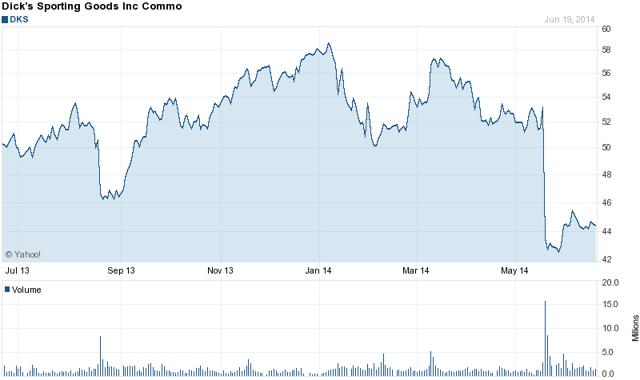 Dick's Sporting Goods is a sport and fitness retailer operating 566 stores in 46 states and 79 Golf Galaxy stores in 29 states. The company specializes in sports equipment and apparel, fitness equipment, golf equipment, and hunting and fishing gear. Dick's Sporting Goods reported disappointing 1Q2014 earnings and lowered 2014 EPS guidance from $3.03-$3.08 to $2.70-$2.85. After the company reported earnings on May 19, 2014, the stock dropped nearly 20% to $42.85/share. Insiders saw this drop as a significant buying opportunity by picking up over $6 million in total shares.
| | | | | |
| --- | --- | --- | --- | --- |
| Date | Insider | Position | Transaction | Value |
| 6/3/2014 | Byrd, Vincent | Director | Purchase @ $44.30/share | $ 110,750 |
| 5/28/2014 | Stack, Edward | CEO | Purchase @ $42.56/share | $ 4,894,400 |
| 5/28/2014 | Stone, Larry | Director | Purchase @ $42.46/share | $ 976,580 |
| 5/28/2014 | Hawaux, Andre | EVP & CFO | Purchase @ $42.82/share | $ 98,486 |
Source: Yahoo Insider Transactions
Thirteen weeks ending May 3

($ millions)

2014

2013

Y/Y % change

Net Sales

$ 1,439

$ 1,333

8.0%

Cost

$ 998

$ 992

0.6%

Gross Profit

$ 441

$ 411

7.3%

Operating Profit

$ 112

$ 97

15.5%

Net Income

$ 70

$ 65

7.7%

Diluted EPS

$ 0.57

$ 0.52

9.6%
Source: Dick's Sporting Goods earnings release
Net sales increased 7.9% in the first quarter, but same store sales only increased by 1.5%. The company projected same store sales to increase 3-4%, but were negatively impacted by weakness in golf and hunting sales. Both segments were going up against very tough comps, but sales declined more than expected resulting in the company lowering full year guidance, despite strength in women's and youth apparel, footwear and team sports. Taking out golf and hunting segments, same store sales increased 6.6%. Hunting sales are expected to stabilize during the year, but golf sales are expected to face challenges throughout the year and were the main reason for the lowering of guidance.
During 2014, the company expects to open 50 new Dick's Sporting Good stores, 8 new Field & Stream stores and 1 new Golf Galaxy store. Similarly to DSW, Dick's Sporting Goods has managed its expansion in a responsible fashion and has $6.82 million in debt compared to $139 million in cash. The stock is also fundamentally sound with an EV/revenue of 0.84, P/E of 16.1 and operating cash flow of $493 million. With the lowered guidance, EPS is only expected to grow from 0-6% year-over-year. However, this new guidance sets the bar extremely low for the company and sets itself up to deliver solid results through the rest of the year. When insiders invest over $6 million of their own money at 52-week lows, it's a great sign that the stock will outperform expectations. Of the 51 analyst covering Dick's Sporting Goods, the average price target is $51.76, or 17% higher than its current price of $44.20/share.
Conclusion
With the market reaching new highs on an almost daily basis, it's becoming increasing difficult to find value plays with decent upside. Looking for fundamentally sound stocks near 52-week lows with heavy insider buying activity is a great starting point to identifying quality stock picks. Both DSW and Dick's Sporting Goods saw huge sell-offs after disappointing 1st quarter earnings. However, insiders saw value in the stocks and acted by buying large additional stakes. Investors can still get attractive entry points in each of these stocks and decent dividend payouts while waiting for a turnaround in investor sentiment and sales numbers
Disclosure: The author has no positions in any stocks mentioned, but may initiate a long position in DSW over the next 72 hours. The author wrote this article themselves, and it expresses their own opinions. The author is not receiving compensation for it (other than from Seeking Alpha). The author has no business relationship with any company whose stock is mentioned in this article.