Chart: 1 Year TTM Price Percent Change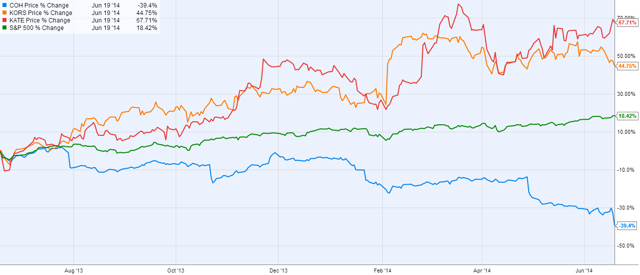 Source: YCharts
Coach Inc. (COH) is down 39.4% over the last year, while the S&P 500 is up 18.4%, and Coach's main competitors are up over a whopping 40%.
Recent Price Weakness - What happened?:
On June 19th, 2014 - Coach Inc. had its Analyst and Investor Day. After this presentation, the shares traded off by 10% by mid-day.
Here are several key takeaways that were presented: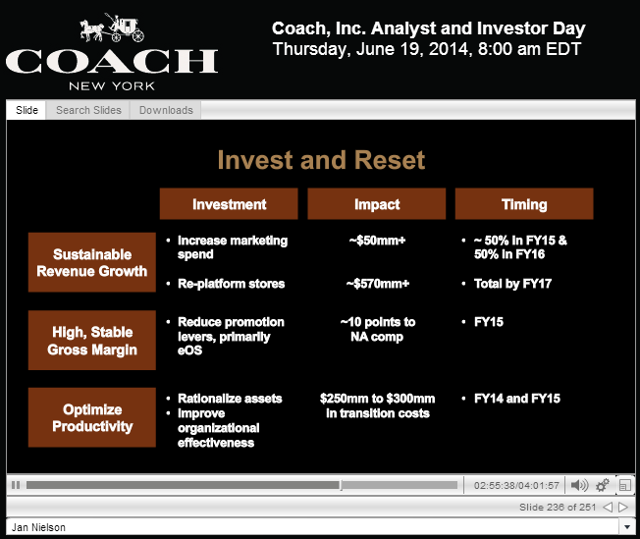 Source: Coach Investor Relations
Coach's slide shows that they will be increasing investment in FY15 and FY16 through increased marketing, transitional restructuring costs to optimize organizational effectiveness, and asset rationalization.
Source: Coach Investor Relations
Coach's slide shows that after charging $250-300MM in restructuring and transformation costs, they expect to save $150MM annually starting in FY16. If they can actually realize these savings, this would be a worthy investment for the company and strategy and would result in a shareholder benefit in FY16/17.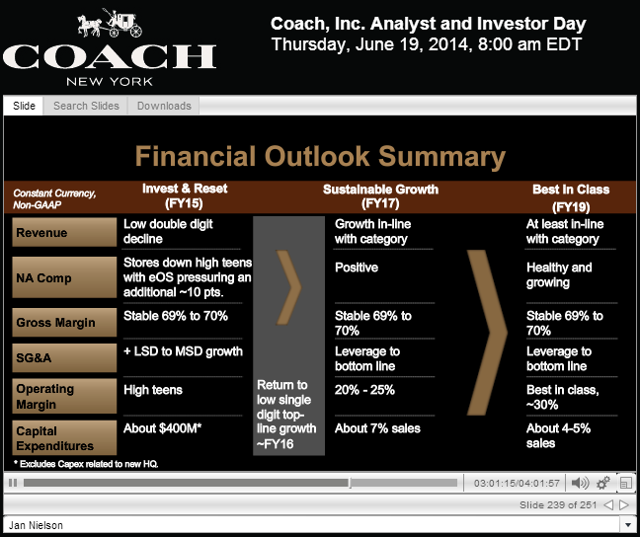 Source: Coach Investor Relations
Coach's slide shows that in FY15 Cap Ex will increase significantly to $400MM and operating margin will therefore be reduced to high teens. Their NA comp will be down high teens.
From Coach's F3Q 2014 Earnings Report:
"Based on the lower than expected sales, we would now expect operating margins to be in the area of 25% to 26% for the year."
I would estimate much of the selloff was due to the operating margin decline, which was previously estimated at 25%, and the transformative plan resetting FY15 and part of FY16.
Coach hired Stuart Vevers last September as executive creative director to reinvigorate the brand and his first collection is set to hit stores in September 2014. It's possible to see some increased demand from this collection for the critical holiday season.
North America Sales:
Coach announced that their NA store comp will be down high teens.
From Coach's F3Q 2014 Earnings Report:
"This includes a fourth quarter sale decline of about 10% with our North America comps in the range of our Q3 run rate."
Therefore, the high teens is a larger comp decline in North America than previously mentioned as ~10% in their earnings report. However, it appears to be contributed to their transformative plan and to the reduction in internet flash sales as they try to reduce selling handbags at low margin per strategy.
International Sales:
International sales make up ~1/3 of total sales.
From Coach's F3Q 2014 Earnings Report:
"International segment, which represents about a third of Coach's business, sales rose 20% on a constant currency basis in the third quarter and 14% on a reported basis due to the weak yen. As mentioned, China sales rose over 25% from prior year fuelled by double-digit same-store sales and distribution growth."
This shows that international sales performance has had solid growth.
Dividend Yield and History:
Chart: Coach Inc. 5-Year Dividend Yield and PE Ratio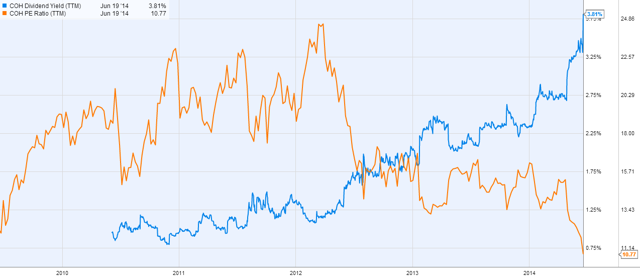 Source: YCharts
As the price has sold off over the last year and last few days, the trailing PE is down to ~10.8 and the dividend yield is up to a whopping ~3.8%.
In the Analyst Day on June 19th, Coach Inc. management committed to maintaining the dividend at the current level and increasing it along with income in the future. That would mean that in the next year or two, I wouldn't plan for much of an increase in the dividend as they aren't expected to increase income in those years as part of their reset plan.
I would also expect that at the end of the restructuring costs in FY16/17 that the dividend will also be increased with the savings provided from not paying for restructuring and for the extra savings the restructuring should provide.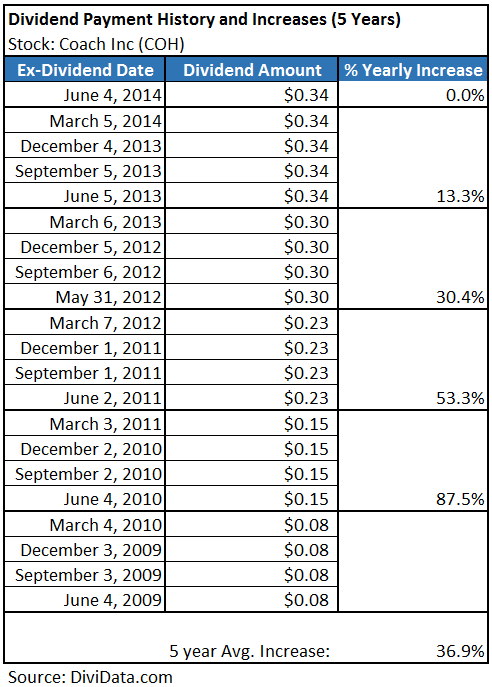 The table above shows that the yearly dividend streak was frozen on June 4, 2014.
From Coach's F3Q 2014 Earnings Report:
"As noted in our press release, the board declared a quarterly dividend of $0.3375 per common share payable at the end of June, maintaining our annual rate of $1.35.

It is important to mention that we've modified the timing of our annual dividend rate assessment to align with the company's fiscal year end and the review of our annual operating plan."
Take note that the timing of an increase in the dividend would be expected at the end of F4Q this year and future years if they do choose to increase it this year. However, I wouldn't expect much, if any, this year due to the restructuring costs.
Future Share Repurchase Expectations:
From F3Q 2014 Earnings Report:
"During the third quarter, we repurchased and retired out 3.6 million shares of common stock at an average cost of $47.99, spending a total of $175 million. Year-to-date, we repurchased 525 million of common stock. At the end of the period about $835 million remained under the company's current repurchase authorization.

Our first priority for cash is to reinvest in our business. And of course, we remain committed to our dividend. However, given our current outlook for the business, domestic cash flow requirements, including funding our transformation initiatives to drive a long-term growth, we do not anticipate further share repurchases during the remainder of FY'14.

As it relates to our share buyback, what we have guided to was about 700 million of share buybacks. We have completed 525 million, as I mentioned. And it's really based on our current cash flow forecast, our domestic cash requirements to really invest in our business, and that's our primary focus, and we will continue to keep you to update you on that as we move forward. As we have called out in this quarter, we are very committed to our dividend as our primary means of returning capital to shareholders."
Unfortunately, this suggests that in F4Q repurchases (even at these current very low prices) will not occur for the remainder of FY14. However, there is only one more quarter in FY14 - F4Q 2014.
In the Investor and Analyst Day on June 19th, they announced they would repurchase shares in FY15 and on-going with extra cash flow after maintaining the dividend and the investments they are making mostly over the next two fiscal years.
Analyst Earnings Estimates: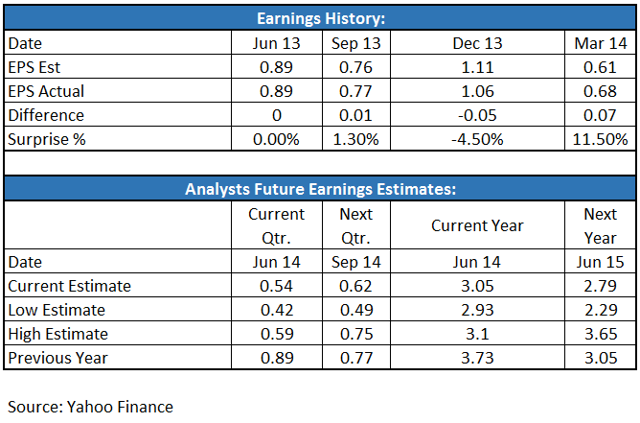 Update to Coach Store Locations:
In the June 19th Analyst day, Coach Inc. announced they would close 70 underperforming stores.
From Coach's F3Q 2014 Earnings Report:
"During the quarter, looking at distribution, the company closed 13 North American full price retail locations. At the end of the period, there were 338 full price retail and 205 outlet stores in about 155 outlet malls in North America.

Moving on to China, during the quarter, we opened 5 net new locations all on the Mainland bringing the total number to 147 locations including 128 on the Mainland in 52 cities.

In Japan, we opened three net new locations during the quarter. There are 199 directly operated locations which include 151 full price and 48 factory locations in about 30 outlet malls.

Also in Asia, during the third quarter, we closed one location in Taiwan and opened one and closed two locations in South Korea bringing the total to 96 directly operated locations in the balance of Asia including 48 in South Korea, 27 in Taiwan, 12 in Malaysia and 9 in Singapore.

In Coach Europe, we opened two directly operated stores during the period. As of the end of the quarter, over 26 directly operated locations in Europe across the UK, France, Ireland, Spain, Portugal and Germany. We also opened several wholesale stores in the United Kingdom, Spain, Italy and Switzerland."
Conclusion:
FY15 (ending in June 2015) will be a tough transitional and hopefully transformational investment and restructuring year for Coach Inc.
The Investor Day on June 19th provided several new data points which resulted in a stock price selloff:
1) FY15 Operating Margin guided down to high teens from 25%
2) NA comp guided down to negative high teens from negative 10%
Additional total restructuring costs of $250-300MM in FY15 and FY16, to provide annual savings of $150MM in or after FY16
FY17 should be a solid financial performance year for Coach with reduced costs in business investments
It should be noted that Coach has $775M in cash and short-term investments with most of it held and invested outside of the U.S. Therefore, this is a company with a very strong balance sheet to weather the current costs to restructure and attempt to grow demand in their product and leverage improved future performance.
The current high 3.8% safe maintainable dividend with forward 2015 earnings estimates providing a payout ratio of 48% should help to provide price support and the opportunity to get paid to wait 2-3 years for the rebound in performance
Disclosure: The author is long COH. The author wrote this article themselves, and it expresses their own opinions. The author is not receiving compensation for it (other than from Seeking Alpha). The author has no business relationship with any company whose stock is mentioned in this article.