In an earlier article I wrote about the success of the TARP program, the $700 billion bailout government program that is officially ending on Monday. According to a Wall Street Journal piece, more than 600 banks are still holding $65 billion of the bailout funds. Many of these banks are too weak to repay the government funds.
The graphic below shows eight banks that haven't repaid TARP capital: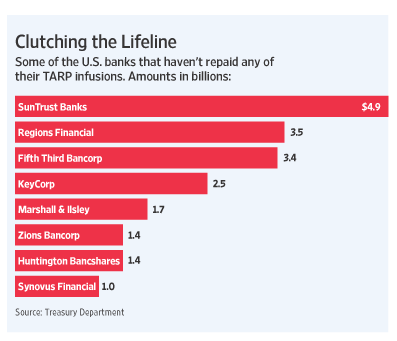 At the height of the financial crisis, regulators allowed the Cleveland, Ohio-based National City bank to be taken over by PNC Financial Services (NYSE:PNC). But three other Ohio-based lenders, KeyCorp (NYSE:KEY), Huntington Bancshares (NASDAQ:HBAN) and Fifth Third Bank (NASDAQ:FITB) survived the crisis partly due to the TARP capital infusions.
Some small banks such as New York Community Bankcorp Inc (NYB), Chemical Financial Corp (NASDAQ:CHFC) and Smithtown Bancorp Inc (SMTB) refused to participate in the TARP program due to the heavy restrictions that came with the loans.
Disclosure: None