In the continued goal to refocus the world's largest maker of jet engines and medical scanners away from its consumer credit business, General Electric's (NYSE:GE) Chief Executive Officer Jeffrey Immelt has revisited its previous bid of Alstom's (OTCPK:ALSMY) electrical generation business.
The move is also geared to appease French national leaders and has staved off a competing bids by Germany's Siemens (OTCPK:SIEGY) and Japan's Mitsubishi Heavy Industries (7011.TYO).
France recently accepted GE's revised bid on the condition that it will maintain a 20% stake in Alstom.
Both GE and Alstom shares rose on the news.
Bar Raised to $17 Billion
In 2012 Mr. Immelt was noted as primarily seeking "bolt-on" acquisitions of $4 billion or less to accomplish this goal, but with GE's bid of approximately $17 billion for Alstom, this signals a significant acceleration in this effort and will help replace the profits of GE Capital's consumer credit business, which is planned to be spun off via an initial public offering later this year.
A Modified Proposal To Please The French
To help bolster support, Mr. Immelt pleaded his case in front of the French Parliament on May 27th. Immelt laid out the modified proposal that includes the following points:
Locating the global headquarters for four of its businesses in France: Grid, Hydro, Offshore Wind, and Steam Turbines;
A 50/50 joint venture in offshore wind and hydroelectric power;
A 50/50 joint venture in Alstom's Grid business; and,
Most importantly for France, a Nuclear Steam Alliance, in which the French government would hold preferred shares and have veto power over issues related to the security and technology of French's critical nuclear energy system.
A separate special purpose entity would be created to hold the patents for Alstom's Arabelle nuclear steam turbine technology, which would be wholly owned by the French government.
Will The Deal Truly Benefit GE?
With all these concessions you may think, what does GE get out of the deal?
Well, quite a bit actually.
GE will still gain control of Alstom's gas turbine division, which currently makes up approximately one-third of its power related revenue.
The global power generation business is marked by volatility (and therefore opportunity). With prices set by market supply and demand across multiple platforms, there is a constant need to increase efficiency, meet increasing regulatory environmental requirements, and diversify to different types of power generation. This ensures that when an opportunity becomes apparent in one area, resources can quickly be shifted to capture the fleeting economic profits that may exist.
To do this it requires great scale and resources, both of which Alstom was lacking in comparison to its peers.
Although the joint ventures and other concessions proposed by GE may limit the potential cost synergies that could be gained by a complete sale, it will still allow for increased diversification and play to GE's strength in the global energy market.
A Promising Place In Europe
GE's investments in other European companies have resulted in significant value.
For example, Snecma had previously approached GE about partnering on the development of jet engines. Today that venture, called CFM, produces some of the best-selling commercial jet engines in the world.
GE's acquisition of Paris-based Thomson-CGR has resulted in a healthcare business that looks to compete with market leaders Siemens and Phillips for market leadership in Europe.
In 2011, GE purchased Converteam from Alstom and now is looking to make it a key player in power conversion.
Risk of Overpaying
The biggest risk for any large acquisition is overpaying. If GE acquires the business at the right price, it would immediately boost GE's earnings.
Combine that with increased scale and GE's track record of making investments in the region that increase shareholder value, and the Alstom one is one that does appear to make sense.
GE's Current Strengths
GE has performed well YTD.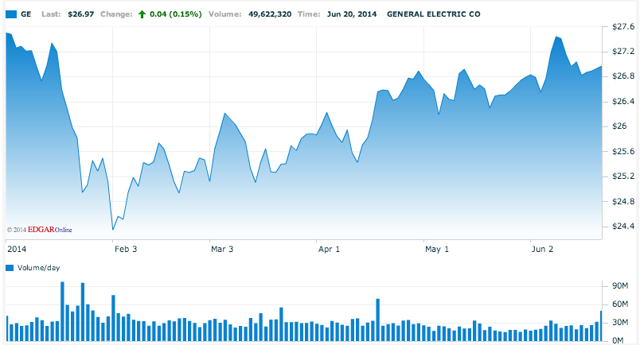 (Nasdaq.com)
Historically, GE certainly shows strength. GE has beat estimates for earnings the past five out of six quarters and has shown steady progress in meeting its goals (as seen below).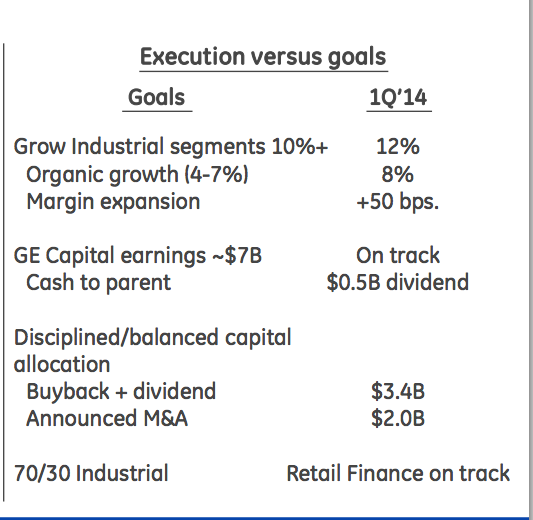 (Source: here)
Already, GE has a strong foothold in many emerging economies, where demand for its services is increasing.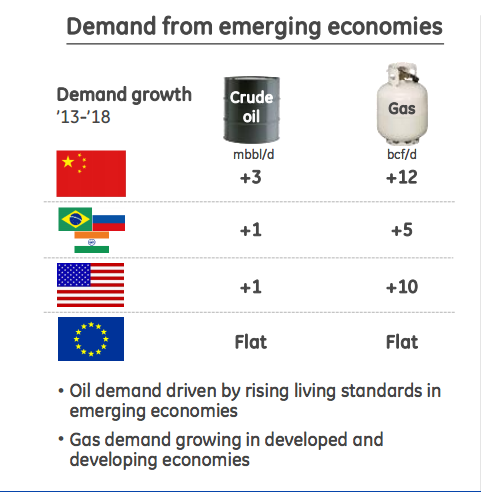 (Source: here)
According to GE's Q1 presentation, energy demand remains very strong in most of these key countries.
If GE can secure a stronger foothold in France, it opens up access to a greater share of the global market, on which GE is already poised to capitalize.
For GE Shareholders
We are positive on GE going forward in 2014 with the Alstom deal.
Although pricey, if the deal closes with Alstom and the French government, this will be a solid investment for GE - not a worrying financial hindrance.
We suggest investors consider buying into GE as shares could continue to appreciate in 2014 and beyond.
Disclosure: The author has no positions in any stocks mentioned, and no plans to initiate any positions within the next 72 hours. The author wrote this article themselves, and it expresses their own opinions. The author is not receiving compensation for it (other than from Seeking Alpha). The author has no business relationship with any company whose stock is mentioned in this article.
Editor's Note: This article discusses one or more securities that do not trade on a major U.S. exchange. Please be aware of the risks associated with these stocks.