It's not often a stock can rise nearly 20% over three quarters and fail to keep pace with its own dividend yield, but that's been the case with Public Storage (NYSE:PSA).
Normally a stock's dividend yield is inversely affected by a rising share price. But PSA has issued two significant dividend hikes this year that have done more than just maintain a solid yield. PSA's yield is 22.1% higher today than it was at the start of the year, meaning it's inexplicably outgrown those surging shares.
Check out the beautifully uncommon correlation between PSA's share price and dividend yield this year: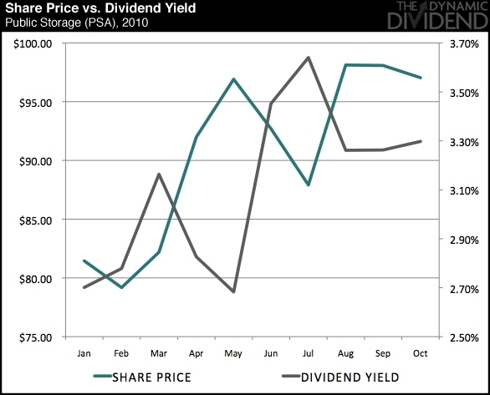 After entering the year with a $2.10 dividend rate, PSA bumped it up to $2.60 before making its first quarter payment to shareholders, and announced another increase in May. In all, PSA's current dividend rate ($3.20) is 45% higher than it was on December 31, 2009.
At yesterday's closing price of $97.04, shares of PSA carry a dividend yield of 3.3%. Analysts are expecting EPS of $4.43 for the year, putting PSA's payout ratio at 72.2%, which isn't a big deal since the company operates as a REIT.
Disclosure: None