Facebook (NASDAQ:FB) needs to tread carefully as every move made by the social giant comes under fire by the media. Recently, Facebook announced that it will be using browsing history to help serve more relevant ads.
According to Facebook:
Today, we learn about your interests primarily from the things you do on Facebook, such as Pages you like. Starting soon in the US, we will also include information from some of the websites and apps you use. This is a type of interest-based advertising, and many companies already do this.
Critics want blood
Twitter (NYSE:TWTR), Google (NASDAQ:GOOG), and Yahoo! (YHOO) use browser history to serve relevant ads, as well. However, because it's Facebook, privacy skeptics (critics) came out in droves. After all, Mark Zuckerberg is a really easy target.
For example, Forbes Kashmir Hill states:
You can opt out, but you do need to do so on both your smartphone and on this website, and you will have to re-opt out every time you do a privacy douche on your computer.
It's unlikely that Facebook users will opt out of this advertising approach in droves. Remember, a couple million people opting out won't kill the bank, as there are over a billion Facebook monthly active users.
Upon doing further research, I have concluded that this strategy isn't illegal, while ethically questionable. After all, Google and Twitter use this kind of data as well. Since Facebook is doing its part to serve more relevant advertising, consumers may be more predisposed to clicking ads. Assuming click through rates improve, Facebook will directly benefit as a result of better monetization.
Microsoft has a different take on privacy
Microsoft (NASDAQ:MSFT) sent out an e-mail to notify consumers that they won't use personal information. This is quite interesting, because Microsoft is notorious for making PR mistakes (especially with the Xbox One). Truthfully, Microsoft's advertising business is small when compared to licensing. Despite that fact, there's no mistaking that this move on Microsoft's part will add to the company's bottom line and improve its relationship with consumers.
Microsoft sent out the below e-mail just two days after Facebook made its announcement. According to Microsoft:
As part of our ongoing commitment to respecting your privacy, we won't use your documents, photos or other personal files or what you say in email, chat, video calls or voice mail to target advertising to you. The Microsoft Services Agreement applies to your Microsoft account and includes many of our customer services such as Outlook.com, OneDrive, and Bing, while the privacy statement explains how your personal information is collected, used and protected across your Microsoft account, Outlook.com and OneDrive.
Microsoft may be trying to add momentum to Bing as it grew ad revenue by 38% year-over-year. Furthermore, Microsoft wants more of the high margin ad-business, so this policy announcement plays to Microsoft's agenda/strengths.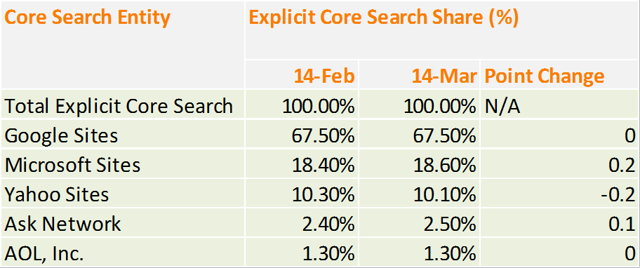 Source: ComScore
I think that if consumers value their privacy, they will use Bing more than Google. Furthermore, Apple has opted to make Bing the search engine for iOS, so I can only imagine Google's search business losing market share to its rival.
Google's search business has shown decelerating growth. Pair that with the company's need to use questionable tactics to improve click through rates, and well... you begin to wonder what else Google can do to sustain the growth of its aging while profitable ad-word business.
For now, regulators haven't done anything about websites using data in this specific way. From my understanding, as long as user specific data isn't shared with third-parties, both Facebook and Google are operating within the letter of the law.
Conclusion
Facebook's ad-monetization should improve as a result of using browser history to offer more relevant ads. Again, this practice is used among other well-established web properties like Google, and Twitter. Since quite a few web properties use this specific method, it's likely that the aforementioned companies will exert a lot of political influence to maintain the status quo.
Microsoft will gain some monthly active users in the process, but better monetization techniques are still net revenue positive for Google despite the potential of a modest downtick in active user trends.
Disclosure: The author has no positions in any stocks mentioned, and no plans to initiate any positions within the next 72 hours. The author wrote this article themselves, and it expresses their own opinions. The author is not receiving compensation for it (other than from Seeking Alpha). The author has no business relationship with any company whose stock is mentioned in this article.