I was a little harsh on BlackBerry (BBRY) as I was concerned about whether the company would be able to ramp sales for BlackBerry Z3 Jakarta, and while not every concern I have had is completely put to rest, I have to turn my attention to the positives, as now would be an opportune time to get back on the BlackBerry gravy train as the business has finally stabilized the demand equation for its products.
I was very cautious on BlackBerry due to the dependency it has on device sales. As I have mentioned before, without device sales, the company simply cannot turn around, but with those concerns put to rest, the company is certainly on a path to recovery, and for that, I'm thrilled.
Quick run-down on the financials

Quoted from BlackBerry, table created by AlexLeAnders
As you can tell, the hardware business grew by 4.95% quarter over quarter, which was driven by the success of the Z3; however, service revenue (the largest segment) declined by 5.04% quarter over quarter. This balances out to consolidated revenue declining by 1.04% quarter over quarter.
The service revenue is earned through service access fees (SAF for short), I go over this in more detail in a previous article. But basically, the company charges for added security features, which get charged on both consumer and commercial handsets. However, with a greater mix coming from consumer devices, and a shrinking market (in terms of penetration) for mobile device management, BlackBerry's service revenues continue to decline.
However, what's saving the company, and what's forcing analysts (including me) to go from negative to neutral/positive is the company's ability to sell a higher volume of devices into unique channels, even as service fees are declining. This means that BlackBerry can become self-sustaining even without the current fee structure that it's heavily dependent upon.
Remember, only BlackBerry charges services fees for security. Apple, Samsung, LG, HTC, and Nokia earn revenue from hardware, and in the case of Apple and Microsoft they earn added revenue from app-store sales. Fact is, mobile device management is turning into more of a commodity, and cheaper solutions via mobile applications continue to emerge. This is why I have emphasized the need for BlackBerry to return to being a hardware business first, and a service business second.

Source: BlackBerry
As you can tell revenue has finally stabilized on a quarter-over-quarter basis. This puts us in the position to assume that at least the demand equation has begun to stabilize, and from here we can assume that shipments for mobile devices can grow.
Now as many of you are well aware, I'm not a big value guy. I don't care how much cash, or whatever asset is on the balance sheet. The only time I'll jump onto a value investment is if the business can return to a stable growth trajectory, and if there's enough visibility to believe that growth is sustainable.
Looking over the most recent quarter, the gross margin figure is down quarter over quarter, but that's because the company doesn't need to aggressively manage costs, John Chen mentions this in the most recent earning conference, by stating:
The question about savings, I'm really at the tail-end of our restructure programs. Right now everything that I'm doing is judiciously starting to lay the groundwork for revenue growth for next year. The freeing up resources is not so much as to cut costs. The freeing up resources is so that we don't do so many things at the same time and we go deeper in what we do. And so that really is the more of a model. Now would that be saving along the way? Yeah, probably, but we will not -- I'm not looking to take $500 million of OpEx to $400 million for example, I actually don't think it's necessary for us to do that to return to profitability in FY '16.
What John is basically stating is that he doesn't need to aggressively cut costs any further. To return to bottom line growth he's going to allow variable costs (inclusive of operating costs) to trend higher as unit volume ramps.
Because the company is managing costs intelligently, and isn't doing something really funky to boost earnings, the business should exhibit some sort of bottom line growth. Analysts anticipate negative EPS for fiscal year 2015, which isn't likely to be accurate. Expect positive earnings (I'll have a more detailed forecast in a future article).
For now the management team offers break-even on cash flow for fiscal year 2015. Looking over the company's current cash flow statement, drastically higher pre-tax earnings would be necessary for free cash flow to stabilize.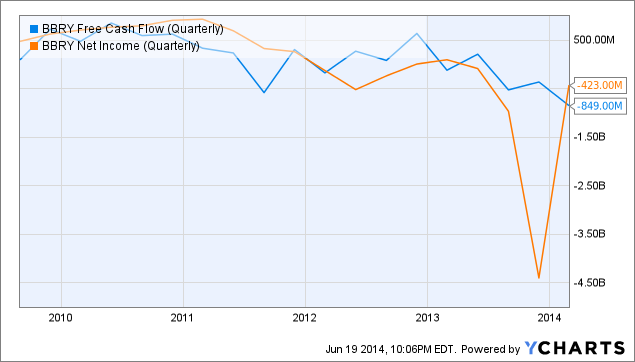 Source: Ycharts
Looking over quarterly data, the company would have to improve earnings before taxes significantly and reduce CAPEX significantly. Therefore, it's safe to assume that net income growth will be fairly significant as variable costs stabilize and unit shipment volume trend higher. This will allow for enough cost synergies for free-cash-flow to return to positive territory.
Furthermore, BlackBerry operates a lean operation, as it has outsourced component assembly and product development to third parties. Because of this fact, I'm fairly convinced that CAPEX will be light and net income will significantly improve. The two combined is what will allow the cash balance to improve, even without raising capital through debt offerings.
I'm convinced that both cash flow and income statement metrics will improve drastically. Furthermore, BlackBerry's CEO, John Chen, offered some guidance on unit break-even point:
I think we have a model that for next year we ship 10 million phones for the year, we will be profitable on phones. That's been the model that we're going after, okay.
The company plans to expand into other emerging markets with a mid-end phone, and because the product's application ecosystem is going to be strengthened through a partnership with Amazon, my concerns over product viability and break-even points have been thoroughly addressed. Furthermore, back-end service revenue may decline in developed markets, but with an improving sales ramp, with a launch for both India and Vietnam in the works, there's a high probability that BlackBerry will exceed analysts' consensus earnings.
Conclusion
Investors should consider investing into BlackBerry as the core business has been able to stabilize. Admittedly, it would have been nice to get in at lower price levels, but at lower price levels there was no guarantee that the Z3 would have been a success in Indonesia. But with the growth story now firmly intact, and launches to be scheduled in various emerging markets, it's safe to assume BlackBerry is a stock worth buying for a longer-term timeframe.
Disclosure: The author has no positions in any stocks mentioned, and no plans to initiate any positions within the next 72 hours. The author wrote this article themselves, and it expresses their own opinions. The author is not receiving compensation for it (other than from Seeking Alpha). The author has no business relationship with any company whose stock is mentioned in this article.