When looking for investment opportunities it is difficult to ignore coal. On June 17, 2010, Gregory Boyce, the chairman and chief executive of Peabody Energy Corp. (NYSE:BTU), stated that "a long-term super cycle for coal," driven by rapidly growing demand in Asia, would be extremely profitable. A company press release elaborated:
Boyce observed that coal has been the world's fastest-growing fuel this past decade, with demand growing at nearly twice the rate of natural gas and hydro power and more than four times faster than global oil consumption. "It's stunning that any mature commodity could expand nearly 50 percent in a decade and speaks to the strong appetite for the products we fuel, as well as coal's abundance and stable cost," he said. Coal demand is also expected to grow faster than other fuels in coming decades.
Asia-Pacific nations are leading a historic global build-out in coal-fueled electricity generation. More than 94 gigawatts of new generation are expected to come on line in 2010, representing 375 million tonnes of coal consumption per year. If growth continues at the current pace, generators would add another 1 billion tonnes of new coal demand every three years.
Richard K. Morse of Stanford said:
Coal is the world's fastest growing fossil fuel (for the 8th year now) and likely will be for the next 10-20 at least.
The above information is consistent with statistics published from various sources tracking energy use and coal production. A US Energy Information Administration Report compared worldwide power consumption by fuel type in the years 1980, 2004 and 2006. Below is a table showing the percentage of world power consumption by fuel type for the years reported on: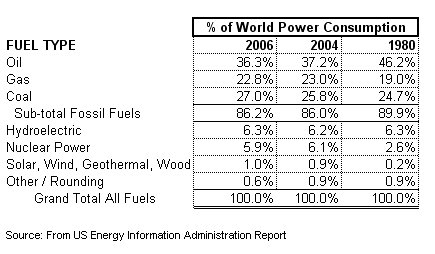 For those looking to profit from investments in alternative energy like solar, wind, geothermal etc., it will take some time for these sources to become a big part of the overall energy picture. As a percentage of world power consumption these alternative energy sources increased from just 0.2% in 1980, to 0.9% in 2004 and only 1.0% in 2006.
Jon Stewart (Daily Show) did a parody citing quotes from all Democratic and Republican Presidents dating back to Richard Nixon, where all of them proclaimed on a "Bipartisan Basis and as a Top Priority" weaning off fossil fuels by significantly increasing our reliance on alternative fuel sources. More than 40 years later the percentage of energy consumption coming from alternative fuel sources remains paltry (with more hot air still coming from politicians than from alternative energy).
Oil has been on a downward trend since 1980, declining from 46.2% of total energy consumption in 1980 to 36.3% in 2006. However, coal's share of worldwide power consumption increased from 24.7% in 1980, to 25.8% in 2004 and to 27.0% in 2006. The percentage of the world's energy consumption from fossil fuels (oil, gas and coal) has only declined from 89.9% in 1980 to 86.2% in 2006.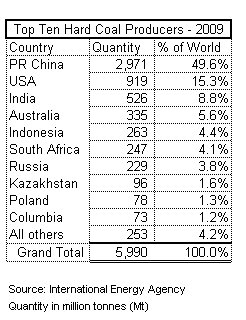 The biggest percentage of worldwide coal production comes from China, USA, India and Australia as shown in the following table to the right.
Most countries, besides China and other Asia-Pacific countries, have reduced or leveled off coal production; but any reductions have been outpaced by stepped up production in the China, Asia-Pacific countries.
In searching for individual investments I looked at three Coal related public companies: Peabody Energy Corp. (BTU), Natural Resource Partners LP (NYSE:NRP), and Puda Coal Inc. (NYSEMKT:PUDA). Each of these companies has a different profile. PUDA is a micro-cap operating in China and NRP differentiates itself by having a high payout percentage that currently provides an 8% dividend yield to investors. Some highlights for the three companies are as follows:
Puda Coal Inc. (PUDA)
The Company operates in two segments: coal washing business and coal mining. The coal mining business is recent and will be "operated separately from or synergistically with, our coal washing business". The coal washing segment provided all the company's income in years through 2009 and the six months ended June 30, 2010.

As of 12/31/09, the coal washing segment had assets of $90.3 million, which increased to $134.2 million on June 30, 2010. Coal mining assets amounted to $20.9 million at the end of 2009 and were $65.4 million by June 30, 2010. PUDA cleans raw coking coal sourced from third-party coal mines and sells the cleaned coal to coke and steel makers in geographic markets that include Shanxi Province, Inner Mongolia Autonomous Region, Hebei Province, Beijing and Tianjin, China. At December 31, 2009 the Company employed approximately 333 full-time employees.
The Company implemented a strategy for entering the coal mining business in order to increase profitability. In December 2009, Puda announced they entered into agreements with two companies to acquire assets and mining rights with respect to two coal mines.
On August 1, 2010, an affiliate of PUDA entered into a joint venture "Investment Cooperation Agreement" to purchase, consolidate and co-develop six coal mines in Pinglu County, Shanghai Province. The parties will share the profits and bear the risks and losses in connection with the Project, in each case based upon the percentages of their equity ownership and limited by the amount of investment contributed by each party.
If the Company is successful in the coal mining business, this should add to the impressive record of historical growth posted by PUDA. With just the coal washing business, the Company's sales grew from $19.4 million in the calendar year 2004 to $242.3 million in 2008 (when they reported net income $17.1 million and EPS of $1.12). The recession adversely impacted 2009, which resulted in sales declining to $214.1 million and EPS dropped to $0.36.
For the six months ended June 30, 2010, sales increased by +47.7% to $144.3 million versus sales of $97.7 million in the comparable 2009 period. Earnings per share increased at a faster pace to $0.72 (up +188%) in the six months ended June 30, 2010 versus $0.25 in the first six months of 2009. For the trailing twelve months ended June 30, 2010, sales totaled $260.6 million and EPS amounted to $0.82. There is just one analyst providing estimates for the Company, which includes 2010 estimated EPS of $1.42 and $2.00 for the calendar year 2011.
PUDA is in good financial condition. At June 30, 2010 they had total cash and equivalents of $70.3 million, total assets of $199.6 million, total liabilities of $69.1 million and shareholders equity of $130.5 million. This equates to net book value of $6.41 per share (including $3.45 per share in cash and equivalents) based on 20.4 million diluted shares outstanding during the quarter ended June 30, 2010.
Click here to see PUDA's workbook with operating results, balance sheet data and various other metrics for the years 2005-2009 and the first two quarters of 2010.
The closing price for PUDA on September 29, 2010 was $7.33 (up $0.68 for the day) as China micro-caps rallied from strongly oversold levels. We have a long position in PUDA.
There are some very compelling values for certain China microcap stocks in relation to their reported fundamentals and prospects for future growth. Because of the heightened risk of accounting irregularities for certain companies operating in China, I suggest that investors limit their commitment to any one China microcap stock to no more than approximately 1% of their total portfolio value of microcaps.
Peabody Energy Corp. (BTU)

BTU is by far the largest of the three companies, employing approximately 7,300 employees at December 31, 2009. They estimate approximately 7.9 billion tons of their "proven and probable coal reserves" are in the US and 1.1 billion tons are in Australia at the end of 2009.
BTU experienced good growth (excluding amounts from discontinued operations) from 2004 Sales ($2.76 billion), Net Income ($182.4 million) and EPS ($0.71) until peaking in 2008 with sales of $6.56 billion, net income of $987.9 million and EPS of $3.60. Operating results were adversely impacted by the recession resulting in sales from continuing operations declining to $6.01 billion, net income dropped to $457.9 million and EPS declined to $1.64. They resumed their growth trajectory in the six months ended June 30, 2010. For the trailing 12 months ended June 30, 2010, sales were $6.4 billion, with EPS of $2.07. Consensus estimates call for 2010 sales of $6.94 billion and EPS of $3.06; followed by revenues of $7.89 billion and EPS of $4.55 in 2011.
Currently BTU is paying a quarterly dividend of $0.07 providing an annual yield of less than 1% based on the 09-29-10 closing price of $49.22. Currently the PE ratio is 23.8X the trailing 12 months EPS of $2.07 for the period ended June 30, 2010; 16.1X estimated 2010 EPS of $3.06; and 10.8X estimated 2011 EPS of $4.55. Using a projected 20X PE ratio, yields an estimated price of approximately $61 (based on 2010 estimated EPS of $3.06); and a 15X projected PE ratio yields an estimated price of approximately $68 (based on 2011 estimated EPS of $4.55). These calculated prices are based on the Company meeting or exceeding the consensus estimates for 2010 and 2011 and the estimated PE ratios used.
Click here for BTU's worksheet to see BTU's operating results, balance sheet data and various other metrics for the years 2005-2009 and the first two quarters of 2010.
Natural Resource Partners LP (NRP)

Investors searching for high dividend income may be attracted to NRP (8.0% Yield) but it would be prudent to understand their business model, which stacks the deck in favor of the General Partner (including affiliates) at the expense of Limited Partners.
A general description of the company is as follows:
Natural Resource Partners L.P. is a limited partnership formed in April 2002, and we completed our initial public offering in October 2002. We engage principally in the business of owning and managing coal properties in the three major coal-producing regions of the United States: Appalachia, the Illinois Basin and the Western United States. As of December 31, 2009, we owned or controlled approximately 2.1 billion tons of proven and probable coal reserves. We do not operate any mines, but lease coal reserves to experienced mine operators under long-term leases that grant the operators the right to mine our coal reserves in exchange for royalty payments. Our lessees are generally required to make payments to us based on the higher of a percentage of the gross sales price or a fixed price per ton of coal sold, in addition to minimum payments.
Besides the interests of the General Partners and the publicly traded Limited Partner units, "Holders of Incentive Distribution Rights" are getting a nice piece of the pie doled out by NRP. The distributions to Limited Partners increased from $1.88 per LP Unit in calendar 2007, to $2.07 in 2008, $2.16 in 2009 and continued at the rate of $0.54 a quarter in the first two quarters in 2010.
An 8% dividend yield sound pretty good in this ultra-low rate environment, but if things sound too good it's time to become cautious. During the same periods the Net Income allocated to each Limited Partner Unit amounted to $1.11 in calendar 2007, $1.95 in 2008, $1.17 in 2009 and $0.63 for the six months ended June 30, 2010. It can be seen that distributions to Limited Partners exceeded the amounts of Net Income Allocated to Limited Partners. Below are the totals of Net Income Allocated along with the Distributions to the various interests in NRP for the calendar years 2007-2009.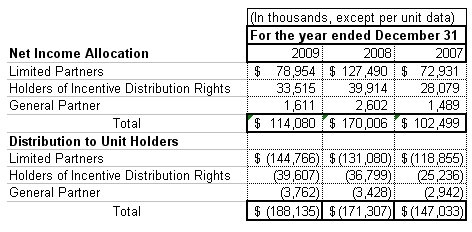 There is a strong incentive for the General Partner to make maximum distributions to Unit Holders since this increases the General Partners overall share of allocated net income and distributions as explained below.
The 2010 Form 10K spells out the distributions arrangement called for under the limited partnership agreement as follows:
Our general partner holds 65% of our incentive distribution rights (IDRs) and the remaining IDRs are held by affiliates of our general partner. The IDRs entitle the holders to incentive distributions if the amount we distribute with respect to any quarter exceeds the specified target levels shown below:

We must distribute all of our cash on hand at the end of each quarter, less cash reserves established by our general partner. We refer to this cash as "available cash" as that term is defined in our partnership agreement. The amount of available cash may be greater than or less than the minimum quarterly distribution. Provisions of our credit facility and note purchase agreement may restrict our ability to make distributions under certain limited circumstances.

In general, we intend to increase our cash distributions in the future assuming we are able to increase our "available cash" from operations and through acquisitions, provided there is no adverse change in operations, economic conditions and other factors. However, we cannot guarantee that future distributions will continue at such levels.

The higher the dollar amount of the distribution paid, results in the Limited Partner getting a lower share (percentage-wise) and the holders of the IDR's getting a higher share (percentage-wise) of total distributions and allocated net income (see table above). The percentage of the Partnership's total Net Income allocated to Limited Partners declined from 75% in calendar 2008, to 69.2% in 2009 and dropped further to 62.6% in the six months ended June 30, 2010. During the same period the holders of the Incentive Distribution Rights saw their percentage allocation of the partnership's total net income increase from 23.5% in calendar 2008 to 29.4% in 2009 and 36.2% in the six months ended June 30, 2010.
For additional info, click here for the NRP's worksheet to see operating results, balance sheet data and various other metrics for the years 2005-2009 and the first two quarters of 2010.

I'm all for incentivizing a company's management with rewards to achieve above average operating results but I am dubious of measuring performance by uncharted metrics ("available cash") buried inside of a Partnership Agreement rather than old fashioned metrics like net income. While capturing an 8% dividend yield, in an ultra-low rate environment, is noteworthy there should be some concern over the disconnect between the cash distributions made versus allocated net income amounts for the Limited Partners versus the holders of Incentive Distribution Rights (IDR's).
On September 20, 2010 NRP eliminated the Incentive Distribution Rights reporting it as follows:
As consideration for the elimination of the IDR's , Natural Resource Partners has issued 32 million common units to the holders of the IDRs. NRP now has 106,027,836 common units outstanding and the general partner will retain its 2% interest in Natural Resource Partners.
It would not be surprising for some limited partners to be scratching their heads and wondering whether the $832 million (32 million common units at $26 a unit) received by the holders of the IDR's was fair and reasonable or chicanery. As I understand it there is a close relationship between the interests of the IDR's and the General Partner.
Disclosure: Author long PUDA