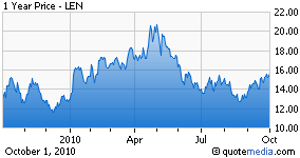 While several homebuilders have begun to return to profitability and analysts have started calling for the proverbial "housing sky" to stop falling, it is important to look below the surface and understand some of the nuances as to why.
When taking a deeper look at some recent earnings results of public homebuilders, we have found that in many of the situations where a builder is reporting profits, it is apparent that there are extraordinary, onetime items such as the effects of the homebuyer tax credits and litigation settlements that seem to be the driving factors. So, before we applaud Lennar (NYSE:LEN) for turning a profit this quarter, let's take a look at the 3 things that should still give investors some heartburn.
Lennar's homebuilding operating earnings of $38.1 million looks better on the surface.
There is no doubt that generating $38.1 million from homebuilding operations is a great number given these trying times, but two other numbers must be quoted in the same breath: $24 million and $17 million. $24 million represents Lennar's Corporate G&A Expense.

We point this out because the majority of the homebuilders include this in their homebuilding operation, with Lennar being one of the few exceptions. Therefore, to compare builders on an "apples to apples" basis, investors need to include this expense in the determination of homebuilding profitability. $17 million represents the approximate amount of insurance recoveries related to homes with defective Chinese drywall.

These recoveries, while appropriately included within homebuilding, are being highlighted, because these, along with the exclusion of the Corporate G&A are the primary drivers of Lennar's return to profitability. If classified differently, Lennar's homebuilding operations would have actually generated a loss of approximately $3M.

From our review of Lennar's earnings release, there were several variances that require further analysis.

We are not insinuating that Lennar is doing anything wrong, but the variances raise questions. First, there are the reductions in Financial Services revenues, while Homebuilding revenues increased during the quarter. For the other public homebuilders, there appears to be correlation between the revenues of the Financial Services segment and the Homebuilding segment.

On the surface, this makes sense as these financial services operations are captive entities that derive the majority of their revenues from the homebuilding arm. Lennar appears to be the sole outlier. I am only speculating, but the variance could be attributable to incentives that the Financial Services segment is taking to close the homebuilding transaction. If true, this would be useful information to help us in understand whether this is a trend that will continue and will help us in comparing their operations to the other homebuilders.

We will review the Company's quarterly Form 10Q when released to see if there is more discussion. The second item that we feel warrants better transparency relates to the nature of the costs and expenses associated within the Rialto operation. As this is a relatively new investment that generated significant profit, we believe that it would be beneficial to investors for Lennar to provide increased discussion.

As the Corporate G&A has declined, we would like to know whether any of that decrease is attributable to cost shifting into the Rialto segment. This can be attributable to certain overhead (rent, professional services, compensation, etc.) which were included in Corporate G&A in prior years being allocated to this segment. Once again, it would be helpful for investors to understand more about this investment and the results it is generating.
On the conference call, Lennar discussed its balance sheet leverage and provided an update on its exposure to its unconsolidated joint ventures.
Regarding it leverage, Lennar highlighted that its leverage remained low and that Homebuilding debt-to-total capital net of cash was 44.1%. What was not mentioned was that Homebuilding cash has declined and debt-to-total capital net of cash has actually increased from the prior quarter and has steadily increased from August 31, 2009.

When you combine this, along with the 12% decline in sales value in backlog and the downward pressure on margins as a result of the increasing incentives that were discussed, raises a question as to whether investors should expect to see a negative trend in liquidity and leverage.

Regarding its joint ventures, Lennar mentioned several times that these off-balance sheet ventures are conservatively financed. That is similar to saying "trust me." I would rather that they provide increased transparency and allow investors to make that determination.
We can only wait until they file their quarterly report to see if any more details come out.
Disclosure: No position